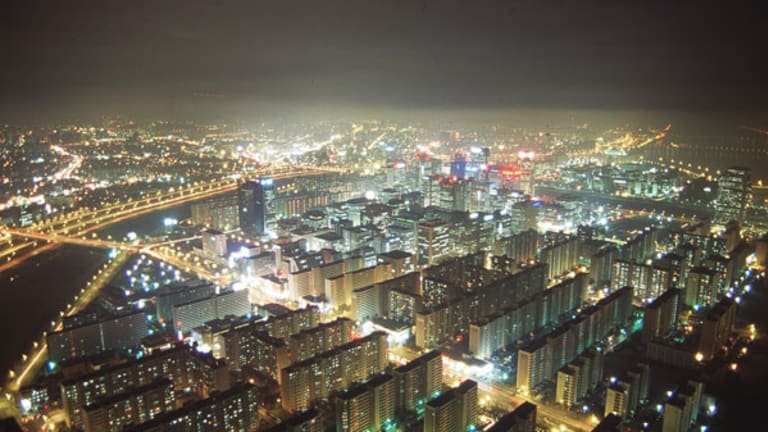 Who Are the Winners and Losers in a World of Plunging Oil Prices?
The beneficiaries and those feeling the pain of declining oil prices aren't as straightforward as you think.
NEW YORK (TheStreet) -- In a world with plummeting oil prices, who are the winners and losers?
As a previous article published by TheStreet indicated: OPEC has a tenuous hold on oil markets, and its recent decision to forgo a reduction in capacity to attempt to squeeze out higher-cost shale producers has put a serious hurt on oil prices and, as a corollary, energy stocks.
By now most have noticed the positive consequences associated with declining oil prices at the pump. While the consumer undoubtedly benefits from the resulting increase in discretionary income, cheap oil actually possesses a very stratified impact that most wouldn't readily realize. That's why we're here to present both the winners, and the losers, in a world with cheap oil:
The Losers:
Petro states
Economies that rely on oil prices to buttress their income and balance their budget are in deep pain right now. The OPEC decision was not a consensus, but rather the Saudis prevailed over the poorer OPEC nations with a promise of buoying oil prices by making it uneconomical for American producers to continue. That would transfer the cuts to the West and allow OPEC to maintain market share. But the fiscal pain in the interim will be very real for the following countries, all of which require an elevated oil price to balance their budgets:
U.S. states involved in the shale boom
Cheap oil doesn't hurt just the aforementioned; it will also have some negative ramifications for select U.S. state's economies that have flourished and grown accustomed to elevated oil prices. Barclay's analyst Thomas Driscoll finds shale economies to be robust between $75 and $80 a barrel and some analysts have even contended production is simply not viable at sub-$80 prices. As detailed in this microeconomic account from North Dakota (home of the Bakken oil field), the state may need to reconsider its budget for the next two years as the current one was created factoring in $90-a-barrel oil. This lack of profitability will permeate to local economies as less revenue is made, energy-related jobs are lost, less taxes are collected, and spending is pared back. Such states as Wyoming that are seeing a disparate boom in their economies, as reported by CNBC's Steve Liesman, are increasing spending, especially on education; with the superintendent even giving area teachers raises "because we can." Sadly, this may abate in the face of cheap oil.
Energy stocks
For obvious reasons, energy companies are not a fan of these recent declines. Their stock prices have taken a beating along with oil as their margins have been crunched and revenues are expected to decline. Oil stumbled some 10% Friday after the OPEC decision, with energy stocks as large as ExxonMobil (XOM) - Get Exxon Mobil Corporation Report to as small as Newfield Exploration (NFX) falling anywhere from 4% to 16% on the news.
The Winners:
The U.S. economy
While there will be a mixed impact regionally as the U.S. is concurrently the world's largest importer, producer, and consumer of oil; it will result overall in a positive for the economy. The trade balance is the clearest indicator of this: as it is a net negative for the country. What this means is the U.S. is still a net importer, meaning it buys more than it sells. This results in an aggregate lower price for consumption.
The Consumer
No benefit is as unambiguously positive for any entity in the oil bear market as it has been for the American consumer. Even though gas makes up only roughly 4% of consumer's budgets, such necessities as food make up 11%-12%. How is this tied to oil prices? The cost to transport. Consumers may see a ripple effect in shrinking prices for such things as food and capital goods as the cost to transport them goes down. A corollary to money saved on staples almost invariably is an increase in discretionary spending. An externality of this will be of benefit to retailers; who see revenues rise as consumers' wallets grow.
The stock market
While the energy sector has been punished in concert with oil to the tune of nearly 30%, the broader market has not felt the same decline. The S&P barely budged in the face of the tumult in energy after OPEC's announcement. There are only 43 energy stocks in the S&P 500 that now possess a total weighting of 8% of the index in the wake of this fall. Index fund investors and non-energy investors should be encouraged by the resilience their investments have shown, and should remain confident that they should continue to do better in the midst of increased consumer confidence and spending as a result of diminishing oil prices.
The author has no position in any of the stocks mentioned.
Follow Jason @JasonOrestes