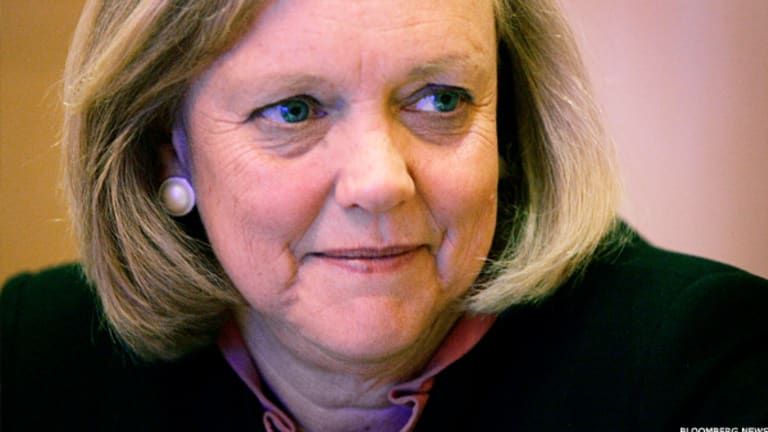 Whitman, HP Literally Following RIM's Death Spiral
Meg Whitman was a bad politician, but she might be a worse CEO.
NEW YORK (TheStreet) -- Over the last several months, CNBC has done two riveting interviews with Hewlett Packard (HPQ) - Get Report CEO Meg Whitman.
Not "riveting" because of anything Whitman said, but compelling because of the people asking the questions.
In early October, I discussed the first Whitman interview, conducted by David Faber, Jim Cramer and Melissa Lee in
HP's Meg Whitman: Setting New Lows in CEO Incompetence
:
The performance was beyond abysmal. Other than saying what amounts to "trust us," she offered absolutely no reason why anybody in his or her right mind should buy HPQ stock.
Whitman defended the printing business in October. Printing revenue was down 5% year-over-year with total enterprise and consumer hardware units down double digits.
Tuesday morning on
, Whitman "only" had Faber to deal with.
Once again, he challenged Whitman repeatedly, focusing on the near-dead printing space.
Meg,
Faber yelped,
people are carrying around mobile devices, maybe they don't need printers. So are you managing a dying business?
Meg responded with an equally-as-weak version of her October answer:
We are seeing actually increases in enterprise printing and we've got some very interesting products coming up in the consumer space
.
Um. OK.
Like
TheStreet's
Chris Ciaccia said,
.
Whitman kept spewing the adjectives "interesting," "terrific" and "great," generally in relation to forthcoming HP "products," during her 15-minute interview with Faber.
That's not insignificant. She has stepped up the say-nothing, evade-the-question, bad politician tactics she used on
CNBC
back in October. No matter how many times Faber, Cramer and Lee phrased the tough questions, she came back with the same non-answers.
Nothing has changed since October, except one critically important thing to watch. And it's got little, if anything, to do with the
Autonomy
disaster.
Meg Whitman and HP reiterated full-year guidance. When Faber asked Whitman about that, she argued that the first-quarter of 2013 will be tough, blaming it on the macro environment. From there, she expects cost-cutting measures to kick in and better align with revenue.
She continued justifying 2013 EPS guidance of $3.40 to $3.60 with,
But perhaps more importantly, we have some fantastic product coming up and I think I've been clear that great companies come back on the backs of terrific products and those will really start to kick in in the second half.
I forgot "fantastic." Sorry.
We heard almost the same exact line from
Research in Motion
(RIMM)
mid-implosion.
Here's what I wrote about how RIM CEO Jim Balsillie handled guidance, over at
, back on June 17, 2011:
On RIMM's Q4 2011 earnings call, the company stuck to its FY2012 prediction of EPS of $7.50. Given that report, it would not have been illogical for somebody to go long the stock on the basis of what management said, materially. Despite the obvious and widely reported issues since that call, RIMM did not lower guidance until yesterday. It also missed on Q1 2012 revenue, guided down Q2 2012 EPS by about $0.43 (using the midpoint), guided down Q2 2012 revenues by nearly $1 billion (using the midpoint), and announced layoffs under the euphemistic moniker of a "cost optimization program."
Can anybody tell me, with a straight face, that RIMM did not see this coming between the Q4 2011 and Q1 2012 reports? If this is not a breach of the company's responsibility to its shareholders, I am not sure what is. Think about the real world consequences of RIMM's passive approach, until the last possible second, to FY2012 guidance.
Jim Balisillie used a whole host of superlatives to describe RIM's products -- you know, the
Playbook
tablet the company took a charge on and its OS that still hasn't hit market. He also banked on the full year meeting expectations because of this product pipeline.
Didn't happen.
Study history. HP is literally falling in RIM's footsteps. Stay as far away as humanly possibly.
Rocco Pendola is
TheStreet's
Director of Social Media. Pendola's daily contributions to
TheStreet
frequently appear on
CNBC
and at various top online properties, such as
Forbes
.