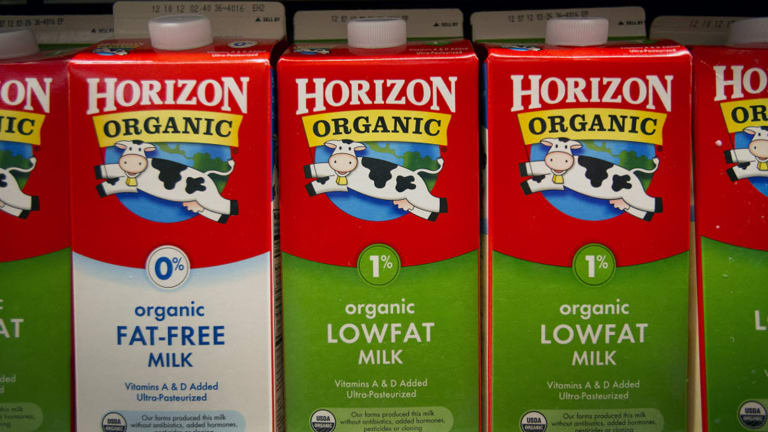 WhiteWave in Need of a Healthy Pullback
At such lofty price levels, WhiteWave shares look exhausted.
NEW YORK ( TheStreet) -- After tracing out a very healthy five-month consolidation, WhiteWave  (WWAV) exploded to the upside as February began. The powerful rally carried shares steadily higher for 10 weeks. WWAV gained over 45% during this impressive run while attracting multiple accumulation waves. The first measurable pullback took place in late April just as upside trade dipped well below average.
Early this month WWAV found support near the $43 area following an 8% pullback from the April peak. On May 8, the stock received a huge jolt from its first-quarter earnings report. Shares jumped over 5% on the news, leaving behind a huge upside gap in the process.
WWAV stalled for a bit as it battled supply near the April high but began to drift higher once again last week. The stock remained in a tight range just above the old highs until yesterday, when shares were hit with another buying wave. WWAV surged 3.25% finishing the day right near the highs.
With the stock now up 14% from the May low and up over 50% from its 2015 low, a healthy pullback may be needed soon. Although the daily MACD is not in overbought territory, the weekly version certainly is. Along with two big upside volume spikes this month at such lofty price levels, the action is beginning to look exhausted.
During WWAV's bull run, multiple layers of support have been left behind. The first layer is the April peak near $47. Considering the extent of the rally, a deeper pullback may be needed. A fade back down to the $44 to $43 area would fill the May 8 breakout gap as well as retest the May low. A short-term base in this major support zone would provide a very low-risk entry opportunity for patient WWAV bulls.

Click here to see the below chart in another window.
At the time of publication, Morrow had no positions in the stocks mentioned.