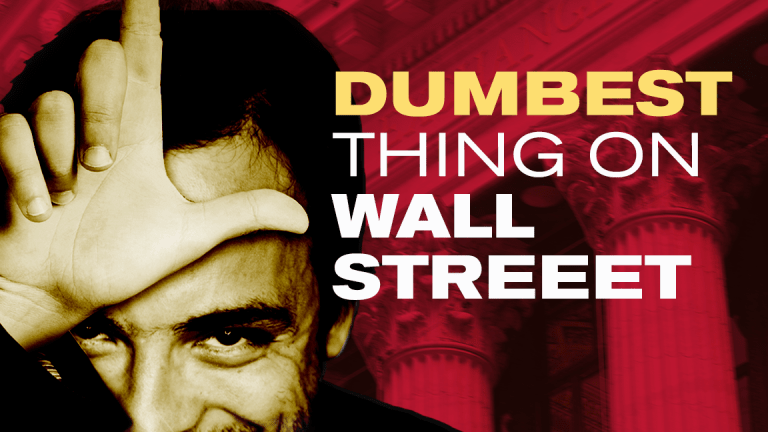 Young Male Tech Executives Are Big Risks to the Bottom Line
Nearly as often as a young male tech exec does something benevolent, another seems to do something disgraceful. More often than not, that disgraceful thing weighs on the entire company.
Just dumb.
Young male executives at booming technology companies can be like ticking time bombs. Armed with the right amount of venture capital, blue skinny jeans and a tight t-shirt, these men wield staggering power. But, nearly as often as a young male tech exec does something benevolent, another seems to do something disgraceful. More often than not, that disgraceful thing weighs on the entire company. That's why this week, baby-faced male tech executives are the dumbest thing on Wall Street -- they just present risks that many investors aren't even thinking about.
This week, Amazon.com Inc.'s (AMZN) - Get Amazon.com, Inc. Report Amazon Studios head Roy Price resigned from his position after another producer, Isa Hackett, accused him of sexual harassment. Price was also reportedly ousted for his too-close relationship with disgraced producer Harvey Weinstein, formerly of Weinstein Co.
Shortly after it was announced Price would depart the company, Amazon Studios canceled an event promoting its new shows in London this week. Analysts issued sundry research notes profiling the setback this could prove to be for Amazon Studios. Not even one week out, and Price's alleged actions triggered a negative halo around one of Amazon's key businesses.
Amazon's stock has shed about 2.5% over the last five trading sessions. 
Uber CEO and founder Travis Kalanick resigned at the behest of major investors this summer as a slew of allegations were cast against the company he founded. Of chief concern was the report that Kalanick knew of ongoing sexual harassment claims and a company culture that bred hostility toward women and minorities, yet did nothing.
The ordeal has caused many on Wall Street to wonder whether Uber is really worth its staggering $70 billion valuation. 
"The wrong action can be the kiss of death for a brand," explained brand and reputation management expert Eric Schiffer to TheStreet.
Allowing "inconsistent principles" such as sexual misconduct and discrimination to manifest could cripple relationships with business partners, customers and even legal regulators, Schiffer said. Beyond the basic moral wrongness of these actions, there are tangible consequences for businesses.
Meanwhile, Twitter Inc. (TWTR) - Get Twitter, Inc. Report  -- run by its fair share of skinny jeans wearing 30 year old males -- has only this week revamped an antiquated conduct system. As TheStreet's Annie Palmer wrote, new rules said the company would change policies for dealing with "unwanted sexual advances, non-consensual nudity, hate symbols, violent groups and tweets that glorify violence."
"Congratulations to Twitter," Schiffer said. "They're trying to get in front of things."
It sure took Twitter long enough. Trump's favorite social media platform has been around since March 21, 2006. That's 4,232 days Twitter had to implement stronger conduct policies. Why did it take so long?
Eventually, hiring at tech companies could take a hit as the sector's bad reputation sticks.
"If you're a great female programmer, the last place you're going to go is somewhere you know you'll be treated unfairly," Schiffer noted.
According to a survey titled "Elephant in the Valley," just about all of the 200-plus female respondents who had worked in tech for at least ten years reported sexist interactions at work. 65% of women who reported unwanted sexual advances received those advances from a superior. And 60% of those who reported sexual harassment were dissatisfied with the response or course of action.
Could part of the problem be those who surround these men, not just them? Perhaps. Schiffer said the first step to eradicating egregious workplace misconduct is appointing a board willing to hold the leader accountable.
That's sometimes hard for fast-growing tech companies that are all too often the brainchild of a single man who ascended to greatness from his garage. The goal for investors and handlers becomes funding these young visionaries with "stadiums of money," Schiffer said, not walking them through extensive HR training.
"They could begin to run on adrenaline and lose touch with basic decency," Schiffer added.
With that, though, the world isn't a locker room ripe for boy talk, and neither is the office. So, check your privilege at the door the next time you enter the C-suite, young male tech superstar. Think about what your investors are expecting. If you ignore them, you could be one of the dumbest things on Wall Street.
Facebook and Alphabet are holdings in Jim Cramer's Action Alerts PLUS Charitable Trust Portfolio. Want to be alerted before Cramer buys or sells FB and GOOGL? Learn more now.
More of What's Trending on TheStreet: