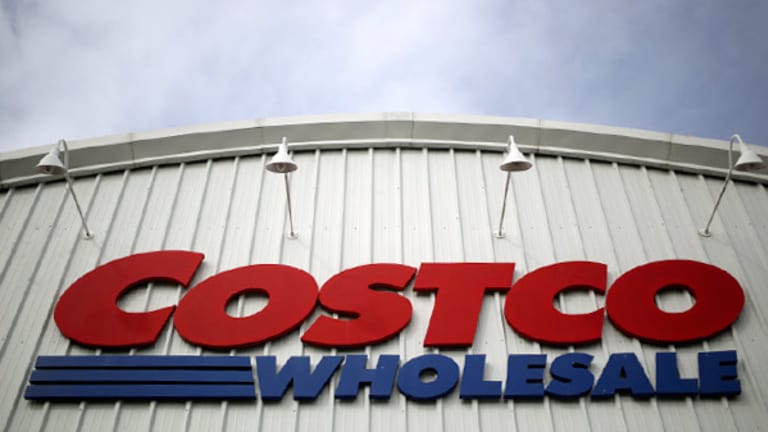 Publish date:
While Wal-Mart Continues to Struggle, Costco Is Set to Rally
Costco does not have the same legacy issues as Walmart and its balance sheet is better than the retail giant.
Costco does not have the same legacy issues as Walmart and its balance sheet is better than the retail giant.
Membership-only warehouse club Costco Wholesale  (COST) - Get Report may be down nearly 7% this year, after seven straight years of positive gains, but this retail stock will soon resume its upward trajectory. Costco is among a group of equities that should beat the market in 2016, even as broader indices struggle.
Costco is beating Wal-Mart Stores  (WMT) - Get Report black and blue. For investors tired of waiting for the ever-elusive rebound at Wal-Mart (as the biggie gets crushed by Amazon.com online as well), Costco offers a great investment opportunity in what's been a terrible year.
For Wal-Mart, the fourth quarter showed how net sales excluding fuel at Sam's Club declined 0.1%, and comparable sales in this segment fell 0.5%. On the other hand, Costco announced a 4% increase in constant currency sales for the four weeks period ended Jan. 31, 2016. For the 22-weeks ended Jan. 31, Costco looked even better with the company clocking a 6% rise.
At a time when companies built as brick-and-mortar operations are struggling to find their way against e-commerce only players, Costco grew revenues by 3.2% for the 2015 fiscal year (ended August). Among other things, Costco smartly fended off an unfavorable dollar and low gasoline prices.
Wal-Mart churned out a poor 1.9% rise in topline growth for the 2015 year (ended January). Over the next two quarters (February 2016 and May 2016), Costco is projected to deliver sales growth of 4%-6% year-over-year while Wal-Mart will probably post a drop of about 1% in topline on both counts.
It's clear that Costco will continue to out-perform Wal-Mart for a considerable period of time, by dint of its far-reaching strategy. For 2016 fiscal year ending in August, Costco is expected to reflect a 4.20% growth in annual sales. Compare this to Wal-Mart's miniscule 0.30% (year ending Jan. 2017).

WMT data by YCharts

Smaller peerTarget (TGT) - Get Reportis expected to post a nearly 2% rise in sales for the year ended Jan. 2016 -- and then a nearly 1% drop for the year ending Jan. 2017.
Over the next five years, Costco is projected to post an earnings per share (EPS) growth of 8.53% every year -- miles ahead of Wal-Mart's 0.23% growth for the next half a decade. While some feel wages have no connection to overall productivity, Costco's strategy of paying fair wages to workers has actually improved its positioning. Happy employees translate into a more productive and profitable company.
Wal-Mart has the edge in operating margins (at 5% TTM) compared to Costco's 3.11%. But more significantly, Costco holds the superior balance sheet. Costco has $6.2 billion cash and $6.1 billion in debt. Wal-Mart has $8.7 billion in cash and $50 billion in debt,
Wal-Mart's 41 years of dividend growth is impressive as is the company's nearly 3% yield. Its payout ratio of 47.2% stands out, compared to Costco's less than 30% (in tow with 12 years of dividend growth history, though it yields 1.06%).
The low yield has more to do with Costco's share prices being on a secular bull run as it delivered 12%-20% gains every year since 2009. During the same period, Wal-Mart has delivered losses for two years (2009 and 2015), nearly 1% gains in 2010, and between 9%-15% gains every year in 2011-2014.
In terms of absolute dividend growth, Costco has increased dividend payments from 92 cents a share in 2011 to $6.56 including special payouts (roughly seven-fold) in 2015. Removing the $5 special cash dividend in 2015, Costco paid $1.56 in 2015 (14.1% CAGR from 2011) while Wal-Mart has grown its dividend payments from $1.46 in 2011 to $1.96 in 2015.
Wal-Mart's business model is undergoing a painfully slow transition. However, Costco doesn't suffer from legacy problems. In fact, Costco incrementally raised its membership fees over the past 20 years and that's worked well, so far. The company's premium valuation has been consistent and solid. Investors have shown that they are ready to pay more than 24 times forward earnings compared to more than  15.25 times for Wal-Mart.
The verdict: Costco appears poised to usurp Wal-Mart as the big box retail king.
We've found a small-cap biotech "rocket stock" that's about to take off. UCLA researchers are stunned by a Nobel Prize-winning cancer breakthrough that's proven in clinical trials to eliminate lethal forms of cancer with a single dose. One small company owns the patent to this life-saving treatment. Now trading at about $5 a share, the stock of this innovative company is projected to surge 2,700% on an imminent FDA announcement. To download the full report, click here.
This article is commentary by an independent contributor. At the time of publication, the author held no positions in the stocks mentioned.