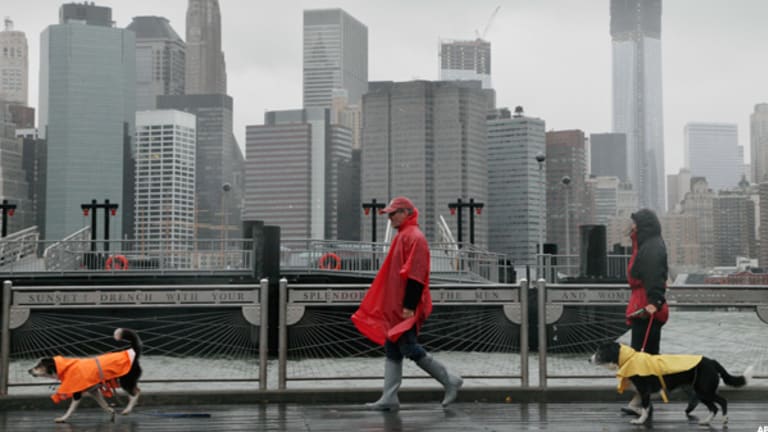 Which Stocks Go Up When a Hurricane Hits?
Hurricane Sandy will have an impact on the entire stock market but some stocks are most likely to move higher.
Hurricane Sandy will have an impact on the entire stock market but some stocks are most likely to move higher.
NEW YORK (TheStreet) -- Wall Street and virtually every street in the northeastern U.S. has shut down Monday and possibly for longer.
The question isn't whether Hurricane Sandy and the weather will create large-scale damage and outages, it's what will the aftermath look like and which industries will turn crisis into opportunity.
There are no sure answers, but many investors have been anticipating some corporate beneficiaries of all the impending havoc and massive emergencies. We don't have to stretch our imaginations too hard in order to come up with some reasonable conclusions.
Long-Term Economic Impact of Hurricane Sandy
Take
Generac Holdings
(GNRC) - Get Report
, which designs, manufactures and markets a range of generators and other engine-powered products for the residential, light commercial, industrial, and construction markets in the United States and Canada.
GNRC reports its quarterly earnings on Wednesday, Halloween, and if that isn't scary enough its stock has already soared 15% from its Oct. 10th low of $24.95. The company has been in business 53 years and when it comes to backup generators and the like it controls about 70% of the market.
Below is a one-year chart of the stock price and the quarterly profit margin. Up to now GNRC has been in a real slump, and that's part of the reason the stock has been afforded only a trailing PE ratio of 5.64 and a forward PE ratio of around 11.76.
data by
Although Generac has a trailing-12-month profit margin of over 33% combined with quarterly revenue growth (year-over-year) as of the end of the June 30 quarter of an impressive 48%, it has over $895 million in total debt and a paltry total cash as of June 30th of $10.31 million.
So from my viewpoint GNRC has already benefited greatly from the "Frankenstorm" scary-scenario. Rational investors may be wise to see how things play out over the next several days, including the quarterly earnings report, before trying to chase this stock. Generac doesn't even pay a dividend!
Where to Hide When Bank Stocks Bomb
For these and several other sound reasons I'd rather be investing in the shares of companies that sell what GNRC and other power generator companies manufacture.
That why I recently visited my local
Lowe's
(LOW) - Get Report
, which is almost as ubiquitous as its competitor
Home Depot
(HD) - Get Report
, which I also visited.
Shares of LOW look as good as the brisk amount of business the company is experiencing all over America (I'm on the West Coast and can only imagine how crowded the East Coast Lowe's locations have been over the past two weeks).
Make smarter trading decisions and provide investment ideas that could help make you richer. Bryan Ashenberg does the dirty work so you don't have to!
Lowe's stock is selling at a little over 15 times forward earnings. With its 2% dividend, it will pay to own some shares while we wait for the latest quarterly report, expected Nov. 19.
Hurricane Sandy Small-Business Disaster Loans
Take a close look at the one-year chart below that demonstrates the correlation between the price of LOW's stock and the diluted quarterly earnings-per-share (year-over-year) results. You can tell that investors are anticipating a sharp, positive reversal in that category during the current quarter.
data by
One last thought on which stocks may benefit from Sandy. If 50 million people or more are going to lose electrical power, with major cities being plunged into darkness and sporadic chaos, scads of people will be stocking up on everything from flashlight batteries to beer to bags of ice.
Why, the average American might have emptied the shelves at their neighborhood
Safeway
(SWY)
or Von's supermarket in anticipation of major supply disruptions. Have you noticed that SWY pays almost a 4.3% dividend representing a payout ratio of only 31% of earnings?
When I looked at Safeway's key financial statistics I was somewhat dismayed by its large total debt of $6.43 billion. Yet, it was good to see that as of its latest quarterly earnings date of Sept. 8, it had trailing-12-month operating cash flow of $1.67 billion and levered free cash flow of $593 million.
SWY's stock price is trading at a price-to-sales ratio of 0.09 and its price-to-earnings-to-growth, or PEG, ratio is a very modest 0.85. By those measures the stock is cheap. The company is well-represented in areas where Sandy is approaching, and I wouldn't be surprised to see bottom-line sales figures soar as a result of this rare meteorological calamity that is unfolding as I write.
I'll end with a one-year chart of SWY and include both the stock price and the diluted, year-over-year EPS growth rate, which was up 21% in the last quarter. It appears that SWY is "on sale," and so may be a number of other companies in their sector.
SWY EPS Diluted Quarterly YoY Growth
data by
At the time of publication the author had no position in any of the stocks mentioned.
This article was written by an independent contributor, separate from TheStreet's regular news coverage.
Jim Cramer and Stephanie Link actively manage a real money portfolio for his charitable trust- enjoy advance notice of every trade, full access to the portfolio, and deep coverage of the latest economic events and market movements.