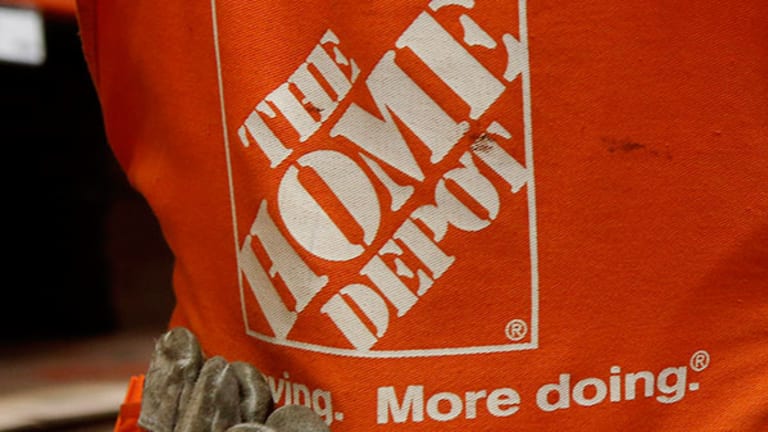 Which Is the Better Stock: Home Depot or Lowe's?
Both retailers are pure plays on the housing sector's recovery, but Home Depot combines market-beating potential with greater safety.
New housing data released this week provided positive news leavened with the negative. Housing starts in the U.S. dropped to a seven-month low in October, dragged down by a fall in the construction of multifamily homes. At the same time, the number of housing permits soared higher. It's enough to give already nervous investors a bad case of cognitive dissonance.
The purest retail plays on housing's overall recovery are Home Depot (HD) - Get Home Depot, Inc. Report and Lowe's (LOW) - Get Lowe's Companies, Inc. Report , both of which reported strong earnings reports this week. But in addition to greater growth prospects, Home Depot also provides more safety in case the good news/bad news scenario in the housing sector suddenly turns mostly bad. In this still-shaky U.S. recovery, beset by terrorism overseas and an imminent interest rate hike at home, investors who seek growth should simultaneously prepare for the worst. Let's see why Home Depot has "more doing" in the defensive growth department.
data by
Home Depot looks like a great buy for investors right now. 
The mixed news in housing this week reminded investors that economic expansion remains on track, but looming risks call for caution. Today more than ever, you should stick to high-quality stocks that are in growth mode but boast inherent strengths that should hold them in good stead if the market stumbles. That's why Home Depot shines right now.
October was the seventh month in a row that housing starts stayed about one million units -- the longest stretch since 2007, the year when the wheels started to come off the housing sector.
To be sure, the housing and construction rebound and falling joblessness paint a sanguine picture heading into 2016. Instrumental in generating a "wealth effect" among Americans is the steady rise in home prices since their collapse during the Great Recession.
More so than Lowe's, Home Depot should thrive during the rest of the year and enter 2016 with plenty of momentum.
With a market cap of $162.5 billion, Home Depot is America's largest home improvement retailer. Lowe's (market cap: $68 billion) is No. 2. Last year Home Depot basked in its highest retail sales and earnings in its history and it's headed for another record year.
Home Depot this week posted third-quarter adjusted earnings-per-share (EPS) of $1.36, up from $1.11 in the same period a year ago. Revenue rose to $21.82 billion from $20.52 billion a year ago. Wall Street's consensus had called for EPS of $1.32 on revenue of $21.82 billion. Same-store sales rose year-over-year by 5.1%, higher than the consensus estimate of 4.6%.
Home Depot's smaller rival Lowe's also topped earnings estimates this week. Third quarter revenue came in at $13.7 billion, a 5% year-over-year increase. Earnings hit $736 million and EPS 80 cents, for year-over-year (YoY) gains of 26% and 36%, respectively.
That said, HD boasts several advantages that make it a better stock.
Home Depot's management raised its comparable-store sales forecast for the third time in a row, projecting it would grow by 4.9% in 2015. By contrast, Lowe's management reaffirmed its existing full-year comparable-store sales growth outlook of 4.2%.
Home Depot has racked up higher comp sales growth gains than Lowe's in every quarter going all the way back to 2009, except for the second quarter of this year, which suffered from a more challenging year-over-year comparison for Home Depot.
Both stocks trade at a trailing 12-month (TTM) price-to-earnings (P/E) ratio of about 24, in line with the industry average. But Home Depot sports a higher dividend yield than Lowe (2.00% versus 1.56%). Moreover, unlike Lowe's, Home Depot is now in expansion mode (to the tune of more than $1.5 billion in capex expenditures this year alone) and it's making forays into emerging markets. The company also is in the process of hiring about 80,000 new workers across its 2,263 stores worldwide.
Home Depot also unveiled a massive $18 billion share buyback program to be completed within a two-year time frame.
Home Depot's continued outperformance compared to Lowe's also stems from higher worker productivity and greater economies of scale, as well as more exposure to segments that afford more long-term growth potential. Home Depot's stores also benefit from locations in areas that are geographically more desirable, with higher foot traffic and more affluent customers. Accordingly, HD's TTM operating margin is .13%, while Lowe's is lower at .09%.
It's especially notable that home depot is making greater headway in expanding its online business. The company recently unveiled three huge direct fulfillment centers, allowing it to ship more orders on the same day that they're received. Home Depot has at least two additional fulfillment centers scheduled for construction this year. Lowe's completely lacks same-day delivery services, a serious liability in the e-commerce era spawned by Amazon.
All of this helps explain why HD's stock is up 20.55% year to date, compared to 6.8% for LOW and 5.42% for the SPDR S&P Homebuilders ETF (XHB) - Get SPDR S&P Homebuilders ETF Report .
To play a housing recovery and also keep your powder dry in case the market tanks, Home Depot is the best choice for pragmatic optimists.
Meanwhile, certain stocks are just plain bad choices, anyway you slice it. They're ridiculously overvalued with weak fundamentals, which is a terrible combination under any circumstances. For a list of the worst stocks to own now, click here.
John Persinos is editorial manager at Investing Daily. At the time of publication, the author held no positions in the stocks mentioned.