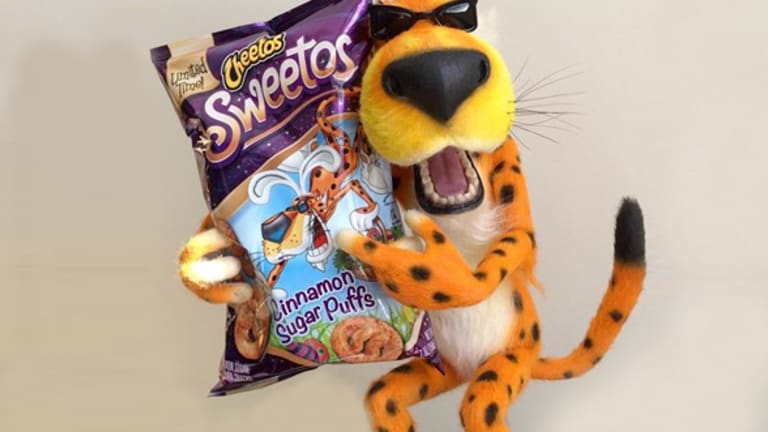 Which Generation Snacks the Most? It's Not Millennials
Millennials are eating less junk, but the choices are also less healthy than boomers, researchers say.
Broke teens and millennials aren't the only ones fueling solid sales of candy, potato chips and multi-grain pretzels.
Their hungry babyboomer parents can't get enough of the stuff, either. According to new research from NPD Group, boomers buy ready-to-eat snacks 20% more often than millennials do. Based on NPD's findings, a boomer eats 1,200, or a group total of 90.4 billion snacks, each year. Their millennial offspring eat about 1,000 snacks, or a total of 83.1 billion, per year.
Fruit (good ol' apples, etc.), chocolate candy and bars and potato chips rank as the top three picks for both groups. Boomers and millennials take different approaches to snacking, says the analytics firm. Nuts and yogurt are the choice among boomers, while millennials reach for the less-healthy tortilla chips and cookies. As for the drivers of snack binges, they differ.
Millennials will often pick a grab-and-go snack (like potato chips) from grocery store shelves, because they're hungry (and perhaps a little lazy). On the other hand, mostly boomers snack because they don't want to prepare a big meal and eat alone. Is the empty nest syndrome leading parents to soothe their sorrows in snacks? Perhaps.
The propensity of both groups to snack continues to fuel solid sales gains for the snack food industry.
According to research from Nielsen, 2015 sales of salty snacks such as corn chips, multi-grains and popcorn rose 3.3% year over year, to $26.8 billion. Snack sales have increased in four consecutive years, with the biggest and most consistent gains seen in cheese snacks, meat snacks (such as beef jerky) and popcorn.


PepsiCo continues to innovate around its Frito Lay snack business.
Beverage and snack giant PepsiCo (PEP) - Get Free Report has cashed in on the snack trend, releasing new products last year such as Rold Gold pretzels with chocolate dipping sauce and flavored Stacy's pretzel thins. Sales at PepsiCo's Frito Lay North America business rose 2% last year to $14.7 billion. Excluding the impact of the strong U.S. dollar, sales improved 3%. Helped by tame costs for key snack ingredients such as corn and sugar, profits for the division increased 6%.
PepsiCo Chairman and CEO Indra Nooyi said on a Feb. 11 call, "The reason Frito does as well as it does is because it takes occasions from all other macro [broader] snacking categories -- so Frito's is able to go after crackers and is able to go after sweet occasions through interesting products that comes from a salty heritage."
New snack launches from the Frito Lay business have continued into 2016. Fiery Roasted Habanero, Korean Barbecue, Smoked Gouda and Chive, and Olive Oil and Herbs flavored Lay's potato chips began hitting grocery store shelves in February. The company's Smartfood popcorn brand has debuted White Cheddar Jalapeno this year, too.
Exclusive Look Inside:
You see Jim Cramer on TV. Now, see where he invests his money and why PepsiCo stock is a core holding of his multi-million dollar portfolio.
Want to be alerted before Jim Cramer buys or sells PEP? Learn more now.

Elsewhere, Amplify Brandsundefined -- fresh off an August IPO -- is also capitalizing on the demand for snacks. 

Following an August IPO, Amplify Brands is expanding its snacks portfolio.
For the nine-months ended Sept. 30, Amplify's sales surged 38.5% year over year to $137.5 million. Earnings before interest, taxes and depreciation increased 24.3% year over year, to $56.1 million, adjusted for one-time items. The company's results continue to be driven by its popular SkinnyPop popcorn brand.
Similar to PepsiCo, Amplify is looking to broaden its snacks portfolio this year. In January, it released a nacho cheese flavor under its Paqui tortilla chip brand.
"We expect 2016 and beyond to see meaningful contribution from our additional focus on innovation, which will come by traditional methods such as flavor expansion and new price and package combinations," said CEO Tom Ennis to analysts on a Nov. 5 call. Amplify is also exploring new snack forms for release this year, but did not provide specifics.
Even big food manufacturers are looking for acquisitions in order to cash in on the snacking craze.
In January, meat-snack bar maker Epic was acquired by food and snack giant General Mills (GIS) - Get Free Report . As The Dealreported, General Mills likely paid about $100 million for Epic. The valuation, says sources close to The Deal, was five times the approximately $20 million in revenue Epic was estimated to have generated in 2015.
In January 2015, candy maker Hershey (HSY) - Get Free Report acquired Krave Pure Foods, the maker of Krave jerky products, for roughly nine times its revenue of $35 million, or more than $300 million.