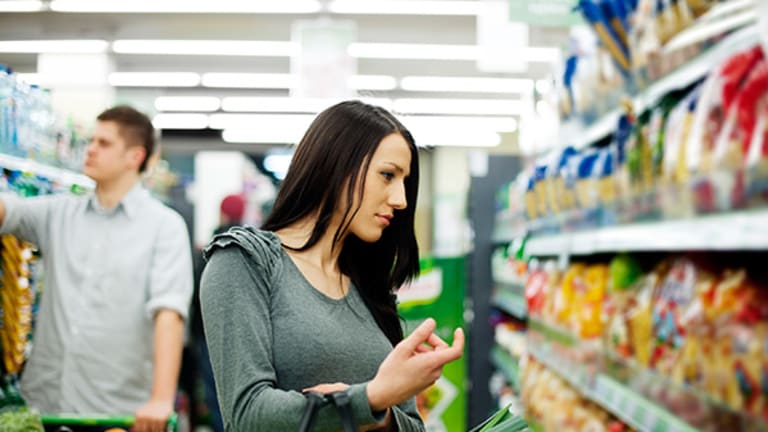 Which Food Stock Belongs in Your Cart: J. M. Smucker Or Farmer Brothers?
We examine both high-flying food stocks and pick the best one to buy now. You might be surprised by our verdict.
We examine both high-flying food stocks and pick the best one to buy now. You might be surprised by our verdict.
Up nearly 19% year to date, J. M. Smucker (SJM) - Get Report stock has already gained quite a lot this year. For a company that is famous for fruit spreads, ice cream toppings, beverages and natural peanut butter products, these market-beating gains have pushed the stock passed the analyst median target price.
While the company has delivered robust earnings, there are questions as to whether the stock has peaked. We suggest you play it safe, especially in the wake of post-Brexit turmoil. Replace Smucker shares with growth hotshot Farmer Brothers (FARM) - Get Report , which is poised to deliver 50% earnings-per-share (EPS) year-over-year (Y/Y) growth for the next half a decade. The upside too looks great, positioning Farmer Brothers to be among the best "momentum" investments you can find.
Earlier this month, J.M. Smucker reported net sales growth of 25% in the fourth quarter. Contribution of Big Heart Pet Brands and growth within the U.S. retail coffee segment contributed immensely to growth. Its pain point was U.S. retail consumer foods, and international and foodservice segments where sales dropped. While margins came in strong, the company's 2017 guidance implies a 1% Y/Y sales decline.
On the other hand, Farmer Brothers is just getting started and its share price appreciation should accelerate. The company, which is projected to report 73%+ EPS growth this year, is likely to clock 38% earnings uptick for the year ending June 2017 accompanied by 3% growth in sales. Head-to-head, J.M. Smucker's 10.56% earnings growth outlook for next five years pales in front of the 50% number for Farmer. If growth is what you want, Farmer is a better place to be.
Farmer Brothers is a leading manufacturer, wholesaler and distributor of coffee products. It's also a distributor of tea and culinary products to food service establishments and retailers. You may think, "what's so special about that, right?" Farmer differentiates itself in unique ways.
First, its customer service model, wherein it offers value added services like inventory and product procurement management to foodservice customers, is different. Unlike many others, Farmer offers these services primarily in person. Additionally, the company provides comprehensive coffee programs, including private brand development and supply chain management to its national retail customers. This can widen the economic moat for Farmer Brothers.
While J.M. Smucker is a larger company with a good amount of free cash flow, analysts do not seem to be bullish about its overall prospects. The current consensus among 21 polled investment analysts is to "hold" Smucker stock. On the other hand, Farmer Brothers, which has been flat so far this year, has a unanimous "buy" rating. Unlike the J.M. Smucker stock which has already crossed median target price, Farmer shares have as much as 16.8% upside (the median target price is $37.50).
Also, there could some negative trends for J.M. Smucker that could be used by bears to pull down the stock price. For instance, K-cup revenue has been doing well. But the growth could turn negative if pricing pressure sustains, warned analyst firm Susquehanna.
Trading at an EV/EBITDA of 13.2 times, Smucker is costlier than packaged and processed foods peer ConAgra Foods (11.2 times). Goldman Sachs had lowered its rating on Smucker to "sell" from "neutral" a couple of months back on concerns over the ability of the company to match consensus earnings estimates. As valuations rise, Smucker's margin of error is narrowing.
From that standpoint, Farmer as a growth stock is under-valued. Adjusting for expected earnings growth, the PEG ratio for Farmer shares is at 0.54 (a ratio under 1 is considered good). This is extremely attractive compared to peers like Sysco (PEG - 2.54) and J. M. Smucker (1.84). With Farmer Brothers recently having turned profitable, the stock looks set to rally on the back of expected profit gains.
---
Spooked by Brexit and the global free-fall in stocks? If you'd rather avoid stocks altogether while the market experiences its current turbulence, I know a way you can make a guaranteed $67,548 over the next 12 months. In fact, this technique is so successful and simple, you might want to give up stock investing forever. Click here now to learn more.
This article is commentary by an independent contributor. At the time of publication, the author held no positions in the stocks mentioned.