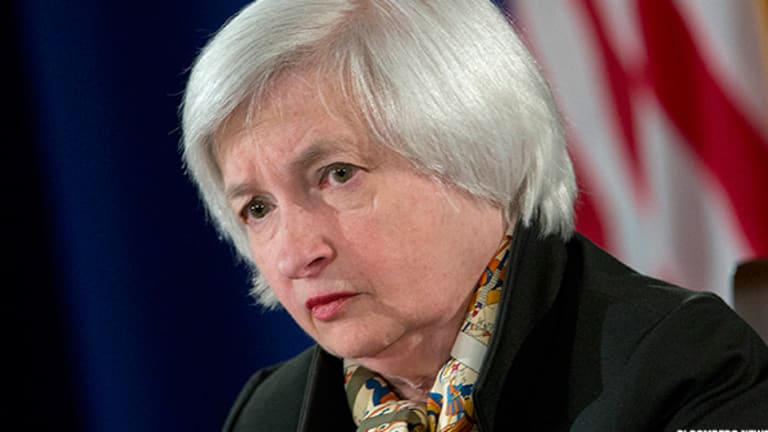 Whether It's Yellen or Fischer Leading the Fed, a June Rate Hike Is Very Possible
Yellen and Fischer are focusing on unemployment and inflation over growth to time a rate hike. With unemployment headed down and inflation up, a June rate hike is still possible.
NEW YORK (TheStreet) -- The biggest surprise coming out of the Federal Reserve over the next few months might not be a June interest rate hike. 
Fed Chair Janet Yellen could leave her post sooner than you think. She is under investigation for a 2012 leak of a Federal Open Market Committee meeting. A meeting she had on June 11, 2012 with an analyst from Medley Global Advisors is under scrutiny. That firm just happened to publish a report on deliberations from the FOMC meeting in question one day before minutes went public. Nothing has been proven but the timing of her meeting and the report doesn't look good.
Maybe it's nothing; maybe it just looks bad. But maybe, at some point soon, Yellen will have to leave her perch, and this in the midst of near-global nail-biting over when the Fed will finally raise interest rates just a tiny blip.
If she does, Fed Vice Chairman Stanley Fischer would be more than able, stepping into the role. 
His background fits the profile perfectly, perhaps even too perfectly. He is known in the Israeli media as a "superhero" who saved the economy from being ravaged in the Great Recession. His last position was as head of the Bank of Israel, the country's central bank.
Though "superhero" is hyperbolic and hotly contested by some, he was placed as the second in command at the Fed for a reason. Let's not forget that Yellen may not have become Fed Chair if Larry Summers had not pulled out of the race at the last minute. Let's also not forget that Fischer was former Fed Chair Ben Bernanke's Ph.D. thesis advisor at the Massachusetts Institute of Technology. 
So, having Israel's "superhero" at the head of the Federal Reserve, especially at a time of economic uncertainty, could be beneficial. The question is, will the Yellen investigation put Fischer at the helm and, if he heads the Fed, what happens to the interest rate hike timetable?
Fischer has made clear that his priority while Bank of Israel chairman was to not let inflation get out of control. In an interview with the Wall Street Journal in 2008, he was quoted as saying, "We'll raise interest rates until we see the prospect that we're in a situation where we'll get back within the target range within a year. That's our strategy."
As for the actual record, during his 8-year tenure at the head of the Bank of Israel, Fischer only substantially lowered Israel's benchmark interest rate during the very beginning of the global financial crisis until early 2009. Immediately afterward, he began raising rates steadily up to 3% by 2011, lowering them only slightly to just under 2% by the end of his term.

Image: Israel's benchmark interest rate under Stanley Fischer
Fischer is not a stranger to raising rates quickly, and that his stated goal is to quash price inflation once it starts showing up in the consumer price index.
And yet, despite his propensity to raise rates quickly, it is undeniable that Fischer is still a money printing inflationist. Israel's money supply under his chairmanship more than doubled in eight years to 550 billion Israeli shekels ($142.5 billion) from 250 billion.

Image: Israel's money supply under Stanley Fischer

Given the conflicting signals here, what can we expect?

In an interview with CNBC last month, Fischer made it clear that he doesn't think the bad GDP number for first quarter was much indicative of anything but seasonality.
"The first quarter was poor. That seems to be a new seasonal patent. It's been that way for about four of the last five years," he said.
But perhaps the biggest tell as to what he's looking at came in this statement: Asked if he thinks inflation will reach the 2% target by the time the Fed raises rates, he clearly said no. "The requirement," said Fischer, "is that we'll be moving in that direction. We'll have reasonable basis for believing we are moving in that direction."
Yellen also made it clear that she is not paying attention to the GDP numbers as much as she is looking at the employment report, particularly for the months of April and May.
Yellen and Fischer are both looking for unemployment to drop into the 5% to 5.2% range by June for a rate hike to be on the table. As for inflation, the huge drop in oil that was pushing down the CPI now seems to be reversing, with West Texas Intermediate Crude up 44% since bottoming at $42 in March.
All said, inflation is headed up. Unemployment has been heading down, and is very close to 5%. With both Yellen and Fischer downplaying the GDP numbers and focusing on inflation and unemployment, which happens to be the Fed's dual mandate -- not growth -- a June hike could very well be in the cards. (Most are expecting a September hike at the earliest.)
But if it happens in June, many bond traders will be blindsided. Interest rates on the 10-year treasury note are already up 30% since January 30th lows. The iShares 20+ Year Bond Fund (TLT) - Get iShares 20+ Year Treasury Bond ETF Report is down 13%. The bond market may be already smelling the completely unexpected -- a June rate hike for the first time since the 2008 financial crisis, whether it's Yellen or Fischer at the helm. 
This article is commentary by an independent contributor. At the time of publication, the author was short TLT.