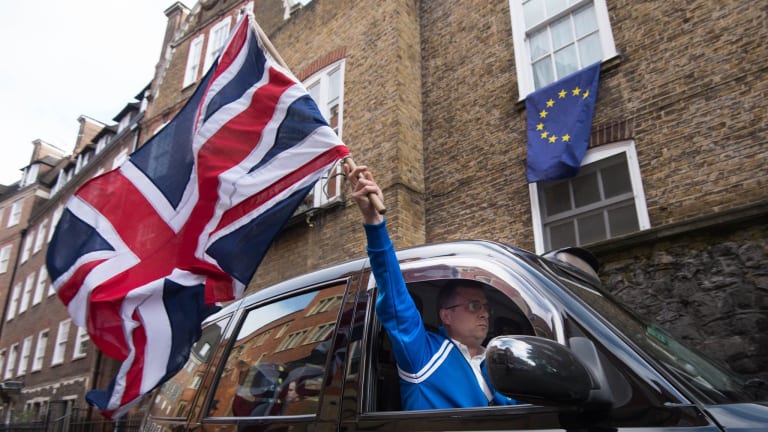 Where to Put Your Money Post-Brexit: What Wall Street's Saying
It's the second day of trading in the U.S. after Great Britain's historic 'Brexit' vote, and analysts have differing opinions about the best places to invest.
The second day of trading in the U.S. is upon us after the U.K.'s dramatic decision to leave the European Union, and analysts are admittedly unsure about what's coming next.
A referendum on Thursday decided that Great Britain would leave the European Union after decades of agreement between 28 European countries. The Dow Jones Industrial Average is down more than 300 points in morning trading Monday after plummeting more than 600 points on Friday.
With many investors searching for how and where to invest now, here's what some analysts are saying:
Ari Wald, Oppenheimer
"Buying momentum (i.e., leadership) on market pullbacks has been an outperforming strategy in recent months, quarters, and years and we expect it to remain an outperforming strategy over the coming months, quarters, and years.  For the S&P 500, the index is only 4% removed from an all-time high, above key support at 2025, and tactically supported by another spike in the [CBOE Volatility Index].
However, our expectations are tempered by 'risk-off' signals in the fixed income and currency markets. With our conviction toward stock selection, we're specifically bullish on the iShares Momentum ETF (MTUM)  which has been resilient amid market volatility. Friday's volatility also highlights the key risk to our outlook which is overseas weakness spreading to the US. In our view, if you're bearish on the S&P, we think you should be even more bearish on Europe, especially their banks which are nearing multi-decade lows. We've found that the weak tend to get weaker when markets turn lower, and we therefore still recommend selling these laggards."
Anjaneya Singh, Credit Suisse
"In the event that the Brexit is not as detrimental to the growth in the UK and EU as is feared, the region could grow faster than expected. Furthermore, aggressive monetary policy of the UK and the EU, could help prop up the regions and even drive growth. Better employment trends in the region would carry the benefit of not only faster top-line growth but also better margins from spreads, perm, and op leverage."
Sean Darby, Kenneth Chan and Irene Zhou; Jeffries
"Perhaps the lesson learnt from the EU Referendum heading into the US presidential race is that the growing anti-establishment or anti-status quo has once again unsettled the 'market equilibrium' established by the central banks through unconventional monetary policies. We would tend to agree with Jefferies US REITs team which highlighted that there was 'No need to exit Just because of Brexit' given the drop in long US rates.
True, there are pockets of the lodging and the industrial space with greater than 5% revenue exposure to the UK and Europe but most of these REITs have issued euro- and British pound-denominated debt, which partially serves as a natural hedge. The elasticity of the dollar to US sector earnings varies with utilities and real estate low while technology, media and healthcare is high. One area that will face headwinds from a strong dollar is in software."
Bryan Brokmeier, Cantor Fitzgerlad
Life Science Tools & Diagnostics: "We view the Brexit decision as a slight negative for the life science tools & diagnostics space. Although industry fundamentals remain intact and the sector does not have high exposure to the macro environment, particularly in Europe, tools companies do have high currency exposure and may face multiple contraction along with overall markets."
Adam J. Josephson, KeyBanc
Paper and Plastic: "In light of the possibility that the euro could continue to weaken, we highlighted our companies' European exposure and their sensitivity to changes in the euro below. Among our companies, those with the greatest European exposure and sensitivity to the euro are ATR (ATR) , Owens-Illinois (OI) , Greif (GEF) , Crown Holdings (CCK) , and Sealed Air (SEE) . While our covered paper companies [International Paper (IP) , WestRock (WRK) , and KapStone (KS) ] do not have translation exposure to the euro of any consequence, their competitiveness in the export markets is significantly affected by the strong U.S. dollar/weak euro, and has been for over a year. To the extent the euro weakens further, the export markets will become that much more difficult for these companies."
See full Brexit coverage here.