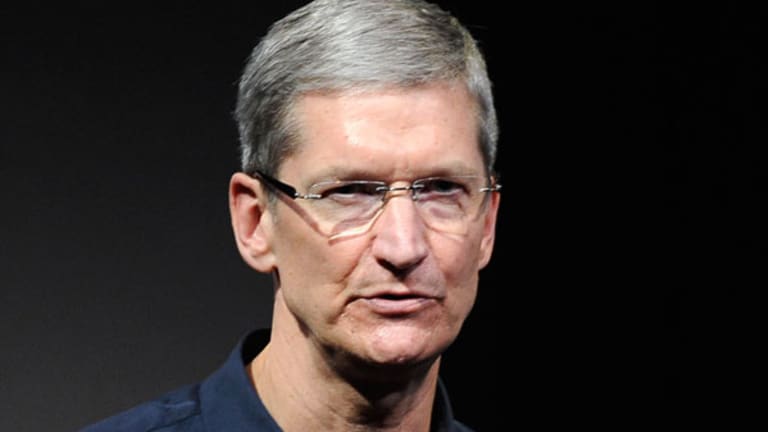 Where Is Apple's Tim Cook on Gay Rights?
Unlike Howard Schultz and Jeff Bezos, the Apple CEO has been curiously quiet on the subject of gay marriage and all that it entails.
NEW YORK (TheStreet) -- Last year, Reuters columnist Felix Salmon, who graciously allows TheStreet to pick up his always smart and thoughtful daily musings, wrote a pair of articles about Apple (AAPL) - Get Free Report CEO Tim Cook's sexuality.
In the first one --
Don't Ignore Tim Cook's Sexuality
-- Salmon made several terrific observations. One of the best came when he chided the media's refusal to discuss the issue:
There's no ethical dilemma when it comes to reporting on Cook's sexuality: rather, the ethical dilemma comes in not reporting it, thereby perpetuating the idea that there's some kind of stigma associated with being gay. Yes, the stigma does still exist in much of society. But it's not the job of the press to perpetuate it. Quite the opposite.
I suppose Salmon
had
to write the second one --
Why I'm Talking About Tim Cook's Sexuality
-- where he took every objection to his decision to write about Cook and turned them, point-by-point, on their collective ear.
On Monday, I wrote
an article lauding Starbucks (SBUX) - Get Free Report CEO Howard Schultz's choice to tell an anti-gay shareholder to, for all intents and purposes, buzz off
.
Schultz's move comes several months after
Amazon.com
(AMZN) - Get Free Report
CEO Jeff Bezos and his wife gave a couple of million dollars to Washington State's campaign in support of same-sex marriage.
All of this -- and lots of thinking since Salmon's August 2011 articles -- has taken me down several thought paths, including the one illustrated in
a pair of Tweets from Monday afternoon
:
When Salmon brought up Cook's sexuality, it was the first I had heard of it. I had no idea Cook, at least according to Salmon and other assorted reports, is gay. That, in and of itself, surprised me and only reinforced the points Felix made in the first place. If you're going to tell me something along the lines of
It doesn't matter
or
It's private
or
why should shareholders care?
or
haven't we moved on?
, all I can do is refer you to Salmon's work. He says it better than I could ever hope to.
Schultz also stated it so well: This is not an economic decision; it's about doing what's right by Starbucks' employees, its customers and humanity. Am I putting words in the guy's mouth? Sort of. But I reckon he's on board with my representation of his bold move.
Like I said in the Tweet, I do not look to Schultz or Bezos to inform my views on social issues. Not anymore than I look to Springsteen to enlighten me sociopolitically or a sports star to play role model for my kid. That said, people with platforms -- whether they asked for it or like it or not -- have a responsibility to use these platforms to do some good. To take a stand.
When you become as big as Starbucks or Amazon or Apple, you have become bigger than one person, bigger than your shareholders and bigger than your brand. All of a sudden you represent a diverse workforce and customer base; how you treat these people matters internally as well as externally, both in the court of public opinion and as the zeitgeist evolves.
Gay rights matters now more than ever with the Supreme Court finally taking up the issue. "The people" should not have
the right to vote
on matters that directly impact the rights of others. That's the side I hope the justices come down on.
But, with this being said, I ask again:
What is Tim Cook's stance on the issue?
Schultz and Bezos, both straight as far as we know, have made bold moves as leaders of public companies serving a wide set of customers. Cook, who, reportedly, is gay, has not, as far as I know, made public comments on being gay or on gay rights issues.
How powerful would it be if one of
the most powerful
CEOs in the world took a stand like Schultz and Bezos have?
You can argue that I have no right to prescribe activism for Tim Cook.
I retort that if Tim Cook acts, he might save lives. He'll certainly help remove the stigma that gays and lesbians deal with -- every day -- in our society. And he -- as well as Apple -- will become a worthwhile part of the conversation at a time when the "debate" (it's just ludicrous that we accept calling it a "debate") is about to take its most historical turn.
--
Written by Rocco Pendola in Santa Monica, Calif.
Rocco Pendola is
TheStreet's
Director of Social Media. Pendola's daily contributions to
TheStreet
frequently appear on
CNBC
and at various top online properties, such as
Forbes
.