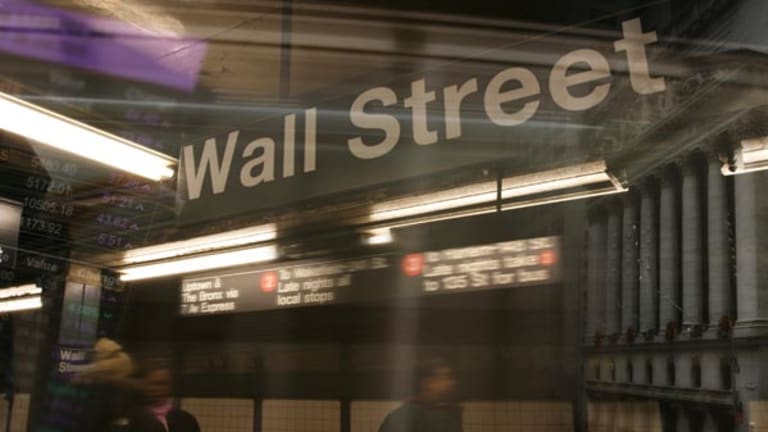 Where Does the Stock Market Go From Here Next Week?
The stock market had a selloff Friday on increased volume.
NEW YORK (TheStreet) -- After three straight up days Friday saw a selloff that was on increased downside volume.
The S&P 500 Trust Series ETF (SPY) - Get SPDR S&P 500 ETF Trust Report volume came in at 76 million shares. That was much higher than the 3 proceeding up days. Where have you heard this before? On up days the volume is decelerating and on down days the volume is accelerating. Just not the way a bull market is supposed to be acting.
The DJIA was down 123.23 points to close at 16960 and the S&P 500 was down 9.64 at 1978.34. The Nasdaq was lower by 22.54 to close at 4449.56 while the Russell 2000 was down 1% to finish at 1144.72. The Russell 200 Index is now down 2% for the year to date. Now that is a sure sign of a stock market that is not quite in bull mode.
Where the stock market goes from here is anyone's guess. The stock market is not the economy in 2014. I have a feeling geopolitical events are now starting to infiltrate the stock market.
In the next crisis that is on the horizon, you will be told you cannot have your money when you ask for it. The term "macro prudential" means asset freeze or bail-in. The new money market regulations that went into effect this week allow for suspension of redemptions. The Federal Reserve is coming around to the view that a collapse is coming and regulators are exhibiting signs they expect another collapse.
As I mentioned in Thursday's article, gold, which was up 7% YTD, is now up 8% YTD after a nice upside move on Friday. Ignore the Wall Street pundits when it comes to gold. Gold is in a bullish trend.
Monday starts the last week of trading for July. Most of the major earnings are already in and they were less than stellar.
Traders and investors need to keep focus. With U.S. equity outflows negative, the hedge funds are in total control. They can easily send this stock market into a tailspin. This market is not for investors. This is a traders market.
On Friday, I sold my Under Armour (UA) - Get Under Armour, Inc. Class C Report long position that I purchased on an upside channel break on Thursday. The gain was for over 1%. I also covered my Glu Mobile (GLUU) - Get Glu Mobile Inc. Report short from yesterday at the open for nearly a 2% gain.
At the close on Friday I went long Turcell Iletisim Hiizmetleri ADS (TRC) - Get Tejon Ranch Co. Report. I shorted Siliconware Precision Industries (SPIL) and went long Qlik Technologies (QLIK) . This is all according to my algorithm process at www.strategicstocktrade.com.
At the time of publication, the author was long TRC, QLIK, INO, and short SPIL, although positions may change at any time.
This article represents the opinion of a contributor and not necessarily that of TheStreet or its editorial staff.