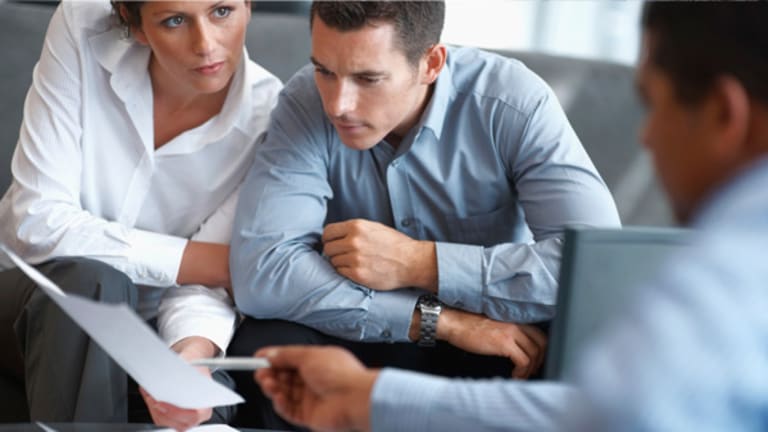 When the Fed Responds, These Stocks Will Correct
Mortgage REITs and health care will be the first sectors to fall after an initial bounce higher.
NEW YORK (TheStreet) -- The rumor mill is cranking out more rumors about what the Federal Reserve will do after its July 31 meeting.
In an
article Wednesday in the
Wall Street Journal
it was strongly suggested that "...Federal Reserve officials, impatient with the economy's sluggish growth and high unemployment, are moving closer to taking new steps to spur activity and hiring."
Another big helping of what I call "massive quantitative easing," or MQE, is on its way, and recent news articles are suggesting it may come sooner rather than later.
MQE will not only be focused on buying mortgage-backed securities, but I believe it will include a directive to increase credit liquidity and accelerate the velocity of money to help ease the current stringent restrictions on business and personal borrowing.
Also, the central bank could deepen its commitment to keeping interest rates at zero beyond 2014 and directly offer credit to banks through the use of the discount rate to prompt lending, the WSJ reported.
Any way you slice it and dice it, MQE will be a surprisingly generous version of what Ben Bernanke reiterated on July 17 when he said the Fed "is prepared to take further action as appropriate to promote a stronger economic recovery."
Notice that the Fed Chairman said "stronger economic recovery". He chooses his words carefully, and in order to follow through the Fed will need to do more than they've done in the first two iterations of MQE.
When the Fed does pull the trigger, the first sector to correct after an initial bounce higher will be the mortgage REITS including
Annaly Capital Management
(NLY) - Get Free Report
and
Hatteras Financial
(HTS)
.
Yes, I love their generous (nearly 13%) dividend payouts. But what really concerns me is they're both trading at or near their 52-week highs and their payout ratios are frighteningly high.
Annaly Capital has a current payout ratio of 423%. Hatteras Financial has a 98% payout ratio. From past experience, and from the chart below, these two stocks have more downside risk than upside potential.
data by
After the Fed makes its big announcement, NLY and HTS should spike higher, and then the "sell on the news" reaction may quickly follow.
If you have a big position in either you might want to take half off the table on the day the good news of MQE breaks with the hope of buying back at least 10% lower.
Drug Stocks and Health Care
If you invested months ago in Big Pharmaceutical companies including
Pfizer
(PFE) - Get Free Report
you've had a rich and rewarding ride. Look at the chart below that compares Pfizer's multi-year price to its dividend yield.
data by
Pfizer has had a brilliant strategy of beefing up its product pipeline while unloading whole divisions in spin-offs and public offerings.
Under CEO Ian Read, who as of Feb. 24 owns almost 879,000 shares worth nearly $20,500,000 at the Wednesday share price of $23.33, PFE has been doing some "unwinding."
The company has systematically sold off some big assets it acquired through mega-mergers, including the 2009 purchase of Wyeth Pharmaceuticals for $68 billion.
In April Pfizer agreed to sell its nutrition unit for $11.85 million to Nestle SA
NESTLE
(NSRGY) - Get Free Report
, a company I believe is undervalued and attractively priced.
Then, in the first week of June, Pfizer announced that it's preparing to sell a minority state in its animal-health unit as part of the drug maker's plan to sell assets and sharpen its focus on human drugs.
It named the animal-health business Zoetis. PFE plans to make Zoetis a standalone company by July 2013, but first it's working on an initial public offering. So far the IPO date has not been announced.
Pfizer's animal-health unit may be valued at between $15 billion and $18 billion when it separates from PFE, according to a recent
Nasdaq
report.
"Pfizer Animal Health is a dynamic business with strong fundamentals, an expanding and loyal direct customer base and a proven management team," said Pfizer CEO Read. Read also repeated Pfizer's commitment to launch share buybacks with the proceeds of a prospective sale.
My biggest caveat here is that all this great news is already priced into Pfizer's share price, which is slightly below its $23.80, 52-week high established intra-day on Friday.
With the price at current levels it lowers the dividend yield to below 4%. It was less than a year ago that investors were chasing Pfizer's 5.25% yield when the price was down below $16.70. Today's share price means the stock has climbed 40% in less than 12 months. Watch out below!
The same could be said for other Big Pharma stocks including
Bristol-Myers Squibb
(BMY) - Get Free Report
and
Abbott Laboratories
(ABT) - Get Free Report
, whose price has risen above $64 while the yield-to-price is down around 3.2%.
That's a heck of a better yield than a seven-year Treasury, which yields only 0.90%, or the 10-year Treasury currently at a historically low 1.41%.
Yet, at some point (most likely after the next helping of MQE) a return of what the Wall Street media has called the "risk-on trade" will surge and a rotation out of the historically higher yielding stocks like REITs and drug companies will happen in a New York minute.
If you have the foresight and guts to sell at these high levels, you'll probably have the chance to buy them back after the correction in this "risk off" stocks runs its course. You'll then have a higher yield-to-price dividend and the chance to catch the next run-up in the mortgage REITs and the big drug stocks.
At the time of publication the author was long NLY.
This article is commentary by an independent contributor, separate from TheStreet's regular news coverage.
Jim Cramer and Stephanie Link actively manage a real money portfolio for his charitable trust- enjoy advance notice of every trade, full access to the portfolio, and deep coverage of the latest economic events and market movements.