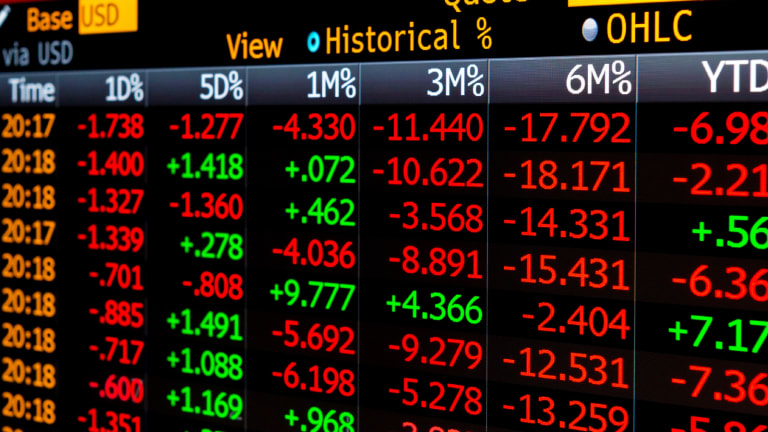 When Markets Are Crashing, Here's How to Protect Your Investment Portfolio
As the carnage spreads across global markets, you should prepare your portfolio for the worst. Here's a step-by-step battle plan.
Defense readiness condition, or DEFCON, is an alert state used by the U.S. military. DEFCON 1 is maximum force readiness and means that nuclear war is imminent. DEFCON 2 is one level below maximum readiness. Under today's embattled market conditions, it's prudent to apply a DEFCON approach to your portfolio.
We're not witnessing another 2008-style debacle (i.e., DEFCON 1) just yet. But judging by the frightening performance of global markets lately, it's time to suit up and scramble your defenses.
Below are steps you should immediately take to disaster-proof your portfolio. We also show you how to avoid the most dangerous stocks right now.
We're not alarmists by nature, but there's no sense in denying reality. After Thursday's plunge, the S&P 500 is now down more than 10% so far this year, which officially marks a correction. Strategists at the Royal Bank of Scotland are predicting a "cataclysmic year ahead" in the markets and advise investors to "sell everything." Other analysts share this dire assessment and warn that the beginning of a bear market has arrived.
Let's be clear: These folks are credible strategists, not the professional prophets of doom who've been predicting the collapse of global capitalism ever since President Nixon took the U.S. dollar off the gold standard in 1971.
Thursday's declines were not encouraging. The S&P 500 fell 1.2% and the Dow Jones Industrial Average fell 1.6%, or 255 points, partly recovering from a 400-point loss earlier in the trading session. The drops were sparked by Federal Reserve Chair Janet Yellen's feckless performance before Congress, in which she stated that weak economic performance could delay further rate hikes.
Don't run for the hills. You can simultaneously stay in the game, while preparing for the worst, by taking these measures now:
1. Make Sure Your Portfolio Contains Gold
Geopolitical turmoil and market volatility will probably propel the price of gold in the coming months. The rule of thumb is for an allocation of about 10% in either gold-mining stocks, exchange-traded funds or physical bullion.
Gold prices struggled in 2015 but they're now poised for a rebound as worried investors flee to safe havens. Gold prices hover at about $1,237 an ounce, with some analysts predicting that gold will soar to at least $1,700 by the summer of 2016. Popular gold mining stocks Goldcorp (GG) and Newmont Mining (NEM) - Get Newmont Corporation Report have enjoyed a rally lately, driven by fears of a global crash. Year to date, their shares are up 30% and 39%, respectively.
2. Go to Bonds for Ballast
In turbulent waters, bonds can help steady the ship. You may be a growth investor and still several years from retirement, but in volatile times such as these, don't give short shrift to fixed-income. We recommend bond funds, for greater diversification. Highly rated choices now include Vanguard Intermediate-Term Bond ETF (BIV) - Get Vanguard Intermediate-Term Bond ETF Report , Fidelity Spartan U.S. Bond Index Fund undefined  and Vanguard Total Bond Market Index (VBMFX) - Get Vanguard Total Bd Mkt Index Inv Report .

3. Decrease Your Portfolio's Weighting in Cyclicals
This is no time to be heavily weighted in cyclical sectors, such as consumer goods, basic materials, industrials and energy. Rotate into noncyclical, more stable companies that provide services that are consistently used regardless of market or economic conditions. Utility stocks are a great example. One solid bet now would be Dominion Resources (D) - Get Dominion Energy Inc Report , a well-managed utility with a strong balance sheet that's up 2.3% year to date.
4. Diversify Among Asset Categories
Spread your portfolio among large-cap, mid-cap, small-cap, growth and dividend stocks. One often ignored move is to invest in mid-caps, which provide greater growth potential than large-caps but less risk than small-caps. Regardless, there's a class of equities teetering on the edge of collapse. If you own them, you must dump them now. Keep reading to find out which stocks are the most vulnerable in 2016.
5. Seek Global Diversification
Don't withdraw from the world stage and become a parochial investor. To be sure, countries such as China, Japan and Russia are struggling, but the diversification imperative also applies to geographic regions, not just asset classes and industries.
Global equity markets have suffered so far in 2016, but a sensible choice now would be a global ETF that pursues a sector rotation strategy. One of the best is SPDR SSGA Global Allocation ETF (GAL) - Get SPDR SSgA Global Allocation ETF Report , which is an "ETF of ETFs" (17 of its 18 holdings are other ETFs).
GAL aligns its holdings with changing macroeconomic conditions and outlooks, helping you not only diversify internationally but also stay a step ahead of potential disasters. The fund's year to date return is -2.71%, which looks pretty good in the context of the severe declines in global markets so far this year.
There's a fundamental rule underlying all the tips mentioned above: Don't put all your eggs in one basket. Sure, that phrase has become a cliche, but it's more appropriate than ever. Case in point: If most of your investments had been concentrated in the energy sector over the past year, you'd be standing on the ledge right now, ready to jump. The price of U.S. crude oil now hovers at $27 a barrel, about 75% lower than its highs in the summer of 2014. Over the past year, the Energy Select Sector SPDR ETF (XLE) - Get Energy Select Sector SPDR Fund Report has plummeted 32%.
This year, the broader markets have gotten off to a horrible start. In fact, the S&P 500 has now officially "corrected." If you want to see a list of the absolute worst stocks you can own in today's investment environment, read our shocking report. Inside, you'll discover the market's most overvalued stocks, and learn the process you can use to keep avoiding them in the future. Click here now for a copy.
John Persinos is editorial manager and investment analyst at Investing Daily. At the time of publication, the author held no positions in the stocks mentioned.