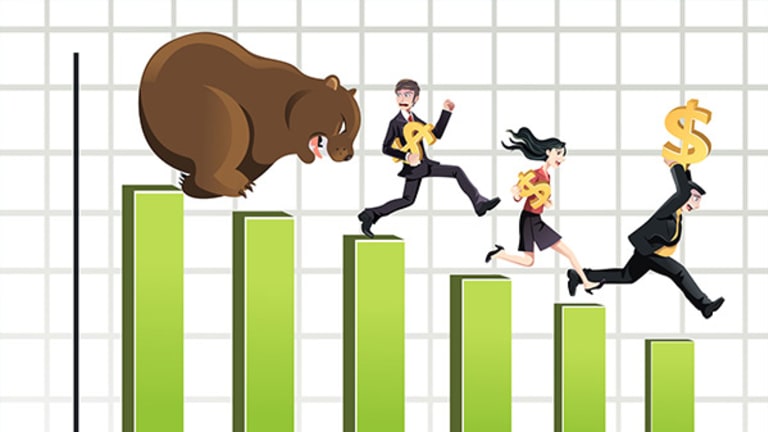 When It Comes to the Markets, Everyone's an Expert at the Wrong Time
When everyone is already talking about it, the information is probably not all that useful.
Have you ever noticed that when a stock or sector enters the mainstream conversion, it's usually at the top or bottom. Just think about it for a minute. Here are some examples.
Remember when oil was discussed endlessly around $100? Probably not, because it wasn't. Now that it's dropped 70% in the last two years everyone is an expert on where it's trading and its levels. Check out that volatility in the oil index. Have you ever heard that referenced on TV before the last three months. I asked someone at Exxon recently if they cared about that. He had a good laugh.
When's the first time you heard the term "Master Limited Partnership?" I'm going to guess it was sometime while they were getting cut in half end not when they were doubling and tripling in value while yielding 5%. I'm an owner of Enterprise Products Partners and have been since the summer of 2008. A quarter in a day was a big move, now that happens in an hour, yet there's no shortage of folks who can tell you just which one to buy.
Oil is easy to point to now, but what else. How about McDonald's? Everyone had a reason for why MCD was trading at $90 last year. Chipotle was taking share, better burger places like Shake Shack were pulling customers away. So while everyone tried to solve McDonald's problems, it went from 90 to 120 in a straight line basically in about 12 months. Meanwhile Chipotle and Shake Shack did not, to put it kindly.
Today, it's also required that you have a position on the Federal Reserve. You just do or you're not really credible, right? "This is going to end badly." How many a times have we heard that? It could, I guess; I have no idea. The only thing I'm certain about is my own death one day but I appreciate strong opinions. However, I'm a student of history and I don't recall this sort of global "accommodation" being conducted previously, so I don't really think it's possible to be sure about anything.
Here's another popular one: "The U.S. is going to end up like Japan." I don't read a lot about police violence, mass poverty or bread lines in Japan but I guess life there is horrible and that should be some sort of horrible outcome. What is conveniently left out often is that that the Nikkei was trading at about 100-times earnings before the "lost decade(s)" began. You know, sort of like the Nasdaq before it did nothing but get back to even over a decade. The Nikkei is still a long way from even, by the way.
The experts on Fed policy also leave out Japan's population is decreasing. Not a real recipe for growth, but I'm not an economist -- I can just read. Hmm, what else?
Folks spend a lot time talking about how Amazon will enter a new market, and at the same time destroy an industry or sector. Amazon is valued as one of the top companies in the entire world, don't you think it's possible that's been accounted for?
The famous investor Howard Marks would call much of this "first-level thinking". Marks encourages "second-level thinking," or specifically contemplating those things that others are not.
The point of all this is of course to say none of the above narratives have helped or will help you with your long-term investing. If you had no interest in oil and gas before, why start now? Does it really matter to you why McDonald's is trading where it is or should it only matter if it can go higher? When you hear others talking about a particular stock endlessly, the majority of the gain or loss is probably already been accounted for. It's all a lot of noise.
How much money have you made from framing your strategy around the conversation of the moment? I'm going to guess not much. Free advice: Instead of joining a conversation, start your own. Your portfolio will thank you later.
This article is commentary by an independent contributor, separate from TheStreet's regular news coverage.