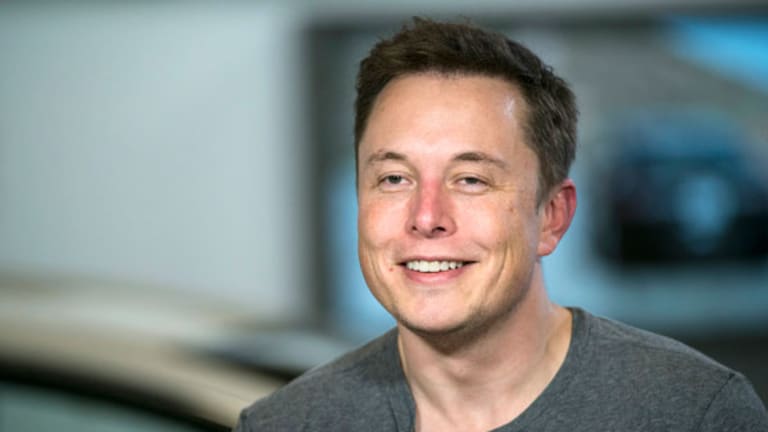 When I Apologized to Elon Musk
Is Elon Musk the next Steve Jobs? Maybe. Maybe not. But Rocco Pendola doesn't think he cares.
Is Elon Musk the next Steve Jobs? Maybe. Maybe not. But Rocco Pendola doesn't think he cares.
NEW YORK (TheStreet) -- Earlier this year, I attended South by Southwest excited to see Tesla Motors (TSLA) - Get Report Founder and CEO Elon Musk speak.
Before his talk even ended, I was left with a bad taste in my mouth.
I latched on to some comments Musk made about parenting and wrote
Will Musk Get a Free Pass After His Parenting Comments?
I continued to harp on the point. Eventually, he called me out on
Twitter
.
In these types of situations -- no matter who I'm dealing with -- I tend to stand my ground. I've prepared my case and I'm confident. That doesn't mean I am right in each case; it's just that I have constructed a plausible, well-thought out and well-researched thesis informed not only by my own conclusions, but by the information obtained from others, particularly those in the know.
Whether I was right or wrong about Musk (or neither), I was out of line. I took one comment Musk made in front of a sell-out crowd at SXSW and ignored everything else he said. The thing he said about parenting his kids rubbed me the wrong way and I ran with it. That's the type of thing so many members of the media do to people on a daily basis. I did it. And I am angry with myself for falling victim.
There's good journalism -- constructing the bear case against Netflix, calling out the music industrial complex for its stance on royalties or (non)approach to local music promotion -- and then there's what I did to Musk.
Also see: Procter & Gamble: CEO Regression Comes at a Big Price >>
I take what I do seriously. I don't mind being wrong, but this is different. So, without any pressure from Musk, I decided to do the right thing, admit I was wrong and apologize.
Thursday, Musk gave me the opportunity to do that during what turned into a 45-minute phone conversation. Short story even shorter: he graciously accepted my apology.
And then we talked about a lot more, particularly pertaining to Tesla and the Model S.
Musk said something that surprised me. I told him I didn't understand why he decided to introduce
a special financing program last month
. It seemed to me that, if demand among the affluent was high, why bother making the Model S more "affordable?"
He claimed that if he did not do the financing, Tesla would not have been able to sell 20,000 sedans in North America. I hadn't heard that before. Everything I read had a quote similar to the one in this
article: "We do have plenty of demand for the car even without a finance product, but as much as possible I'd like to expand the affordability of the car."
That's much different than we would not have hit our number if we did not offer this financing scheme.
Musk told me he had mentioned this point in interviews that coincided with last month's announcement, but nobody "picked up on it."
Not earth shattering, but interesting nevertheless. Given what I see every day here in Santa Monica and what
TheStreet's
Anton Wahlman reports seeing in Silicon Valley
, I didn't think Tesla required any additional bells and whistles to sell cars to the upper crust.
Also see: How Ford Escape Is Taking Over the World >>
Otherwise, the big thing I learned from our conversation: Don't allow the media to shape your perception of another person, particularly a celebrity. I have learned this dozens of times over in my 38 years.
The media treats Musk as a spectacle. As the second coming of Steve Jobs. As a superhero. When I asked him about his celebrity, he was reluctant. Musk claimed that outside of Southern and Northern California, most of the rest of the country doesn't know who he is . . . or at least doesn't care quite as much.
Talking to Musk is no different than talking to the baker or shoe cobbler down the street who is hyper-passionate about what he does. He's unassuming. Not even close to pretentious. He speaks about helping electrify motor vehicle transportation like the baker talks about making the perfect donut or the shoesmith discusses replacing the sole on a worn out pair of boots.
Musk thinks Tesla can be the No. 1 electric vehicle maker, even when it enters the mass market and, presumably, competes with the likes of
Ford
(F) - Get Report
or
General Motors
(GM) - Get Report
. But I do believe him when he tells me Tesla doesn't have to be No. 1 to be successful. And that he would be thrilled to see another automaker produce a better electric vehicle if that took the sector closer to mass adoption.
I can't claim to have come away from my conversation with Musk knowing whether or not he's the next Steve Jobs. But I can confidently say this -- based on a mere 45 minutes of interaction -- I don't think he really cares.
--
Written by Rocco Pendola in Santa Monica, Calif.
Rocco Pendola is
TheStreet's
Director of Social Media. Pendola's daily contributions to
TheStreet
frequently appear on
CNBC
and at various top online properties, such as
Forbes
.