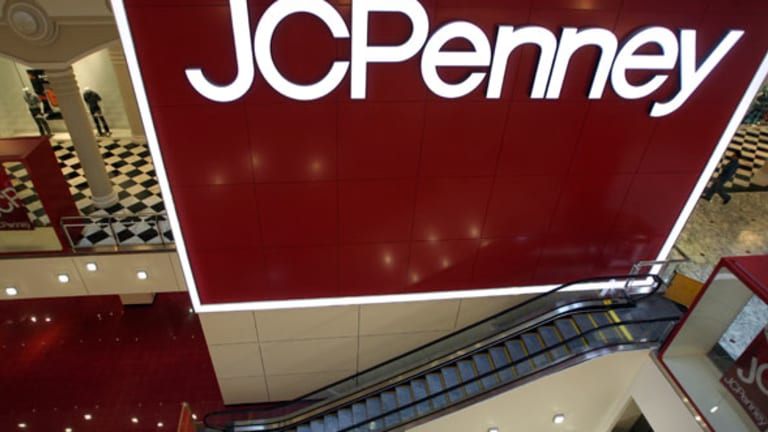 When Do JCPenney, Getty Petroleum Offer Value Potential?
Are these beleaguered companies due to recover?
NEW YORK (TheStreet) - JCPenney's (JCP) - Get Report disastrous quarter dominated the earnings scene yesterday. Many are writing off the company and embattled CEO Ron Johnson.
Of course, this piques my interest a bit, and I wonder whether this was the "kitchen sink" quarter; the one where the company hits rock bottom, and unleashes much or all of the negative news. The market does not appear to believe this is the case, and sees continuing deterioration. It will be difficult, however, to deliver comps worse than the -31.7% that the company reported for Q4.
There's so much negativity around this name, everyone is dumping it, yet I'll be watching for some, any signs of life. I've never owned it and was frankly a bit skeptical when some big players in the
value crowd began touting it in 2011, primarily due to the perceived prowess of incoming CEO Ron Johnson, the Apple veteran, who came in with a lot of skin in the game, namely a $50-million stake in 7.3 million 7.5 year JCPenney warrants.
The stock took off primarily because of the notion that JCPenney could only prosper with Johnson at the helm. He is now seen as failing in his quest to right the ship; but turning around what is perceived as an old-time, archaic retailer is a tall order for anyone and Johnson has been hurt by all of the high expectations. By his own admission, he's made some mistakes, too.
While I am still not ready to own JCP here, I do get interested in situations when everyone else is selling. The trick however, is to determine whether the sellers are wrong, and whether they are pushing the share price well below what shares are really worth. I suspect that if -- and that's a big if at this point -- I really want to own JCP, there will be opportunities to get it a lower entry point.
data by
JCPenney's disaster, of course, overshadowed a great deal of other news yesterday.
Getty Realty
(GTY) - Get Report
, the nation's largest publicly traded convenience store/gas station REIT, announced a 60% increase in its quarterly dividend, to 20 cents a share. Getty, which had a very rough 2011 as a result of missed lease payments, and ultimately bankruptcy of the company's largest tenant,
Getty Petroleum Marketing
( GPMI), had to cut, and then eliminate the dividend, which had been as high as 48 cents a quarter.
Getty repossessed 788 affected properties in May of last year then resumed paying a dividend the following month, albeit a much smaller one at 12.5 cents a quarter. Yesterday's announced increase puts the indicated dividend yield back above 4%.
Getty continues to enter into triple-net lease agreements on the properties formerly leased to GPMI, including four new leases involving 161 properties last quarter. The company is also actively selling some of its properties, including 25 last quarter. Getty remains remains real-estate rich, however, and still owns more than 900 locations.
It's been a nice turnaround so far, with shares up about 60% since late 2011, but the stock's path has not been straight up, and there's more progress to be made. If the company has the wherewithal to further ratchet up the dividend, that should bode well for the stock.
At the time of publication, Heller was long GTY.
This article is commentary by an independent contributor, separate from TheStreet's regular news coverage.