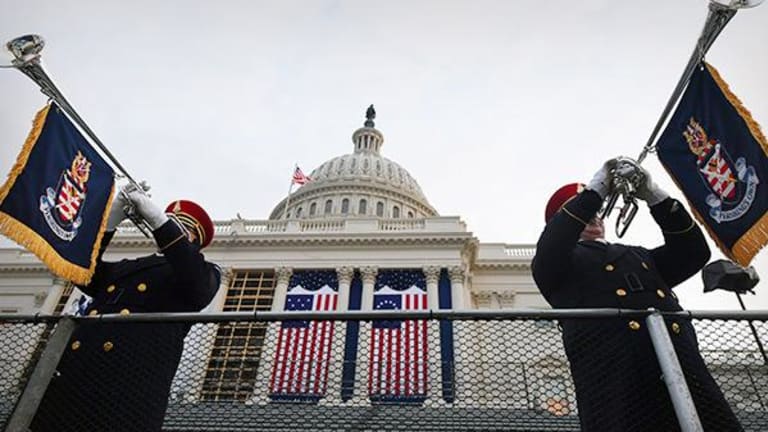 Publish date:
When Congress Grills Yellen, Members Won't Limit Questions to the Economy
Fed Chair Janet Yellen testifies before the House Financial Services Committee at 10 a.m. Wednesday, July 12.
Fed Chair Janet Yellen testifies before the House Financial Services Committee at 10 a.m. Wednesday, July 12.
Officially, the purpose of Federal Reserve Chair Janet Yellen's Congressional testimony twice a year is to update lawmakers on the central bank's strategy for keeping the U.S. economy healthy.
That doesn't mean members will limit themselves to questions about topics such as the pace of interest rate hikes when Yellen appears before the House Financial Services Committee on Wednesday, July 12, and the Senate Banking Committee the next day. 
No, if previous testimony is any guide, their inquiries may also cover anything from the Fed chair's relationship with President Donald Trump to minority hiring, U.S. stock markets and whether Yellen's aides are smirking at some of the questions.
When she testified in February, for example, Yellen was asked whether she had talked to a farmer recently and if she would have lunch as often with Trump's Treasury Secretary, Steve Mnuchin, as she did with Jake Lew, President Barack Obama's appointee to the same post.
The highlights for investors, however, will likely be less exotic, including any insight Yellen offers on when inflation may reach the Fed's 2% target and whether the unwinding of its $4.5 trillion balance sheet will interfere with the pace of rate hikes. 
At least some members of the Fed's monetary policy committee have expressed concern that paring the portfolio, which expanded more than fivefold with securities purchases intended to buoy the economy after the financial crisis, might amplify the effects of gradually raising rates.
After bumping rates to as much as 1.25% from the near-zero level where they were held for seven years after the crisis, committee members have signaled as many as four more hikes by the end of 2018, taking short-term rates to a range of 2% to 2.25%.
Should the central bank be forced to make a choice between the two, it's likely to prioritize the balance sheet, Bank of America economist Michelle Meyer has predicted.
The Fed hasn't said how much it expects to trim, with Yellen specifying only that it's targeting "levels appreciably below those seen in recent years, but larger than before the financial crisis," when the balance sheet was about $869 billion.
WATCH: How Will Gold Move Following Yellen's Testimony? Frank Holmes Comments
Goldman Sachs (GS) - Get Report economists, however, have offered a more precise projection: That the Fed will cut its holdings by just $1.1 trillion, or about 25%, a process that would take until late 2020 under a plan capping monthly reductions at $50 billion.
While the Fed has detailed its plans and signaled that it will move slowly, "we've never had unwinding like this before," JPMorgan Chase & Co. (JPM) - Get Report CEO Jamie Dimon said in a video from the Paris Europlace financials conference on Tuesday that was posted on Bloomberg's website. "That should say something to you about the risk." 
More of What's Trending on TheStreet
Ford Has a 23-Year-Old Whiz Kid Helping to Shape Its Future
10 Skinny Wallets to Help You Forget You Spent All Your Money on Amazon's Prime Day