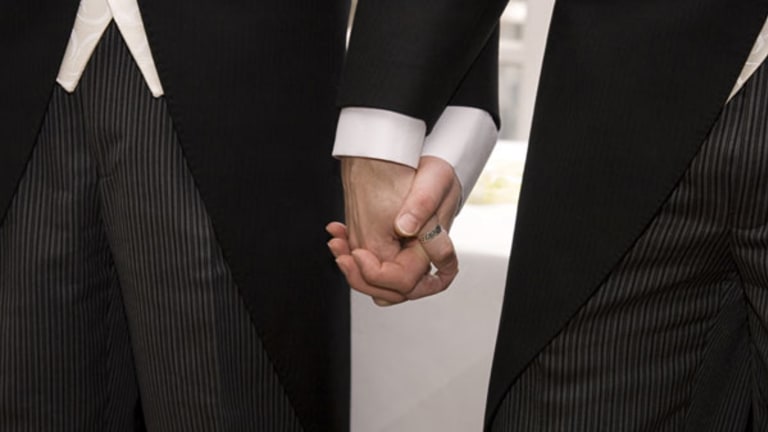 When an Activist Fears He's Become a Conformist: Ash Noah
After fighting hard for the right to marry, the future feels drab.
NEW YORK (TheStreet) -- Q:My partner and I have lobbied for the right to marry for six of the last nine years we've been together. Now it's completely legal in New York and we're over the moon about it. We decided to get married.
Except now I'm feeling scared. I've spent so long being angry at what I couldn't have, I'm now angry with what I can. I've no doubt that he's my mate and I do want to marry him. Regardless, now that gay marriage has become so mainstream society -- a society I've been so removed from -- I feel kind of lost. How should I make peace with this "new" normal?
A:
You're now an integral part of a monumental, cultural shift. While your fight is not complete, you have won a significant battle. Earning the right to marry your mate has been both a political and deeply personal struggle for those involved.
Remember that engaging in such a "public" issue doesn't preclude you from feeling a plethora of personal mixed emotions concerning your relationship. I'd like for you to really enjoy this stage of planning your wedding, and of course the entirety of your union.
Therefore, at least for the time being, your primary focus must be placed on what you and your relationship needs.
After fighting for the right to marry your partner and not cloaking your identity in conformity, I can understand that this new "acceptance" might feel difficult to embrace.
I urge you to begin with a line of questioning. What are you really afraid of? Is it being with the same person day after day? Do you feel it might separate you from your activist's streak, and turn you into a married conformist? Does the action of joining together in marriage threaten your single and unique self?
These fears are very normal, and typical, for people of all sexual orientations. Your laudable activism does not make you immune to these fears. Perhaps in acting as a stand for your rights, you forgot to tend to your individual needs.
The struggle for equal rights will continue throughout your marriage and beyond. I have no doubt you will continue to engage in these debates, and make your voice heard.
So in this present moment, try to cast aside prejudices you may have carried around with you so you may focus on your own love life.
Start the conversation with your partner and allow him to speak of his fears as well. You may be surprised at the common ground you find in expressing your deepest anxieties and fears to him. Allow for disagreement here as well.
Finally, remember that your marriage will always have a special uniqueness in that you fought so hard for it.
Thank you so much and congratulations!
Please send all questions and comments to ASK NOAH at
.
Have a profitable and peaceful week,
Noah
Noah Kass is a psychotherapist specializing in addiction, relationship issues and work stressors. He has been Clinical Director at The Dunes: East Hampton and Realization Center in Union Square. Mr. Kass was a frequent guest on MSNBC's The Dylan Ratigan Show, featured in a segment called Kass' Couch and regularly blogs for The Huffington Post.