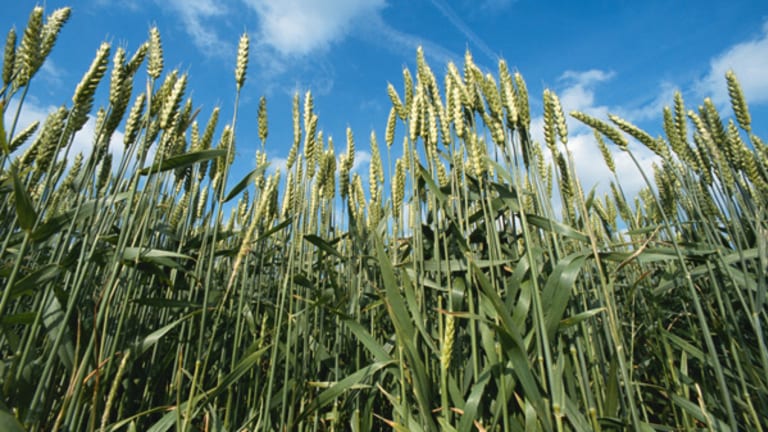 Wheat Futures Rally, but Uncertainty in Ukraine Makes Prices Volatile
For the fourth week in a row, wheat futures prices have booked gains. How long will this streak run?
NEW YORK (TheStreet) -- Wheat futures prices are in a strong rally, recording gains for the fourth week in a row last week, and moving in that direction for a fourth consecutive month. Unfavorable weather for U.S. crops and the ongoing crisis between Ukraine and Russia contributed to the inflating prices. Meanwhile, soybeans pared some of last week's gains, which were due to lower U.S. supplies and surprisingly high imports by China.
The Teucrium Wheat fund (WEAT) - Get Report tracks wheat futures. The fund opened 1.3% down at $16.41 on Wednesday at 10:30 a.m.
Wheat futures for July lost some of their gains Friday after a monthly report from the U.S. Department of Agriculture. The initial estimates by the USDA for 2014 winter production were for 1.4 billion bushels, very close to the market's expectations. Even though prices slipped by 1.5% after the USDA's report, wheat futures clinched a slight increase of 6 cents per bushel for a fourth consecutive week and are currently trading at $7.22 a bushel.
Wheat's performance has been interesting. Even though last week's increase was marginal, since the beginning of February the price of wheat has increased by more than 30%. Soybeans erased some of their losses and had their first weekly increase since April 20. The grain is trading at $14.97 per bushel.
Overall trading activity in grains was weak ahead of the USDA's economic indicator on crop production, supply and demand, and expectations on forthcoming wheat production. The markets were expecting the USDA's forecast for the 2014 to 2015 period to surpass the 744 million bushels achieved last year. However, some others believed that the expectation was optimistic because it has been a very harsh winter.
The escalating conflict in Ukraine, the sixth largest exporter of wheat, also pushed prices up. As pro-Russian rebels were preparing a vote on secession over the weekend, Russian President Vladimir Putin urged the rebels to postpone the election and avoid a nasty political situation in Ukraine. The separatists subsequently went against the call and continued with preparations for a referendum on independence.
As a result of bad weather in the U.S. and fears of disruption of wheat exports in Ukraine, India's exports were rising and might even reach an all-time high. Indian government officials said that sales for the April to July shipment were 1.25 million tons, and were exported mostly to the Middle East and Southeast Asian countries. Moreover, they expect that sales within the 12 months ending in June will reach a record 95.5 million tons in comparison to 93.5 million tons from the previous period. India is the world's second-largest wheat exporter.
On a global scale, the total wheat production for the 2014 to 2015 season might increase for a second season in a row to an all-time high, even with weak U.S. production. The USDA report gave projections on adequate production and deflated wheat prices for now. However, the ongoing crisis in Ukraine, a major exporter of wheat and corn, is expected to keep the grain markets volatile.
>>Read More: Another Reason Why Facebook Is Better Than Twitter
>>Read More: Bristol, Celldex Collaborating on Cancer Immunotherapy Study
>>Read More: Physical Retailers Still Have No Answer For Amazon
Jay Elliott-Purdy joined easy-forex in 2010 and is the U.K. Branch Manager.
At the time of publication, the author held no positions in any of the stocks mentioned.
This article represents the opinion of a contributor and not necessarily that of TheStreet or its editorial staff.