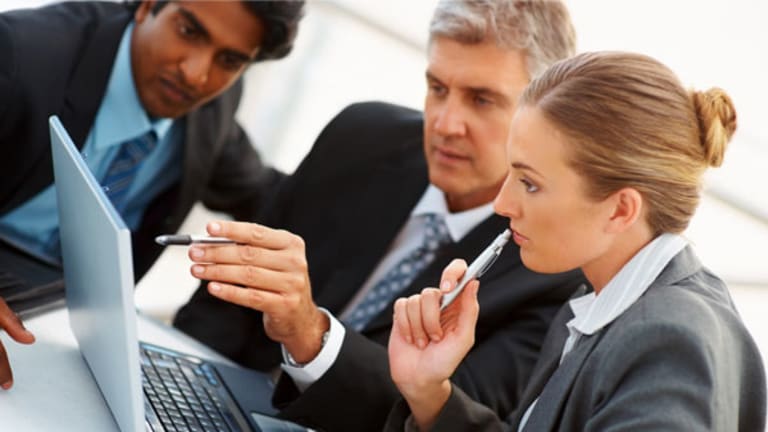 What's the Deal With Red Hat?
Red Hat appears to be in a similar situation as VMware and Salesforce.com.
The following commentary comes from an independent investor or market observer as part of TheStreet's guest contributor program, which is separate from the company's news coverage.
NEW YORK (
) -- Software giant
Red Hat
(RHT) - Get Red Hat, Inc. Report
, a leader in open source technologies as well as cloud computing has now become one of these names that have placed me in the predicament of trying to justify its lofty valuation to potential investors. I'm not going to pretend that this a "rock and hard place" type of situation, but how do you rationalize taking a position in a stock sporting a P/E of 80 after it has already gained 50% on the year? It gets even more remarkable when you consider that a competitor such as
VMware
(VMW) - Get VMware, Inc. Class A Report
, which by many standards already qualifies as expensive but trades at a multiple that is 14 points less
.
As well as Red Hat has performed
in its most recent quarter, making a case to buy the stock is not as easy as it seems -- particularly when the word "valuation" comes at the forefront of the discussion. Having said that, I also appreciate that valuation concerns have rarely (if ever) mattered to tech companies. Because as noted, VMware sports a P/E of 66 while others within the space such as
Salesforce.com
(CRM) - Get salesforce.com, inc. Report
have sported P/Es that are off the charts -- literally. In trying to keep things in perspective, I am starting to warm up to the idea that perhaps for Red Hat, I might have been a tad too skeptical that it can grow into its valuation. What caused this sudden change was the improvement is showed in its Q4 results after having reported what I thought was a less than stellar Q3.
A much better Q4
The company recently reported impressive year-over-year growth rates in several key areas -- which include revenue, operating income, billings as well as operating cash flow, all of which topped not only last year's Q4 performances, but the full year as well. Gross profit arrived at $253.4 million -- representing an increase of 24.2% year over year from $204.2 million. Gross margin expanded 190 basis points to 85.3% in the quarter. The company said that these results were largely attributable to an increase in services gross margin as well as a better revenue mix.
It reported an increase of 20.6% in operating income which arrived at $53.6 million -- topping the $44.6 million that it reported in the prior-year quarter. This was indeed impressive; however operating margins arrived .2% lower than the prior quarter to 18.0%. But that slight decline was offset by an increase in net income that was reported at $37.6 million compared with $37.4 million in the prior-year quarter.
What does it mean?
These numbers indicate that even as competitive as this space has become - which includes titans such as
Microsoft
(MSFT) - Get Microsoft Corporation Report
and
Oracle
(ORCL) - Get Oracle Corporation Report
, the company continues to generate top line growth that suggests that it continues to gain market share from these bigger names. It has been able to do this by consistently demonstrating that it is committed to changing the way enterprises think about not only cloud computing but also ways to address the so-called "big data." From the standpoint of the cloud, Red Hat by virtue of its open source commitment has always taken a different approach from its peers -- one that is grounded in the idea that everybody wins when there is openness in software and architectures.
To that end, the company has designed a way to allow customers to manage diverse infrastructures by bringing them together under the same cloud architecture. What I have begun to realize is that Red Hat understands the future of IT better than most of its competitors. In that regard I would put
IBM
(IBM) - Get International Business Machines Corporation Report
a close second. The company has strategically positioned itself to be able to offer services that deliver greater efficiency by putting enterprises in control of their own existing environments. What has also become quite impressive is that the company continues to do a phenomenal job at diversifying its service offerings - which places it far from the niche Linux vendor that it was once known to be. Whatever Red Hat has been doing it has certainly been effective and is highly reflective in its high valuation. Cleary Wall Street has high expectations for this company. But the question is, will it be able to live up to those expectations and grow in a tough and ever-competitive environment?
Bottom line
From an investment standpoint, Red Hat appears to be in a similar situation as chief rivals VMware and Salesforce.com. What I mean by that is, how does one fully assess value at these levels? Being a value investor, it is hard to make a case for any stock trading at a P/E of 20 -- much less one that sports a multiple four times that. That said, for growth investors who are not adverse to risk and enjoy momentum stories, this is a name to certainly consider in any portfolio that strives to profit from the growth and popularity of the cloud computing over the next 12 to 24 months.
At the time of publication, the author was long MSFT, ORCL and held no positions in any of the stocks mentioned, although positions may change at any time.