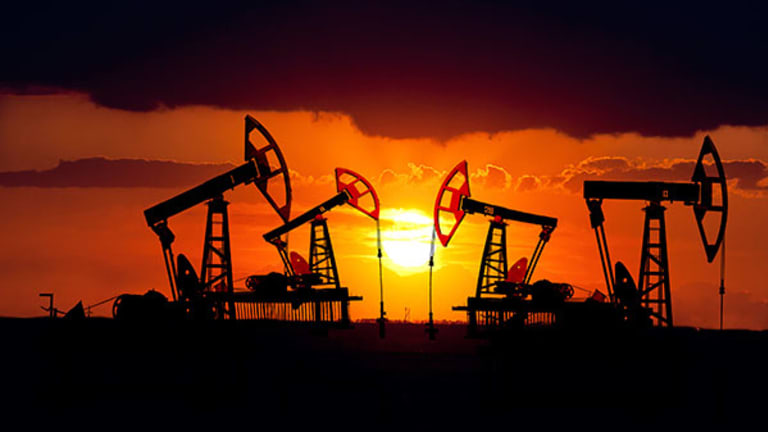 What's Really Behind Saudi Arabia's Decision to Cut Oil Prices
The Saudis don't care about a price war with the U.S., but they are willing to let the bear market shake out the weaker competitors.
NEW YORK (TheStreet) -- An oil price cut by Saudi Arabia has triggered the sinking of the entire energy sector, but fears of a Saudi-led price war are misplaced.
West Texas Intermediate oil prices are dropping fast, as the Saudis have cut their official selling price of oil into the U.S. by 45 cents a barrel. On Tuesday morning, WTI was trading for less than $77 dollars a barrel, a price we haven't seen in more than two years. The S&P GSCI Crude Oil Index was down 2.3%, while energy stocks in the S&P 500 were down 1.7%.
The cut in oil prices here in the U.S. was contrasted by an increase in Saudi oil prices to Asia of almost a dollar a barrel, but that move into the much less crowded Asian supply chain was mostly ignored by the markets as crude in Europe also resumed its slide -- Brent Crude is trading Wednesday near $82 a barrel.
Many analysts instantly associated the U.S. crude oil price cut as another volley in the Saudi price war with other OPEC members and against the ever-increasing production of exploration and production companies (known as E&Ps) in the major U.S. shale plays. But this move by the Saudis does only one thing for sure: It overwhelmingly seeks to shore up their market share everywhere, including here, in the face of a new oil bear trend.
Saudi Arabia sets prices dependent upon demand, and with U.S. prices dropping, they had little choice but to reset their official selling price (OSP) to American customers. Moreover, they tried to counteract this effect into the markets by raising their OSP into Asia by more than twice the amount they cut into America. But when a bear market is working in crude oil, as it is now, it is the bearish news that always seems to have the greater effect.
Saudi Arabia is surely more comfortable than most producers to see prices retreat, however. The Saudi ministers are well aware that unilateral production adjustments have historically had little effect in the short-term on oil prices, as was shown in 2005 and 2010. It has also already been expressed by several Saudi sources that an OPEC-wide quota adjustment is not in their plans for the upcoming Nov. 28 meeting in Vienna.
But none of that implies the Saudis are intent on an all-out price war or even a plan to run smaller capitalized U.S. shale exploration and production companies out of business. It is, rather, a likely strategy by the Saudis to let this bear market shake out the weaker participants over time, without using their "swing barrel" production to try to force markets back into equilibrium.
While Saudi Arabia watches the nervous reactions of several dozen U.S. E&Ps, as well as the Iranian and Russian producers, oil continues to show a complete inability to rally. The fast recovery of the stock market after its October swoon was not mirrored by the oil market, as has been so often the case.
That can be attributed somewhat to the production numbers here in the U.S. September was again a record of close to 9 million barrels a day. But two other financial factors have had an equal price-chopping effect. One has been the full retreat of long speculative bets on oil in October, and two, the panicked desire for U.S. oil companies to sell financial futures and hedge future production when they were previously reluctant to do so.
Survival for all of the participants of the global oil market is first on the list for every player in every space around the world and in this, the Saudis are no different. Their worries about the price they are able to get for oil is running a very distant second place to assuring that their markets and customers remain intact.
In that, they've got a tremendous advantage over everyone else out there. And they know it.
At the time of publication, the author held no positions in any of the stocks mentioned.
This article is commentary from an outside contributor, separate from TheStreet's news coverage.