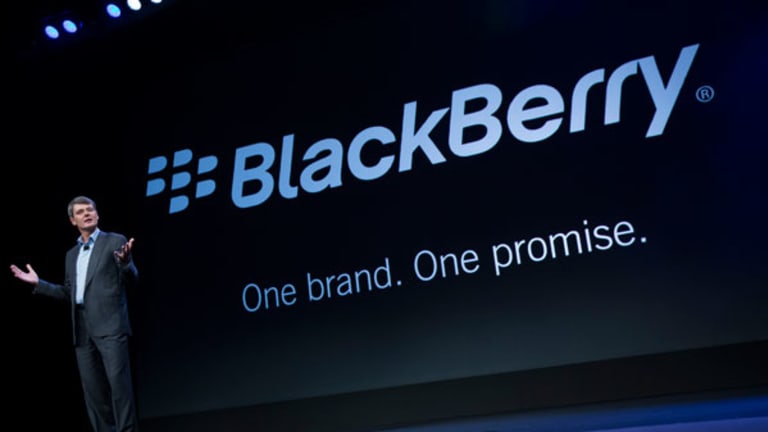 What's Next for BlackBerry?
After a dismal 2013 performance, can shares BlackBerry survive another year, helped along by strong investor sentiment?
NEW YORK (TheStreet) -- After Facebook's (FB) - Get Facebook, Inc. Class A ReportFB $19 billion acquisition of WhatsApp, many are wondering, What about BlackBerry Messenger? 
I don't think BlackBerryundefinedBBRY will spin off its Messenger application. Instead, it's likely to try and monetize it on its own, much like Facebook will eventually look to do with WhatsApp. 
Nevertheless, shares of BlackBerry rallied 8% in Wednesday's after-hours session on this very hope. On Thursday, the stock gave up some of those gains, but still rose by almost 4%. 
For most of 2013, I was bearish on BlackBerry. Consider the following: 
Don't Answer BlackBerry's Call; Nobody Else Is, or
BlackBerry and Apple Are Down, But Only One Is Out
Feel free to check them if you're curious about why I didn't like BlackBerry then, because many of those arguments are still true today. 
It's prudent, however, not to be stubborn. 
That's why on Jan. 6, I changed my aggressively bearish mind-set on BlackBerry and wrote, Will BlackBerry Ripen in 2014?At the time, the stock was trading for less than $8, or about 20% below current levels. 
So where does the company stand now? 
Things are much the same as they were before. The company's new CEO, John Chen, has amped up investors' hopes that the company will right the ship. 
Even though BlackBerry missed on both sales and earnings per share estimates in the most recent quarter, Chen has instilled the notion that the company will be profitable by fiscal 2016, although the company is still expected to lose $1.37 per share in fiscal 2014 ending March 2 and $1.10 per share in fiscal 2015. 
For now, investors are bullish on BlackBerry as messaging services are blowing up the financial world like its 1999 all over again. 
But because the company seems unlikely to bail on this business segment, I'm not sure how much value the market will give it. Still, given the recent optimism surrounding the company, I would be apprehensive to be a short seller. 
I don't believe in the company at all and am not optimistic it will solve its problems. Regardless, market sentiment is much better than it was during its disastrous 2013 run, which was littered with product failures, incompetent management and rampant spending that could make a Kardashian look cheap. Hell, the company couldn't give itself away last fall. 
With earnings set to be reported March 28, I would cautiously recommend not shorting the stock. If you have to be short, consider doing it via put options, so that your risk is defined and you know your maximum loss. 
Any takeover chatter, 'profitable-sooner-than-we-originally-thought' talks from management, or a ballooning valuation for BlackBerry Messenger could send this stock into the double digits in a hurry. Again, I don't like the stock, but when the path of least resistance is against you, it's best to stay out of the way. Perhaps perception will change come earnings time. 
At the time of publication, the author was long Facebook.
This article represents the opinion of a contributor and not necessarily that of TheStreet or its editorial staff.
Bret Kenwell currently writes, blogs and also contributes to Robert Weinstein's Weekly Options Newsletter. Focuses on short-to-intermediate-term trading opportunities that can be exposed via options. He prefers to use debit trades on momentum setups and credit trades on support/resistance setups. He also focuses on building long-term wealth by searching for consistent, quality dividend paying companies and long-term growth companies. He considers himself the surfer, not the wave, in relation to the market and himself. He has no allegiance to either the bull side or the bear side.