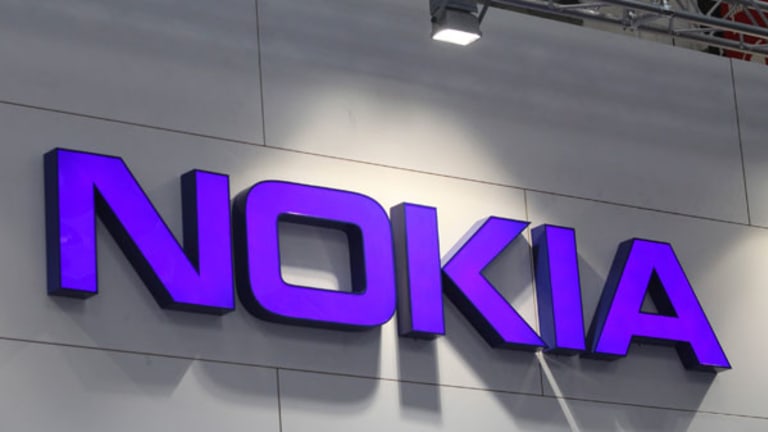 What's Next After Nokia Hangs Up the Phone?
The stock could reach $6 in the next 12 months.
The stock could reach $6 in the next 12 months.
NEW YORK (TheStreet) -- People are still stunned after Microsoft (MSFT) - Get Report finally made it official that it was acquiring Nokia's (NOK) - Get Report mobile phone business, along with Nokia's strong patent estate, for 5.44 billion euros ($7.2 billion). But the deal, I believe, has been in the works for more than two years.
Contrary to what investors wish to believe, there's no question that Nokia, which was in a
for more than a year, was cleaning up its books in anticipation of this deal. By now, everyone should have had a chance to sort through the details. The only question is what happens next?
First and foremost, we have to agree that Nokia's phone business, which has struggled to compete against
Apple
(AAPL) - Get Report
and
Samsung
(SSNLF)
, has been a disappointment, if not a complete failure. But as I've said recently, that's
. Even after this deal, which is pending regulatory approval, is completed, Nokia will still have loose ends to tie up.
Read: Microsoft to Unveil New Surface Tablets
There's the issue of Nokia getting a new CEO -- the current one, Stephen Elop, will step down as soon as the deal closes. He'll become Executive Vice President of Devices & Services at Microsoft. Not surprisingly, rumors are flying Elop will replace Microsoft CEO Steve Ballmer, who has already disclosed his strategy
. For now, Nokia Chairman Risto Siilasmaa will be the acting CEO while the company searches for a permanent replacement for Elop.
So for a company in Nokia's position that has just executed an "about face" in its business model, a lame-duck position in the CEO chair is not the type of overhang on which Wall Street thrives. Not to mention Elop is expected to bring with him four key Nokia executives, which would then leave the management cupboard bare and with little experience.
For Nokia investors, though, there's no question that they were the real winners in this deal -- regardless of who or what is left over to drive the company forward. That the company was able to secure $7.2 billion for a mobile phone business that has failed to muster any type of competitive edge against Apple and
Google
(GOOG) - Get Report
was an impressive win for shareholders. Also, I believe Nokia escaped with perhaps the best deal it could have gotten
.
What's more, the company is no longer strapped for cash and, contrary to what many bears wish to think, with Nokia's handset business now off the books it now has a more attractive business than the Street is willing to accept.
Let's not forget, after
to buy the remaining portion of its joint venture with
Siemens,
(SI) - Get Report
, Nokia now owns 100% of a business that has kept it afloat amid the company's struggle in the phone business.
What this means is Nokia will be able to devote more focus on growing a business that was already doing well. Given the company's new cash infusion, along with what is still a strong brand around the globe, Nokia's entry into the telecom services business should be an easy transition. I don't think Nokia's investors will complain that the company is no longer being pushed around by Apple and Samsung.
Read: Why Lawyers Are the New Sweatshop Workers
There will be those who say Nokia gave up. But it's not the first time this company has transformed itself. Unlike
BlackBerry
(BBRY)
, which can't shed the "dead man walking" moniker by hanging up the phone, Nokia now has a prosperous future ahead. At around $4 per share, it wouldn't surprise me if the stock reached $6 in the next 12 months on the basis of stronger profitability in the network business.
At the time of publication, the author was long AAPL
.
Follow @saintssense
This article was written by an independent contributor, separate from TheStreet's regular news coverage.
Richard Saintvilus is a co-founder of
where he serves as CEO and editor-in-chief. After 20 years in the IT industry, including 5 years as a high school computer teacher, Saintvilus decided his second act would be as a stock analyst - bringing logic from an investor's point of view. His goal is to remove the complicated aspect of investing and present it to readers in a way that makes sense.
His background in engineering has provided him with strong analytical skills. That, along with 15 years of trading and investing, has given him the tools needed to assess equities and appraise value. Richard is a Warren Buffett disciple who bases investment decisions on the quality of a company's management, growth aspects, return on equity, and price-to-earnings ratio.
His work has been featured on CNBC, Yahoo! Finance, MSN Money, Forbes, Motley Fool and numerous other outlets.
Follow @saintssense