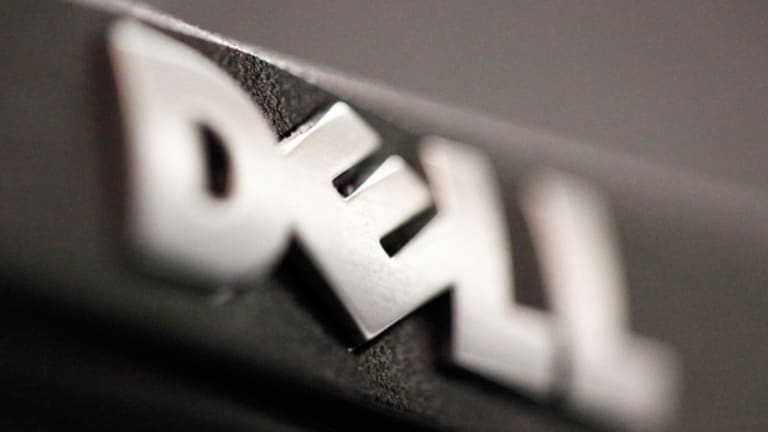 What's Dell Really Worth?
No matter which way shareholders vote Thursday, Dell's fate has already been sealed.
NEW YORK (TheStreet) -- On Thursday, Sept. 12, Wall Street will know the fate of Dell (DELL) - Get Dell Technologies Inc Class C Report.
This is the day investors will vote on whether to accept the $24.4 billion offer from Michael Dell and Silver Lakes Partners, which want to take Dell private. The proposal, first presented to shareholders nine months ago, values the company at $13.65 per share -- not far from Dell's Friday close of $13.84. But is that price fair?
Activist investor Carl Icahn, who countered with a $14 per share offer, feels the privatization bid at $13.65 is a slap in the face. Icahn certainly has a point. But here's my problem: Given Dell's brutal underperformance over the past couple of years, I don't believe there's anyone who can say with a straight face that he/she knows what this company's underlying value really is.
It's not as if any sudden deal is going to immediately change Dell's fortunes in the realm of mobile devices against
Apple
(AAPL) - Get Apple Inc. (AAPL) Report
,
Samsung
and
Google
(GOOG) - Get Alphabet Inc. Class C Report
. No matter how you look at it, I believe Dell's fate has already been sealed.
Making matter worse is the company has spent the past couple of years throwing good money after bad, thinking, "Let's buy our way out of this mess." It hasn't worked. Nor have any of these recent investments (if you can call them that) done anything to shore up Dell's weakness in mobile.
Read: Big Tobacco Takes Its Last Drag as Economic Change Looms
Instead, management has bought companies like Quest Software and SonicWall. In lieu of mobile advancements, Dell has been trying to build its software portfolio by buying niche companies, thinking these businesses can offset the slumping hardware/PC businesses that have been hemorrhaging market share over the past three years.
Essentially, while enterprises have been steadily reducing their IT expenditures, Dell, which has bought companies and systems that support PCs, continues to invest in its enterprise footprint. All of that is to say, Dell is filled with assets and businesses that would thrive in 1993. In 2003 it's a different story. I don't blame Icahn, who is an investor, for fighting to a better deal. But with all due respect to Icahn, it doesn't appear as if his fight with Michael Dell makes any sense.
I will be surprised, if not completely shocked, if the $13.65 offer goes much higher. Dell's not worth anything. Before you send in your emails, I say this knowing full well that Dell has $12 billion in cash on the books and still produces more than $4 billion in operating cash flow.
But I don't find this impressive. There are many companies on Wall Street that produce these same sorts of numbers without receiving the public attention or press coverage that Dell enjoys today. Quite frankly, I'm annoyed by this.
Given the competitive advantages this company once enjoyed and allowed to slip away, I believe it's a travesty of capitalism that Michael Dell still has a say in what this company is able to do next. All the while, frustrated investors who have held on to their stock faithfully, are used as pawns for a decision that may end up taking years to produce any sort of meaningful value post privatization. Again, nobody knows what that value will be.
Read: This is Why Millennials Lack Loyalty Toward Employers
The company's current challenge is trying to find new ways to grow its high-margin segments, which include networking and storage. It would also serve investors is management was able to figure out ways to better leverage Dell's recent acquisitions.
Not only must the company synergize these deals with its existing businesses, but Dell has to also uncover new ways to address mobile. Until then, it's pointless to discuss value. Dell will forever be that company with a dying PC business.
At the time of publication, the author was long AAPL
.
Follow @saintssense
This article was written by an independent contributor, separate from TheStreet's regular news coverage.
Richard Saintvilus is a co-founder of
where he serves as CEO and editor-in-chief. After 20 years in the IT industry, including 5 years as a high school computer teacher, Saintvilus decided his second act would be as a stock analyst - bringing logic from an investor's point of view. His goal is to remove the complicated aspect of investing and present it to readers in a way that makes sense.
His background in engineering has provided him with strong analytical skills. That, along with 15 years of trading and investing, has given him the tools needed to assess equities and appraise value. Richard is a Warren Buffett disciple who bases investment decisions on the quality of a company's management, growth aspects, return on equity, and price-to-earnings ratio.
His work has been featured on CNBC, Yahoo! Finance, MSN Money, Forbes, Motley Fool and numerous other outlets.
Follow @saintssense