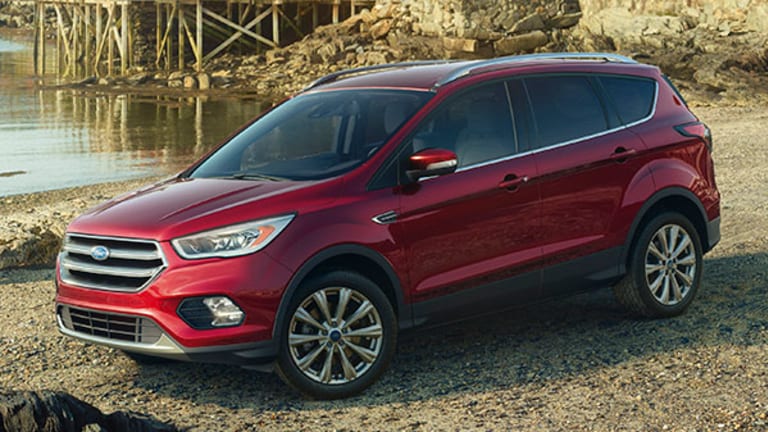 What You'd Call Waste Could Help Ford Profit
Heinz and the maker of Jose Cuervo tequila are just two of the places where Ford is looking to make something out of what's usually thrown out.
Alcohol and driving don't mix, but in this case it could lead to potential profits.
Ford Motor (F) - Get Report is teaming with tequila producer Jose Cuervo, part of a Ford initiative to look for "greener" ways to create products in its vehicles.
For instance, the automaker is exploring the possibility of using agave fibers, leftover from the tequila making process, as a bio-plastic material to be used in the interior of vehicles.
"My job is to replace the 400 pounds of petroleum-based plastics in cars with more sustainable options," explained Dr. Deborah Mielewski,senior technical leader of materials sustainability at Ford Motor's Research and Innovation Center. "I never think of it as waste. They are high-quality materials."
For instance, Mielewski says the 2016 Ford Escape features components made from soybeans, recycled tires, and recycled soda bottles. Soybeans are big at Ford. "Every single North American-built vehicle that Ford Motor Company makes has soybean oil in the seat cushions, backs and headrests. We started with the Ford Mustang in 2008, and we're super proud to put it on every single vehicle. About 31,000 soybeans in a typical vehicle."
You'll also find cellulose made from trees in the armrests of the Lincoln MKX, coconut shells and fibers in the truck mats of some Ford Focus vehicles, and rice hulls in the electrical brackets of the new F-150 truck. "We grow a lot of rice in this country so we're supplying American farmers with revenue streams that they never dreamed of," said Mielewski.
Ford is also exploring the use of algae and bamboo, and has a partnership with Heinz (KHC) - Get Report to use the stems, seeds, and peels leftover from the ketchup making process. Additionally, Ford is testing the use of making components with polymers made from carbon dioxide.
"This is the way far out one," explained Mielewski. "Instead of emitting it, now we can make materials from it." She said one benefit from using sustainable materials -- beyond helping the environment -- is cost. "We try to launch the product at cost equivalent, so the products not going to cost more."
Ford is also exploring the idea of reusing shredded paper currency as yet another sustainable material.