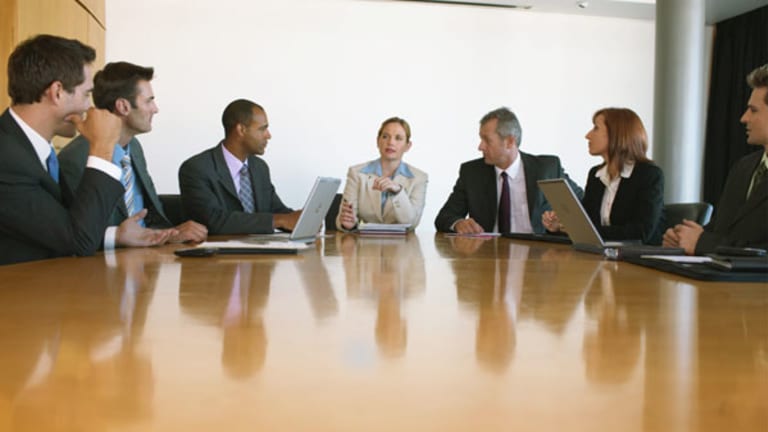 What Yahoo! Must Do Next
Yahoo! CEO Mayer has some explaining to do.
Yahoo! CEO Mayer has some explaining to do.
NEW YORK (TheStreet) -- On Monday in Real Money, I suggested that readers go long Yahoo! (YHOO) stock or short-term calls betting on a deal with Alibaba being announced by today. Instead, the deal got announced yesterday.
Yahoo! is getting $4.3 billion after taxes and will return $3.65 billion to its shareholders (including $650 million or so that it recently spent on stock purchases in the last few months).
This is unquestionably good news for the stock and the company. Many journalists had wrongly concluded that, with the 8-K released several weeks ago asserting that new CEO Marissa Mayer was reserving the right to spend the cash in any way she saw fit, Yahoo! was about to go on a big shopping spree.
This doesn't seem to be the right interpretation at all. Instead, more likely what happened is that Yahoo's lawyers were overly nervous that they had to err on the side of putting out a whole new release, if Yahoo! only spent 85% of its proceeds on buybacks instead of 100%.
The whole 8-K was a big tempest in a teapot.
The stock moved up a little bit yesterday on the news but not significantly. Why?
I think the big problem is that Yahoo! said it'd return the cash to shareholders buy not how or when it would. It needs to.
Here's what Yahoo! must do in the next month to continue restoring the trust of new investors in the stock:
Deploy the capital fast in either a tender offer or over the course of several days in the open market. Yahoo! can buy nearly 200 million shares of the stock, reducing Yahoo's share count by 16% to about a billion shares outstanding. I hope it starts buying at 9:30 a.m. this morning.
Marissa Mayer needs to give a state of the union address to shareholders and employees (who are shareholders too) about her strategy for the company before mid-October. She has to say what she's going to do in products, for organic growth, with M&A, and how she sees this company operating. This will probably give us an idea on how many net employees she expects to cut.
Get the Yahoo! Japan deal done. I'm not exactly sure what's holding up the deal. It just needs to get it over the finish line. If Yahoo! gets a cash-rich split done, it gets $1.5 billion in assets (which is essentially like doing $1.5 billion in M&A) and $3 billion in cash. Of this cash, the company'll probably keep half to beef up the company with more M&A and use the rest for buybacks. So another $1.5 billion could be used to retire another 100 million shares, taking the share count down to 900 million or so
Although I have no idea if the company would do it, Yahoo! could easily borrow another $2 billion in debt paying something like 6% a year and retire yet more stock. This would take the company's share count down to 800 million (from 1.2 billion at the moment).
So, you'd be left with a stake in Alibaba worth $9 billion (which is undoubtedly going to be going up to something like $12 billion next year) or $6 billion post-tax, $1.5 billion in "other assets", and about $5 billion in cash, plus the core operating business. That business is worth more than zero. It's probably worth 7x EBITDA. That EBTIDA might drop a little but it will also benefit from some job cuts. Let's say it stays at $1.2 billion. That would say the core is worth $8.4 billion.
Add it up and you have about $21 billion worth of assets and 800 million shares. That leads you to a stock price of $26.50 per share.
Hopefully, with a turnaround effort, the Yahoo! core business has a much bigger EBITDA stream and it gets a higher premium multiple than just 7x. Imagine a 9x multiple on $2 billion in EBITDA.
And also, Alibaba might IPO next year at a $65 billion valuation, making Yahoo!'s stake worth $13 billion pre-tax or $9 billion post-tax.
Run those new numbers and you have $33.5 billion worth of assets and 800 million shares. This leads you to a stock price of $41.88 possibly by next year upon an Alibaba IPO.
Yahoo!'s board sure would look smart then for taking on that debt to buyback the stock when it was trading around $16.
At the time of publication the author held long positions in Yahoo.
This article is commentary by an independent contributor, separate from TheStreet's regular news coverage.
Eric Jackson is founder and president of Ironfire Capital and the general partner and investment manager of Ironfire Capital US Fund LP and Ironfire Capital International Fund, Ltd. You can follow Jackson on Twitter at www.twitter.com/ericjackson or @ericjackson