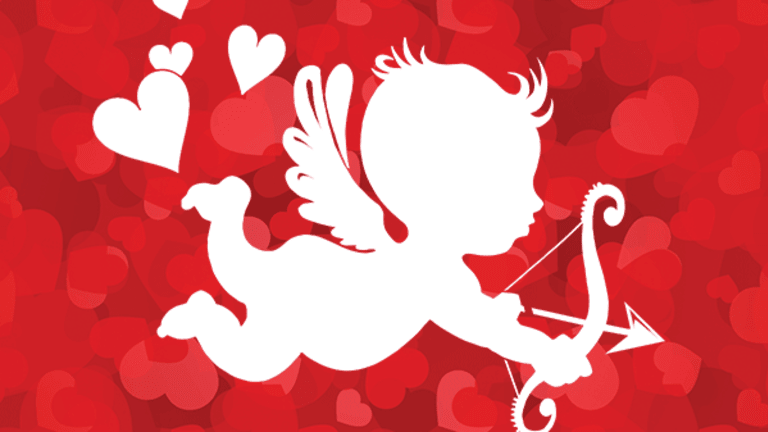 What Valentine's Day and the Strong Dollar Can Tell You About Investing
The dollar is gaining against the euro and other currencies, driving down the costs of chocolate, roses, and champagne. What's not to love?
The dollar is gaining against the euro and other currencies, driving down the costs of chocolate, roses, and champagne. What's not to love?
The dollar's recovery isn't just good for your investment portfolio -- it's also good for your love life this Valentine's Day.
That's because a stronger dollar is driving down the cost of that classic trio of romantic gifts: chocolate, roses and champagne.
The dollar had been languishing until 2014, when the realities of the U.S. economic recovery set in. Since then, the dollar index has gone from lows of 80 to more than 100, a 25% gain.
This affects the cost of many of the goods that are always in demand for Valentine's Day.
Start with chocolate. Cocoa is the core ingredient. And since cocoa is mainly imported, the weaker dollar wasn't helping consumers. Moreover, until very recently there has been a very tight market for cocoa, with the leading African nations experiencing abysmal crop yields. Cocoa prices surged.
But now that's reversed as the crop has come in at surplus levels. From a peak in 2016, cocoa prices have fallen some 40% to multiyear lows.
This combination of a stronger dollar and collapsed cocoa prices means that delectable box of chocolates will cost less.
Many of the finest chocolate companies are private, but two global market leaders are Nestle (NSRGY) - Get Report and, of course, Hershey (HSY) - Get Report .
Nestle has several moving parts beyond just its chocolate unit. But those also include its significant pet food division, which has been adding to the company's growth thanks to a global trend of pet owners spending more on their cats and dogs.
Sales continue to be on the rise, and operating margins on Nestle's goods remain in the double digits -- made only better by lower commodity prices, including cocoa.
Hershey is perhaps the most recognized chocolate brand in the U.S. With a large share of U.S. chocolate sales, including the rights to sell Cadbury-branded products, the company continues to advance.
From an investor's perspective, however, the failed takeover of Hershey by Mondelez (MDLZ) - Get Report poses a challenge. Since the Hershey's stock structure gives a controlling vote to the Hershey Foundation (which turned down the deal), any appreciation in the common stock from potential takeover offers will be limited.
So if you're looking for delectable profits from chocolate, Nestle makes a better choice.
Roses are another favorite Valentine's gift. And while California provides the majority of roses throughout the rest of the year, during the weeks leading up to the February holiday, imports are needed to meet the market demand.
Some $2 billion will be spent on Valentine's roses, with most being imported from Mexico and Central American markets. These are flowers flown in to meet the spike in demand each year.
Even with the usual florists' price hike, the wholesale cost of roses is down thanks to the strength of the dollar, as well as weakness in the Mexican peso.
Two leaders in the national flower market remain 1-800-Flowers (FLWS) - Get Report and FTD (FTD) .
1-800-Flowers recently reported modest revenue growth of 1.1% and maintained its nice gross margin of 46.7%.
FTD and its network of local member florists are feeling the pinch from this newer rival. Its stock continues to underperform, and its gross margin is weaker, making 1-800-Flowers the smart investment choice of the two.
Next, for toasting the love of your life, few beverages top champagne. And this is where the dollar's gains and the euro's losses should yield more value for buyers, as well as improved net revenues for European producers.
With the euro-dollar exchange rate down from recent highs of 1.39 to 1.06, champagne producers in France are cashing in on the currency advantage. And this is vital, as sales on the French market are expected to be subdued, and with the fall of the pound, U.K. sales have slid. But overall, sales beyond the EU have been up, with the industry projecting that 2017 should see a record in revenues for champagne sales.
As with chocolate companies, most champagne companies are smaller or family owned. The stock market leaders offer champagne as part of their wine and spirits businesses or as part of a collection of luxury products.
LVMH (LVMUY) has a host of prominent premium champagne brands. And while the company remains profitable overall, it is the company's champagne and spirits unit that continues to contribute the largest share of revenue growth, while its fashion units remain flat.
Bottom line: A stronger dollar is aiding sales to the U.S. of chocolates, roses, and champagne, and the companies providing these Valentine treats will continue to see stronger revenue gains.
---
As I've just explained, the stronger dollar is aiding companies peddling champagne, roses, and chocolates this Valentine's Day. But if you're looking for other growth opportunities, we've found a genius trader who turned $50,000 into $5 million by using his proprietary trading method. For a limited time, he's guaranteeing you $67,548 per year in profitable trades if you follow his simple step-by-step process. Click here now for details.
This article is commentary by an independent contributor. At the time of publication, the author held no positions in the stocks mentioned.