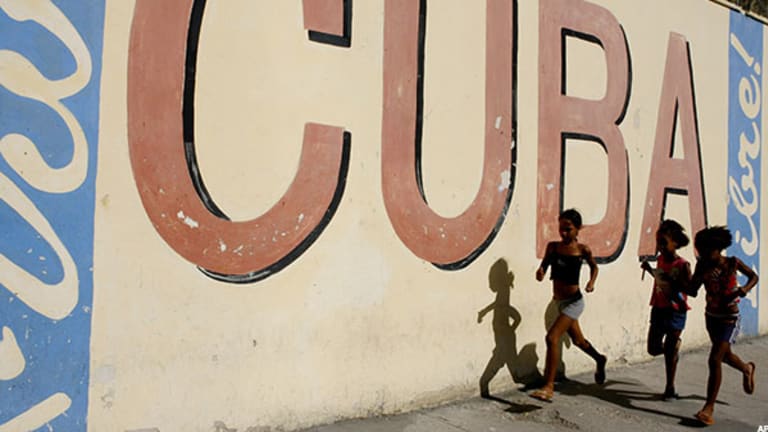 What U.S. Corporations Are Doing About Trading With Cuba
President Barack Obama's decision to drop the trade and travel embargo with Cuba will have little to no effect on most American companies.
NEW YORK (TheStreet) -- U.S. companies do not expect to see any short-term gain in exports or sales due to President Barack Obama's decision to normalize relations with Cuba, halt the trade embargo and allow limited direct travel for the first time in decades.
With the average Cuban citizen earning a small sum in internationally exchageable currency, the island isn't a mouth-watering untapped market for smartphones, cars, dishwashers or just about any other consumer product. Most U.S. corporations appreciate Cuba's longer term potential, but aren't loading freighters with product and sailing them to Havana.
But the U.S. already does have trade relations to Cuba, and corporations would like to see it expand. The U.S. exported $349 million worth of goods to Cuba in 2013, according to the U.S.-Cuba Trade and Economic Council from a peak of $781 million in 2008. Several companies, including, Microsoft (MSFT) - Get Microsoft Corporation Report , Google (GOOGL) - Get Alphabet Inc. Report and Sabre Corp.'s (SABR) - Get Sabre Corporation Report  Travelocity contacted by TheStreet had no comment at this time on the development.
For those companies that did have some thoughts on opening trade with Cuba the general theme is that companies are keeping an eye on recent developments, but no plans are in the works to take advantage of the situation. This holds true even for the auto industry, which should be poised to help replace the massive fleet of 1950s cars still operating on the island.
"We are reviewing the initiative to determine its potential impact for the auto industry," said Ford Motor (F) - Get Ford Motor Company Report spokeswoman Susan Krusel.
General Motors (GM) - Get General Motors Company Report offered a similar view.
"There isn't much to say at this time, since so much remains to be decided. Nevertheless, we're very encouraged by the news on Cuba. We will certainly evaluate any opportunities that may present themselves," said GM spokesman James Cain.
Cubans are also not likely to get their hands on the latest iPhone or laptop any time soon. However, the Consumer Electronics Association (CEA), an international trade association representing the consumer electronics industry, applauded the decision, but noted that any change is still down the road.
"Certainly, it will be slow, but as the access grows, so too do opportunities to grow individuals' business potential. It's a slow but certain snowball effect," said Sage Chandler, the CEA's vice president for international trade, adding that once the technological door is opened for a developing country the citizens are usually able to quickly use it to make their lives better.
While Americans could previously travel to Cuba, albeit indirectly and illegally, the travel industry cannot do more than sit back and wait as travel to Cuba for tourism is still illegal. Removing that roadblock will require an act of Congress, but on his own the president was able to open travel for those heading to the island for other reasons. Right now the list is limited to government officials, journalists, professional researchers, educators, religious officials and some business people.
Expedia (EXPE) - Get Expedia Group Inc. Report said in a written statement to TheStreet, "Expanded travel opportunities between the U.S. and Cuba would be a positive development. We look forward to learning more about this initiative and the new travel opportunities it may herald."
Travelocity added that it is premature to make any plans to add Cuban travel options until the travel ban is expanded.
This article is commentary by an independent contributor. At the time of publication, the author held no positions in the stocks mentioned.