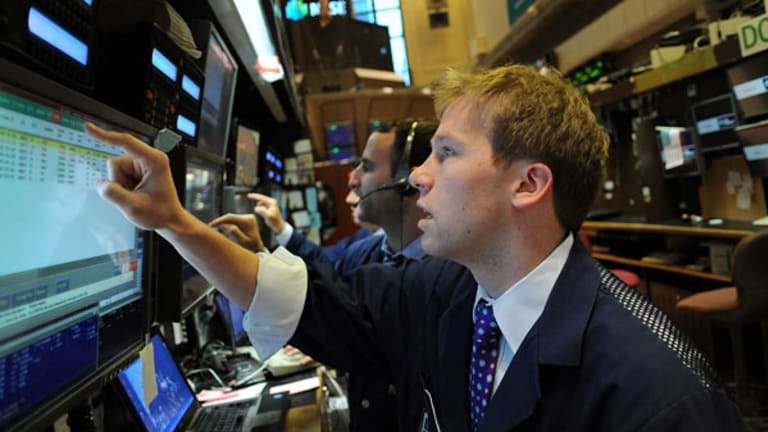 Publish date:
What Took So Long? This Stock Market Selloff Was Expected
Today's stock market selling could be a sign of a much more to come.
Today's stock market selling could be a sign of a much more to come.
NEW YORK (TheStreet) -- It took much longer than I had anticipated but the stock indexes saw some decent downside selling on Tuesday.
The DJIA lost 97.55 points to close at 17013.87 while the S&P 500 lost 13.10 to close at 1988.44. The Nasdaq was lower by 40 points so finish at 4552.28 and the Russell 2000 was down 1.18%, losing 13.81 points to close at 1158.50.
The Russell 200 is now negative for 2014 again. What a great bull market we have. The small-cap stocks trade at 55 times their trailing 12-month earnings.
The S&P 500 Trust Series ETF (SPY) - Get Report volume came in at over 88 million shares traded. That was above average over the past few weeks. Of course, it happens to be a down day. Remember, volume decelerates on up days and accelerates on down days. That has been a theme in 2014.
Just to make a point that we are in a massive stock market bubble, the Japanese company Rakutenagreed to buy U.S. rebates Web site Ebates in Japan's largest e-commerce deal as the operator of the country's largest online mall seeks to grow overseas through acquisitions.
Rakuten will pay $1 billion in cash for all of Ebates. The fact that a Japanese company is buying an early-cycle startup for $1 billion in cash is pretty massive any way you slice it.
In addition, the fact that Amazon (AMZN) - Get Report is buying Twitch for $970 million in cash and Morgan Stanley (MS) - Get Report is going to bring Hubspotpublic has U.S. initial public offerings, in both number of issues and dollars raised in 2014, at the highest level since the Internet bubble of 1999. Party on.
As I have been mentioning, the stock indexes have been flashing massive negative divergences since August. 25. As the stock index prices have continued to rise, the internal indicators have been going in the opposite direction. I am talking about the lack of volume, volatility and the force behind the price moves higher. 
Tuesday saw the air let out of the balloon to a certain extent. Time will tell if this selloff becomes something more. As of right now, I expect to see the market head lower over the next few days.
The momentum traders were caught off guard today. That is what happens when greed takes over.
On Tuesday, I was able to cover my short position in TeleNav (TNAV) - Get Report for a nice gain and also sell down most of my long position in Direxion Small Cap Bear 3x (TZA) - Get Report for a nice gain. I am still long some TZA.
At the time of publication, the author was long TZA, although positions may change at any time.
This article is commentary by an independent contributor, separate from TheStreet's regular news coverage.