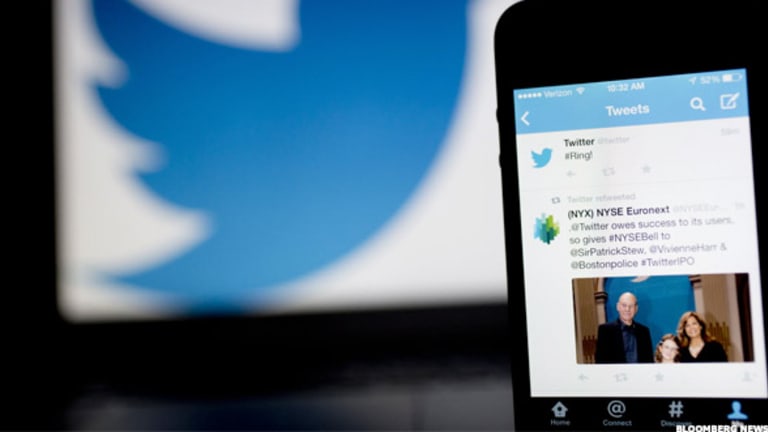 What to Make of Twitter's Stock Decline
MoffettNathanson declared that there is no reason to own Twitter stock, and that potential gains in late 2016 or 2017 do not justify holding onto the stock.
When Twitter (TWTR) - Get Twitter, Inc. Report IPO'd back in November 2013, it started at $41 and reached a high of $69 in early 2014. But ever since then, it has been all downhill for the social media company. Twitter's stock dipped below $14 on Tuesday, setting record lows for the company. If that was not bad enough, a recent analysis of Twitter from boutique firm Moffett Nathanson titled "Hope is not a Strategy" has set a price target of just $12 for the company. Moffett declared that there is no reason to own Twitter stock, and that potential gains in late 2016 or 2017 do not justify holding on to the stock.
So what has happened to Twitter? How could one of the main social media giants fall so far? Do investors have any reason to hold on Twitter stock, or should they sell as soon as they can?
Advertisers vs. Users
Twitter today has over 300 million users who post at least 500 million tweets every day. But investors have to remember that like Facebook and Alphabet, Twitter's customers are not those users. Twitter's customers are advertisers who want to take advantage of Twitter's huge user base to send advertisements or find ways to make money off of them.
Twitter, Facebook and Alphabet are holdings in Jim Cramer's Action Alerts PLUS Charitable Trust Portfolio. See how Cramer rates the stock here. Want to be alerted before Cramer buys or sells TWTR, FB or GOOGL? Learn more now.
But the question that Twitter has faced is how it plans to do this, and it has no real answer, yet. While Twitter needs to come out and show that it can lead in advertising better than its competitors, it has been slow to implement new methods to attract revenue.
For example, Twitter is working on ways to show logged out users advertisements and according to CNBCis looking at "courting direct response advertisers through ROI and measurement partnerships like the DoubleClick integration." Another example is in digital video advertising, where Twitter has also been slow to move compared to its social media competitors. Any new changes that Twitter makes towards monetization will not hit full stride until late 2016 at best. And investors want change now.
And while Twitter has to figure out how to attract more customers, it has also been incredibly slow on coming up with new ways to keep its user base happy. For example, Twitter on Tuesday announced a series of new changes. Names in replies as well as media attachments and links would no longer be counted as part of the 140 character limit. Users will also be able to retweet their own tweets, giving them a possible avenue to correct mistakes.
But while reception towards these new changes were positive, users also griped about how Twitter has never allowed an edit button for their tweets. Twitter has been as slow finding ways to make its users happy as they have been slow finding ways to make their customers happy.
The result is that Twitter's user base has stayed roughly the same for the past few years. In the second quarter of 2015, Twitter's stock fell because its user base fell to 316 million, which is still better than the 310 million users Twitter had in the first quarter of 2016. For about three years now, Twitter has had around 300 million users who send around 500 million tweets per day with little significant growth or shrinkage.
This lack of user growth is a serious concern because other, newer social media are starting to surpass Twitter both in user base and advertising ease. For example, Snapchat, which was founded in 2011, today has around 400 million users. And Snapchat's users spend more time on Snapchat per month than Twitter users spend on Twitter. And then there are the much bigger social media giants of Facebook and its photo play Instagram.
With only so many advertising dollars to go around, this means that advertisers no longer view Twitter as an essential place to advertise at to begin with. While no advertiser would think of not contacting Facebook or Alphabet's YouTube, Twitter has become an optional choice. 
So do all of these signs mean that Twitter is doomed? That depends. It is possible that Twitter has a future over the long term. It will require greater communication between the company, its user base, and its customers, but it can be difficult to believe a social media giant with so many users can collapse.
But Twitter has talked about its long-term potential for a long time, and many investors have had enough. And over the short- to medium-term, Twitter's prospects look very bad. It has no way to make a profit, no way to reliably monetize its user base, and has a series of plans which will not take effect for several months if they succeed at all.
CEO Jack Dorsey has been content to shuttle back and forth between Twitter and his start-up
Square
as if everything is fine in both companies, but enough is enough. Until there are changes in Twitter, its business, and its leadership, investors have every reason to stay away from this company.
This article is commentary by an independent contributor. At the time of publication, the author held no positions in the stocks mentioned.