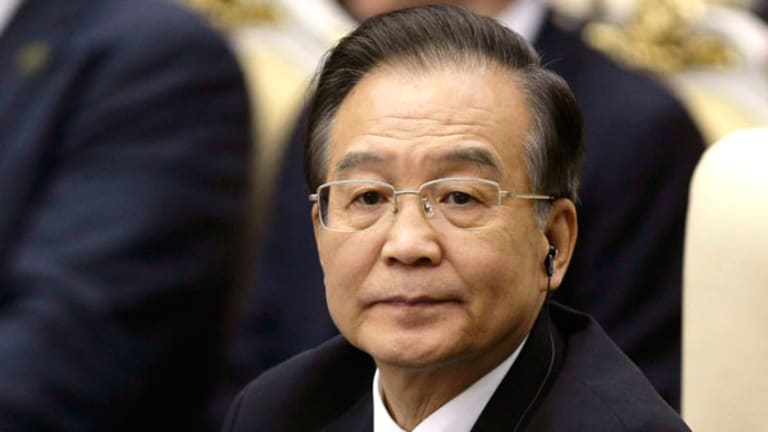 What to Expect From China in the Year of the Snake
If officials remain committed to financial reform and focus on policies that enable private-sector growth, Chinese stocks will have a good year.
NEW YORK (TheStreet) -- Most Asian markets are closed this week, but the region's far from quiet: It's the Lunar New Year! As folks everywhere celebrate with scrumptious feasts and red envelopes, we think it's a great time to see what's in store for China in the year of the snake.
On the economic front, reacceleration seems likely. GDP growth bounced to 7.9% in the fourth quarter 2012, and January's combination of slowing inflation and a 15.9% increase in M2 money supply suggests the economy's in a "Goldilocks" sweet spot: Money, it seems, is flowing quickly enough to support continued growth, but slowly enough to keep the risk of runaway inflation in check.
Looking ahead, money should continue moving, though perhaps not at a gangbusters rate -- the official 2013 loan quota is reportedly 8.5 trillion yuan, which implies a slight deceleration in loan growth.
But bank lending is only one driver of money supply. As China liberalizes its financial system, total social financing --which includes bank lending as well as peer-to-peer lending, corporate debt issuances, shadow banking and more -- is becoming an increasingly important measure. In January 2012, new yuan-denominated bank lending comprised 736 billion the month's 980 billion yuan in total social financing. But in January 2013, after a year of financial sector reforms, new yuan-denominated bank lending of 1.07 trillion was less than half the 2.54 trillion yuan in total social financing.
This widening discrepancy suggests China's efforts to expand corporate borrowing options have had some success. Recall, one reason China's economy didn't reaccelerate as quickly as officials hoped in 2012 was small businesses' difficulty securing financing.
Looser loan quotas were supposed to benefit the entire economy, but the banks, which are mostly state-run, lent primarily to state-owned enterprises, or SOEs, shutting out many smaller, private firms. In the past, this wouldn't have been a huge headwind, as China's 144,000 SOEs were its primary growth engine.
But the private sector has grown rapidly in recent years, from 23.5 million in 2004 to over 40.6 million today. Because most of these firms couldn't get bank loans, they had an unenviable choice between stagnation and borrowing from loan sharks at credit card-like rates in order to invest and expand. This made growth exceedingly difficult for most Chinese business owners last year.
Policymakers seemed to realize this last spring and unleashed a series of reforms to widen corporate bond markets, hoping state-owned firms would shift their primary financing means from bank loans to bond markets. They also launched pilot programs to liberalize off-balance sheet lending and peer-to-peer financing in the coastal city of Wenzhou, providing private firms cheaper, legitimate financing alternatives (plans to roll this out nationwide are pending). Hence why social financing grew throughout the year, likely contributing to the fourth-quarter reacceleration.
However, this success comes at a price. The more private firms proliferate and can access social financing, the less the government can manipulate growth through loan quotas and fixed asset investment. Thus, for China to continue growing nicely over time, officials will likely have to continue or even accelerate policy reforms.
This likely becomes even more pronounced as Chinese manufacturing loses some of its competitive edge due to rising labor costs -- private service-oriented firms will become even more important, and their ability to finance and grow their business even more vital for the economy.
As a result, policy reform likely becomes an increasingly important driver of Chinese equity reforms. Investors may be less willing to pile into China simply for its gangbusters near-term growth rates and may, instead, start weighing whether its policies are favorable for private-sector growth. The more reforms investors see today, the more confident they will be in China's prospects.
Thus investors likely took notice last Tuesday when the State Council published a white paper called "Opinions on Deepening Income Reforms," which included several policy plans aimed at narrowing China's income gap.
Measures included forcing SOEs to increase dividend payments, constraining SOE managements' wages, increasing minimum wages, broadening the tax base, forcing government officials and SOE appointees to disclose all assets and income and expanding property taxes. Though this anti-capitalist package only overtly targets SOEs, the tax measures will likely hurt private business owners, making it a broad negative for Chinese commerce.
That said, China's policy outlook still remains favorable. The incoming government appears more or less committed to the outgoing administration's changes. At the Central Economic Work Conference, officials made vague references to "deepening reform" and "further opening-up" of markets.
The government also recently pledged to increase foreign investment caps 10 times in 2013. Last year, similar increases were typically accompanied by reforms, giving foreign investors more options in order to attract more capital. The Wenzhou reforms are also continuing as officials figure out how to publicize newly legitimate private lending and combat usury.
Though this process likely takes time and isn't an instant fix for China's small businesses, provided officials remain committed to its eventual success and nationwide adoption, investors should remain patient.
According to Chinese mythology, this year of the snake is a year where "steady progress and attention to detail" will determine success, and that seems especially apt for economic policy. As long as officials remain committed to financial reform and focus on policies that enable private-sector growth, Chinese stocks can have a perfectly fine 2013.
This article was written by an independent contributor, separate from TheStreet's regular news coverage.