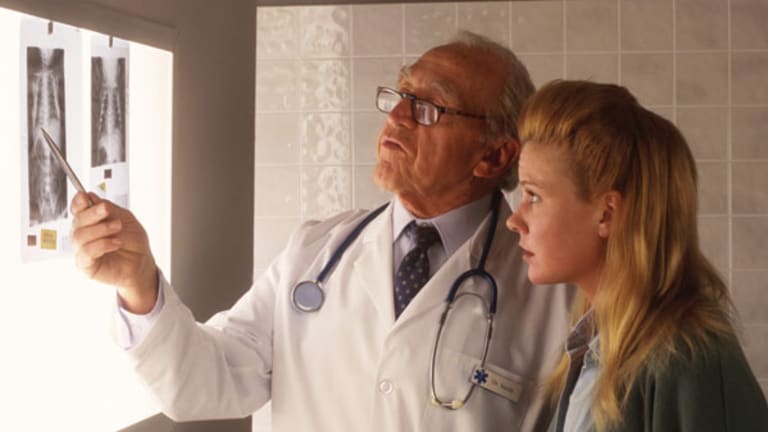 What This Red-Hot Stock Has to Do With Angelina Jolie
Illumnia has developed an integrated system to analyze genetic variations.
Illumnia has developed an integrated system to analyze genetic variations.
NEW YORK (TheStreet) -- Back in the spring of 2011, I chose 50 stocks to write about in my book "Best Stocks Now."
At the time they were all the best examples that I could find of my investing style. I am not a pure value investor, nor am I a pure momentum investor; I am both.
I like to combine momentum with reasonable valuations. During my almost 20 years as a professional money manager, I have seen far too many stocks that looked to be grossly undervalued turn into value traps. On the other hand, I have seen numerous high-flying momentum stocks come crashing back to earth because of stratospheric valuations.
I like to combine the best of both of these unique investment styles into a system that I call Best Stocks Now. At any given point in time Best Stocks Now come from all walks of life. Much of it depends on the current economic environment that we find ourselves in. Best Stocks Now also go in and out of favor just like asset classes and market sectors do.
I like to roll with the best asset classes, sectors and stocks in the market as opposed to being spread so thin that I am likely to get mediocre performance from the investment portfolios that I manage. This has been a year that has been all about domestic equities. Even more specifically than that, it has been small- and mid-cap domestic stocks that have been the sweet spot in the market in 2013. In addition to this, medical-related stocks like pharmaceuticals and biotechs have been on fire.
This has been a terrible year for bears. Being short the market or being heavily weighted in cash has been devastating to your portfolio's performance this year. Being in developed international markets or emerging markets has also been a terrible place to be. Gold and the bond market have also been the wrong places to be.
I track 45 different asset classes on a daily basis. The above mentioned trends have been in place for almost one year now. When trends stay put for a while, money can be made as long as those trends stay in place. These current trends will eventually come to an end and new trends will emerge. Going with the flow in my opinion is the way to go. I have stated many times in the past that I am not a believer in asset allocation. I would rather move from bucket to bucket as opposed to spreading my investments around all the various asset classes.
Here are my current top eight-ranked asset classes:
Data from
By contrast, here are the eight bottom-ranked asset classes:
Data from
Again, the above trends have been in place for about one year now. How valuable is it to track these trends and go with the flow as opposed to stubbornly fighting them? I leave the answer to that question up to you.
One of the 50 stocks that I wrote about back in 2011 was a San Diego biotech company by the name of
Illumina
(ILMN) - Get Report
. The company has developed a revolutionary integrated system for the large scale analysis of genetic variation and biological function.
Angelina Jolie made news recently by using genetic testing to determine the odds of her getting breast cancer. She obviously made a very big decision based on the results. Genetic testing will continue to play a big part in drug development going forward.
Illumina is currently in the sweet spot of this year's investment world. It is a domestic stock, it is a mid-cap, and it is a biotech. Illumina also qualifies as a Best Stock Now, because it currently passes my valuation and performance test. The stock closed Wednesday up nearly 11% to $81.56.
Let's begin with valuation:
Data from
The current consensus analyst estimate for Illumina's earnings next year currently stands at $1.99 per share. The consensus five-year growth rate expectations currently stands at about 17% per year. When I extrapolate those earnings expectations out over the next five years and apply a multiple that I think is appropriate for this gene sequencing company, I come up with a five-year target price of $143 per share.
This gives the stock 94% upside potential, I require 80% or more. Illumina passes my value test. It should be noted that Illumina beat the earnings estimates quite handily on Tuesday and is guiding higher for 2013. This will obviously lead to a higher target price in coming days.
Now let's look at the stock's performance:
Data from
Believe it or not, the 10-year performance of Illumina is actually a little bit better than
Apple
(AAPL) - Get Report
. Illumina has delivered a total average annual return of 46.5% to investors over the last ten years, while Apple has delivered 45%. By contrast the
S&P 500
has delivered just 5.5% per year.
Over the last five years, Illumina has almost doubled the performance of the market, while over the last three years it has ran at a clip that is 5% better than the market. When I compare the performance of Illumina against the other 3,414 stocks that I track, it earns an overall performance grade of "B+".
Over the last year the stock has been clobbering the returns of the market. It currently earns a momentum grade of "A". This shows up in the one-year chart of the stock:
As you can see, the stock is breaking out of a three-month consolidation with a vengeance. It appears that a brand-new, major uptrend is underway. By the way, along with value and performance, I also require a healthy stock chart. This is one of the best looking charts in the market today.
Of the 3,414 stocks that I currently track on a daily basis, Illumina earns an overall Gunderson Grade of "A." It is also ranked at #179. This puts it in the top 5% to 6% of the entire market. Clients of Gunderson Capital Management are currently long this stock.
Data from
This article was written by an independent contributor, separate from TheStreet's regular news coverage.