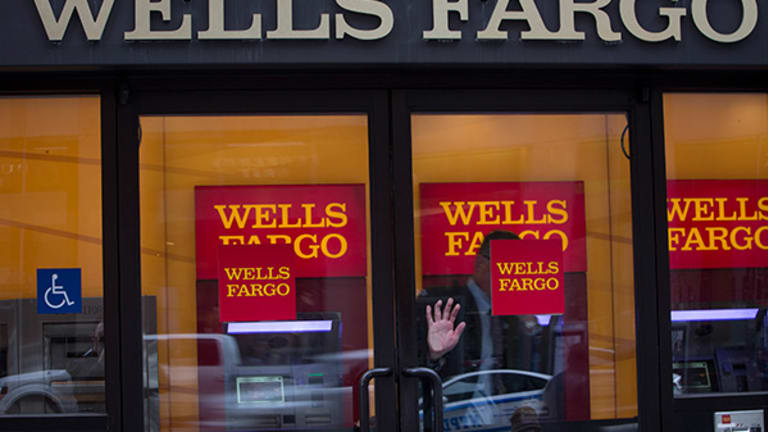 What the Wells Fargo-Xero Partnership Means for Small Businesses
On Tuesday, the financial services company said that it has entered into a data-sharing agreement with New Zealand-based software firm Xero.
On Tuesday, the financial services company said that it has entered into a data-sharing agreement with New Zealand-based software firm Xero.
Financial services behemoth Wells Fargo (WFC) - Get Report said Tuesday that it has entered into a partnership with New Zealand-based software firm Xero that could have huge implications for how banks manage businesses online while ensuring cybersecurity.
Xero is an online accounting software company comparable to QuickBooks. It is interested in gaining ground in the U.S. market, with more than 62,000 subscribers in North America and 700,000 worldwide.
Although Wells Fargo consumer accounts won't be affected by this move, this is big news for small-business banking consumers. The two companies will work together to create a data-sharing platform for the bank's small-business customers, and the platform will ensure that Xero customers can use Wells Fargo servers, which eliminates the need to share banking user names and passwords.
Wells Fargo is a holding in Jim Cramer's Action Alerts PLUS Charitable Trust Portfolio. See how Cramer rates the stock here. Want to be alerted before Cramer buys or sells WFC? Learn more now.
This change may seem small, but it could make a huge difference in terms of banking efforts against hackers. Greater integration between banks and companies is important, and it also shows Wells Fargo's continuing efforts to work with small businesses.
Anyone with a bank account has been told to never give account information and password to a third party. But the development of accounting software such as Xero has created problems for this policy.
In order to make things more convenient, QuickBooks and Xero both ask users for their bank account information. Because these websites store these data, this makes them targets for hackers.
But this isn't the only security problem. The other concern is that this creates an environment where users are more likely to give away their bank information if someone who appears important asks.
"Phishing" is a common online scam where hackers or scammers send bank users an official-looking email that demands the user's passwords for various reasons.
A common excuse is that the bank has been hacked, and so users must reset their passwords for their own security. But in the process, they end up divulging their original password, and the hacker uses this information for nefarious purposes.
And though phishing is problematic enough, hackers are moving toward stealing money directly from banks as well.
In March, hackers possibly connected with North Korea stole $81 million from Bangladesh's central bank and attempted to steal as much as $850 million.
And Reuters reported that "U.S. regulators on Tuesday told banks to review cybersecurity protections against fraudulent money transfers" in the aftermath of the Bangladesh attack.
The fact that hackers are attacking central banks shows that no security system is completely safe. But the partnership between Wells Fargo and Xero shows that these two companies are determined to work together to ensure convenience and security.
The platform that the two companies intend to create is very simple.
When small-business customers log onto their Wells Bank account, they will have the option to connect their accounts to Xero's service using the bank server. This is widely used banking security technology and is comparable to how many websites that ask for a user to register will accept logging in through a Facebook or Twitter account.
Facebook and Twitter are holdings in Jim Cramer's Action Alerts PLUS Charitable Trust Portfolio. See how Cramer rates the stocks here. Want to be alerted before Cramer buys or sells FB and TWTR? Learn more now.
On a convenience level, it ensures that customers can quickly go back and forth between Wells Fargo and Xero.
And on a security level, there are two benefits.
As noted above, the agreement decreases the willingness of bank customers to give away their private bank account information.
The second reason is that there is now no reason for Xero to store information on customer bank accounts, which means that hackers can't break in and retrieve it.
It should also be noted that this partnership shows Xero's commitment to international expansion.
Small businesses that are used to using QuickBooks to handle their accounting should take a look at Xero. In addition to the fact that Xero is making greater efforts to protect its customers, Xero has several advantages over QuickBooks as an accounting software package.
Although QuickBooks only allows up to five users, Xero allows users to have unlimited users to figure out the details of an accounting business. Furthermore, Xero is thought of by many as easier to use, as it does a better job of matching invoices and receipts, compared with QuickBooks.
And though QuickBooks relies on a more traditional mode of software, Xero is fully integrated with the cloud and is much more compatible with mobile, though QuickBooks is working on improvingments.
The integration between Wells Fargo and Xero is big news for small businesses. If this can help keep banks and small businesses safe from hackers and provide more convenience, it wouldn't be surprising to see more banks and financial software companies partner.
Small businesses should have plenty of reasons to be enthusiastic about this innovative new approach as its gives them an alternative to QuickBooks.
This article is commentary by an independent contributor. At the time of publication, the author held no positions in the stocks mentioned.