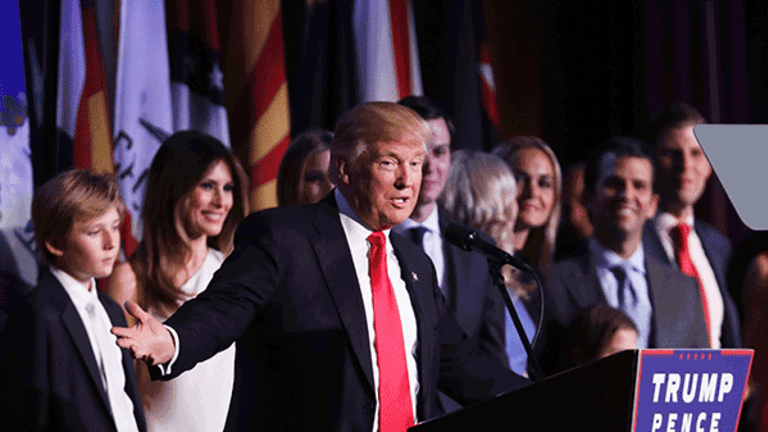 What the Trump Presidency Means for Americans Living South of the Border
Most expats are not concerned about a backlash and expected to be treated with the same decency as they've experienced in years of living in their adopted homes.
In the aftermath of Donald Trump winning the U.S. presidency, we asked some of the more than 500 expats in Mexico, Panama, Belize and Nicaragua who answer questions on Best Places in the World to Retire how a Trump presidency would affect them. Here's what they said.
How Americans Will be Treated Abroad
Given that Donald Trump's main campaign promises included building a wall on the Mexican border, forcing Mexico to pay for it, renegotiating the NAFTA trade deal, and punishing American companies that have facilities abroad, it wouldn't be a leap for American expats in Mexico to fear resentment and perhaps even retaliation, if not from ordinary Mexicans, then from the Mexican government.
Don Nelson, a U.S.-based American attorney specializing in expat and international taxes, fears some form of retaliation, especially if Trump forces Mexico to "pay for the wall" through taxes on remittances from Mexicans in the U.S. to Mexico. "Mexico has a history of retaliation," said Nelson. As an example, Nelson cited when the Mexican government increased visitor permit requirements after the U.S. increased fees on Mexican nationals.
Nelson further explained that, while it is the law in Mexico that all foreigners who are in Mexico more than 180 days must pay income taxes to the Mexican government, the government doesn't currently seriously enforce the law, and this is one of the items that could conceivably change. "However, they won't kick us out," said Nelson, "because they need us."
Alfonso Galindo, a Southern California native who moved to Mexico, disagrees. "Donald Trump's win won't change anything," said Galindo. "Expats are very appreciated in Mexico. I don't predict that there will be any significant backlash at all. All my Mexican friends are not only talking to American expats who live here, but emailing supportive messages."
Galindo told us that the messages were along the lines of, "If you live in Mexico as an expat, we know you are a friend."
"Mexicans are not flipping out," said Galindo, "and overall, could care less."
Canadian Gary De Spiegelaere and his Mexican national wife live in the Mexican state of Yucatan. Both were vocal and public Trump supporters. De Spiegelaere reports that, after he explained the rationale behind Donald Trump's position to many of his Mexican friends and relatives, they understood.
"Mexicans are very polite," said De Spiegelaere. "They don't get angry over our politics, they get angry over their own politics. There has been no retaliation at all. Mexicans are some of the nicest people in the world."
Among many other overseas activities, Michael Cobb has co-founded Caye Bank in Belize and runs ECI Development, which has properties in Belize, Nicaragua and Panama. In the unusual times he's not traveling, he lives with his family in Nicaragua.  Cobb told us that the people of smaller countries in Latin America that have had issues with the U.S. make a distinction between the U.S. government and U.S. expats. "They can and often do like the American people but not the American government. They're used to this," Cobb said, "and it should continue."
Changes President Trump May Make to Preferred U.S. Tax Treatment of US Expats
There are many income tax advantages to being a U.S. expat, including the Foreign Earned Tax Credit, which allows qualified expats to exclude over $100,000 annually from their U.S. tax return.
Nelson is concerned that the Foreign Earned Income Exclusion may be in danger. "Mr. Trump hasn't mentioned it specifically," said Nelson, "but he has indicated his intention to make the tax code more simple and do away with some benefits, and he certainly has voiced his desire to punish U.S. companies operating abroad."
"Maybe he will do nothing about the Foreign Earned Income Exclusion," said Nelson. "After all, many of Mr. Trump's associates run international businesses that would be harmed by reducing or eliminating the exclusion."
Cobb agreed that it was improbable that the U.S. tax code would be changed to harm expats. "I would find it very unlikely that the Foreign Earned Income Exclusion would be changed," said Cobb.
Cobb explained that there are too many U.S. natural resources companies and big financial institutions that rely on the Foreign Earned Income Exclusion as part of the overall compensation to their employees for living and working overseas. Said Cobb, "Even companies like Marriott depend on it."
Exchange Rate Benefits and Challenges
While the Belizean dollar is pegged at 2:1 to the U.S. dollar, Panama uses the U.S. dollar, and Nicaragua's currency has not been significantly affected by the U.S. presidential campaign, the Mexican peso has experienced a substantial decline, decreasing from 17.17 May 1 of this year to 20.54 Nov. 10.
Galindo explained, "The weakening of the Mexican peso relative to the U.S. dollar hasn't really hurt the average Mexican. The Mexican economy is large enough that it doesn't have to import a lot of goods, so the peso price of items hasn't really changed that much.  For American or even Canadian expats, however, the weakening of the peso has been a huge benefit. It's like getting a 20% discount on everything. They love it!"
De Spiegelaere agrees. "This is an opportune time to come to Mexico with U.S. or Canadian dollars and buy because the exchange rate may eventually go back down. I'm certainly buying right now."
Change in Trade Policy and Agreements
When we asked Galindo if hostility between the U.S. and Mexican governments could develop as a result of changes in trade policy between the U.S. and Mexico, he said it would be unlikely that Mexico would suffer, because U.S. consumers would get mad at the results. "For example," Galindo said, "if the U.S. consumer can't get avocados year round because Mexico isn't shipping them to the U.S. any longer, those consumers will want a return the situation to like it was before."
Wayne Robbins, the president of The Placencia, a large residential and mixed-use development in Belize, sees opportunity for Belize as a result of the U.S. re-thinking and renegotiating trade agreements. "As the U.S. re-evaluates its trade agreements, it can have a fresh look at the advantages of trading with countries like Belize much more than it does now," said Robbins.
"Belize has many advantages," said Robins, "including that it is an English-speaking, British Commonwealth country that's geographically very close to the US. Everything will be in play."
Opportunities and Worries
Cobb told us his companies are experiencing increased interest as a result of the American election. "The U.S. is so polarized now that many of the opponents of Mr. Trump are looking for a 'Plan B', should their worst fears come to pass."
And this Plan B, according to Cobb, often involves having assets in several locations abroad. Said Cobb, "We see a strong buying cycle."
Galindo offered additional proof of popularity of exploring what Cobb called a "Plan B." "All the Internet and social media pages I manage", Galindo said, "have experienced a huge increase in traffic in the last few days."
Linda Jensen
, a U.S. expat and strong Trump supporter who lives in Boquete, Panama, has tried to calm her Panamanian and expat neighbors regarding the more outlandish fears of Trump's policies harming countries like Panama, including the rumor that he would re-negotiate the treaty wherein the U.S. gave Panama control over the Panama Canal. "Why would he want to hurt Panama's economy?" said Jensen. "He has a hotel in Panama City."
This article is commentary by an independent contributor.