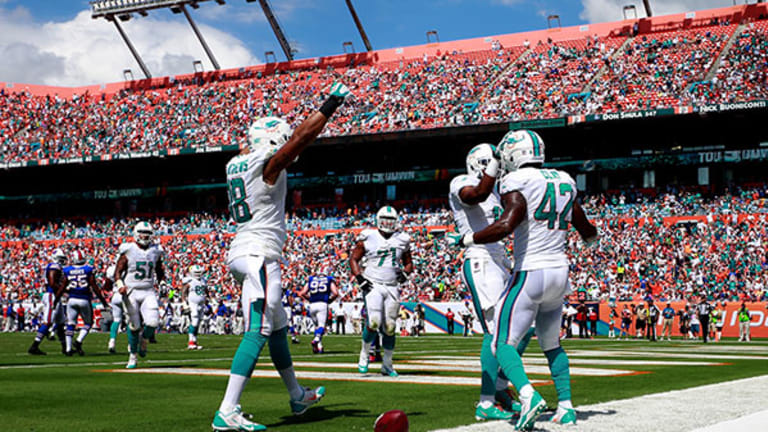 Publish date:
What the NFL Owes Taxpaying Fans
The Richie Incognito saga should be a reminder that fans have more clout than they think thanks to their tax dollars.
The Richie Incognito saga should be a reminder that fans have more clout than they think thanks to their tax dollars.
PORTLAND, Ore. (TheStreet) -- This week, Miami Dolphins offensive lineman Richie Incognito was suspended indefinitely by the team for hazing fellow offensive lineman Jonathan Martin to the point that he had to leave the team.
Yes, Miami fans, that is your business.
According to
ESPN
's Adam Schefter, Incognito used racial epithets, references to Martin's sexual orientation and other taunts to prod Martin and continue a pattern that began -- and by all accounts should have ended -- after Martin's rookie season in 2012. Though Martin apparently didn't go to coach Joe Philbin to complain -- potentially because Incognito was on the Dolphins' six-player "leadership council" and may not have taken kindly to having Martin go over his head -- Philbin took responsibility for the environment in his locker room. The NFL players' union is now investigating Martin's case as harassment.
So where do Miami fans come in? It isn't great to lose two members of your team's offensive line without anyone playing a down of football, but they're not the coach or the Dolphins' owners, right? They shouldn't have any say in personnel decisions or matters concerning team behavior or player safety, should they?
As long as ownership and the league in general keeps using them as an ATM, of course they should. In fact, they already have. A combination of a terrible economy and a similarly awful on-field product has shrunk Dolphins season ticket sales from 61,000 in 2006 to little more than 40,000 last year. The team is 4-4 and has had exactly three winning seasons and one playoff appearance within the last decade.
Current Dolphins owner Stephen Ross spent much of 2008 buying up the Dolphins' stadium and surrounding land and pocketed $37.5 million from Canadian life insurance firm
Sun Life Financial
in a naming rights deal. He has since floated several ideas for stadium upgrades, including a $200 million hotel tax to cover a partial roof, but has been unsuccessful in convincing local government and taxpayers that it's a good idea.
Never mind that the Miami-Dade area has been a little skittish about spending since the housing crisis slammed both buyers and homeowners there. Both the City of Miami and Miami-Dade County have been openly hostile toward anyone who even suggests that public money go toward a sporting venue, especially after both the city and country were left on the hook for nearly $510 million on the $634 million initial costs of building Marlins Park for Major League Baseball's Miami Marlins. Paying off the bonds will cost the country nearly $2.4 billion over the next 40 years, while the Marlins keep almost all revenue from the stadium - even for events that aren't Marlins games.
Voters weren't above voting against stadium-endorsing City Commissioner Joe Sanchez in his run for Miami's mayoral office while Miami-Dade voters flat-out recalled Miami-Dade Mayor Carlos Alvarez over his backing of the stadium. The Marlins, meanwhile, repaid the taxpayers' investment by jettisoning the overwhelming majority of the team's star players at the end of 2012. The Marlins finished with the worst record in the National League in 2013 and were only beaten for the worst record in Major League Baseball by the equally tight-fisted Houston Astros -- baseball's most profitable team of all time with nearly $100 million going right to the front office this season.
Now Miami regularly listens to the Dolphins and Ross ask them to consider paying half of the $350 million in costs for the stadium renovations Ross is proposing. Miami, the county and just about everyone else Ross has hit up for public cash has told him where he can stick his request.
But maybe that's not the best use of their outrage. Many of those taxpayers are still Dolphins fans, after all, and the sudden loss of that team in itself doesn't make their lives any better. Since they have what the Dolphins want, maybe it's time that a group of NFL fans used some of the same leverage that team ownership has been using against them for years.
In a way, Dolphins fans are already exerting their influence without making so much as a peep. Ross was called in for a meeting with NFL Commissioner Roger Goodell in the wake of the Incognito incident, presumably to be reminded that this isn't the time to turn off paying customers. Ross knows that he needs his taxpaying fans on his side, so he's listened to their complaints about early season games being too hot and got the league to move all of the Dolphins' home-game start times in September to 4 p.m.
He also knows that it's tough to ask fans for cash to support a team they can't see, so he's accepted the NFL's optional "sold-out" attendance threshold of 85% instead of 100% to stop home games from being blacked out. Even when attendance does fall beneath that level, Ross has teamed with sponsors to use a league loophole that allows unsold tickets to be purchased at a third of face value and distributed to charities.
However, keeping games played in stadiums paid for with tax dollars on airwaves funded by federal taxes is now considered a bare minimum.
Republican Senator and former presidential nominee John McCain of Arizona
that would prevent the NFL from blacking out home games played in stadiums built with public money. A full 30 of the NFL's 31 stadiums have had a portion of their costs paid for with tax dollars. It cost an average of $525 million to cover each of 20 NFL stadiums built since 1997, according to
a Minnesota study
looking into the likely costs of a new stadium for the Vikings, says that 56% of those stadium costs -- roughly $238 million per stadium -- were paid for with public funds. That's nearly $4.8 billion in tax dollars spent on NFL stadiums alone, but economists estimate that continued costs including maintenance, infrastructure and renovations dip into more tax money and force the public to pay upward of
.
Meanwhile, the NFL earns money from images broadcast from those facilities whether or not the taxpayers who shelled out for them are blacked out.
NFL games accounted for 31 out of 32 of the most-watched TV broadcasts last fall and more than doubled the prime-time viewership of Fox, ABC, CBS and NBC.
Fox
(FOXA) - Get Report
,
CBS
(CBS) - Get Report
and
Comcast's
(CMCSA) - Get Report
NBC agreed to pay the NFL $28 billion for broadcast rights through 2022.
Walt Disney's
(DIS) - Get Report
ESPN has a separate $1.9 billion annual deal for Monday night football, while
DirecTV
(DTV)
has a $1 billion per season agreement for the NFL Sunday Ticket package that is set to become even more lucrative once the current contract expires in 2015.
The NFL is also seeing pure profit from expanding the number of games aired each season on its NFL Network expanded from 8 two years ago to 13 this year. The NFL Network's cable and satellite subscription fee is now second only to that of ESPN and its ad revenue just continues to soar year over year. Of the $9.5 billion in revenue produced by the league last year, roughly $4.5 billion came from television alone.
Yet owners just keep asking for more money. At least $115 million in public funds are going into the new San Francisco 49ers facility, Levi's Stadium, opening in Santa Clara next year. Minnesota is currently on the hook for about $500 million of the proposed $974 million Vikings stadium planned for 2016, though that's still being negotiated. In Atlanta, where the Falcons' Georgia Dome is a scant 21 years old, the city has already pledged
$200 million
toward a proposed $1 billion stadium.
Unfortunately for the NFL and the team owners that make up its membership, their options for such extortion are shrinking. The league has expressed interest in Los Angeles and London franchises and has allowed the Buffalo Bills to play games in Toronto for several years, but that's two slots for any number of teams looking for a payday. The truth is that nobody's been rushing back to Los Angeles since the Rams and Raiders left for St. Louis and Oakland in the 1990s and the NFL hasn't ever faced the logistical challenge of a team across an ocean. Besides, London wasn't particularly enamored of the World League of American Football the last time the NFL tried to plant its flag there, and three games a season featuring various teams isn't an eight-game season of one team.
That leaves taxpayers firmly in control of their teams' destiny and accounts. While they could bargain for small-scale victories like slightly lower ticket or concessions prices, maybe it's time that city, county and state taxpayers ask for a bit more. For small markets including Buffalo and Jacksonville, that may involve getting their team actively involved in petitioning the rest of the league for a community ownership model similar to that grandfathered in for the Green Bay Packers. While that team still takes some occasional tax dollars, its sales of non-appreciating shares maintain the franchise's future in Green Bay while opening business and personnel decisions to public view.
Perhaps fans could push their franchise toward taking a position that would rescind the NFL's antitrust protections in the event that the league establishes a franchise beyond U.S. borders. After all, if it's an international league, why should it be
under Section 501(c) of the Internal Revenue Code or need U.S. protection from competing leagues and organizations? At the very least, that would make the league and its teams answerable to the workplace harassment legislation put forward by 25 states since 2003 or the workers compensation claims being filed by former NFL players in California -- claims the league is
Fans can use the power of their tax dollars to include these kinds of stipulations and contingencies in stadium-funding agreements -- loopholes usually reserved for getting teams as much money as possible while sending as little back to the surrounding area as they can. They can dictate the terms of their agreements and shape the team and the league in a way they see fit.
If NFL franchises and their owners don't like it, they can feel free to try their luck elsewhere -- if there's any elsewhere left.
-- Written by Jason Notte in Portland, Ore.
>To contact the writer of this article, click here:
Jason Notte
.
>To follow the writer on Twitter, go to
.
>To submit a news tip, send an email to:
.
RELATED STORIES:
>>10 Best 40-MPG-Or-Better Cars of 2013
>>5 Vehicles You Want To Drive In A Rainstorm
>>Top 10 Cities For Car Sharing
Jason Notte is a reporter for TheStreet. His writing has appeared in The New York Times, The Huffington Post, Esquire.com, Time Out New York, the Boston Herald, the Boston Phoenix, the Metro newspaper and the Colorado Springs Independent. He previously served as the political and global affairs editor for Metro U.S., layout editor for Boston Now, assistant news editor for the Herald News of West Paterson, N.J., editor of Go Out! Magazine in Hoboken, N.J., and copy editor and lifestyle editor at the Jersey Journal in Jersey City, N.J.