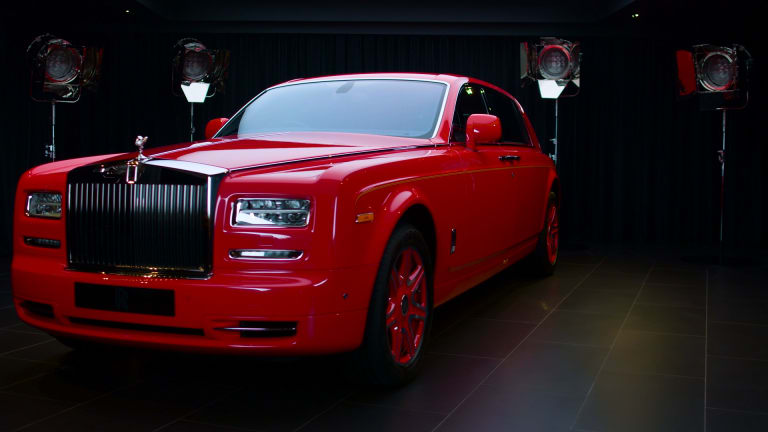 What the Most Expensive Rolls-Royce Looks Like … Yup, It Has Gold!
Gold, often a symbol of luxury, has done it again!
Gold, often a symbol of luxury, has done it again!
Its lustrous yellow tint has attracted the attention of Hong Kong billionaire Stephen Hung, who recently commissioned luxury automaker Rolls-Royce to make him not one, but two gold-covered Phantoms.
Hung is behind the car company's biggest order in history--he commissioned a fleet of 30 Rolls-Royce motor cars last year for his luxury hotel in Macau, with the two gold models as the crowing highlight.
Speaking with Kitco News, Rolls-Royce's head of communications for the Americas Gerry Spahn said that although he cannot give exact pricing on each vehicle, they were the most expensive cars at the time Hung commissioned them. The Phantom make is already the company's most expensive luxury vehicle.
"They are seven-figure, more than $1 million," he told Daniela Cambone in studio on Wednesday. "When they will be delivered, they'll probably be the most expensive ever delivered."
In terms of how much gold is actually in each vehicle, Spahn said the two cars are covered in very fine particles of gold, which were mixed into the paint. 'Each car has two and a half times more paint than a typical Phantom would have.'
What's more, aside from the gold used in the interior of the cars, the figurine sitting at the hood of every Rolls-Royce--known as the Spirit of Ecstasy--is itself made of gold.
"It's an 18-carat Spirit of Ecstasy that is plated in 24-carat gold in order to make it durable," he explained. "Between the Spirit of Ecstasy and the Rolls-Royce logo ... you're looking at the use of around 97 grams of gold."
At current prices, that amounts to almost $3,000 just for some features at the hood of the car.
"These are very expensive yet they are in some ways priceless."
This article is commentary by an independent contributor. At the time of publication, the author held TK positions in the stocks mentioned.