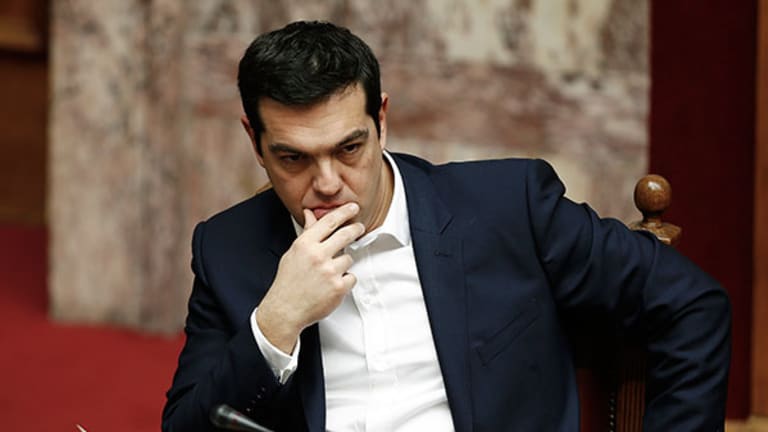 What the Greek Debt Crisis Means for Your Portfolio
Analysts predict a rush of capital into the U.S. and possible problems for other European Union members, with Spain looking the most vulnerable.
Update: This article, originally published at 10:14 a.m. on Monday, June 29, has been updated to include new information and analyst comments throughout. 
NEW YORK (TheStreet) -- After months of negotiation, Greece seems to be out of options and headed for default. Its banks and stock market are shuttered, likely for the week, as anxious consumers try to get as much of their money as they can.
What's an investor to do? As the Tuesday deadline approaches for both Greece's repayment of €1.6 billion to the International Monetary Fund and the end of its loan program from the European Union, here's a roundup of analyst commentary on what to watch for in the markets:

U.S.-traded Greek ETF leans on financial sector, almost impossible to value
While markets in Greece are closed for the rest of this week, an ETF based on the Greek market fell by more than 16% in trading in New York Monday.
The Global X FTSE Greece 20 ETF was down 16.81% to $9.80 Monday afternoon, dragging it close to an all-time low. The fund is particularly risky given its 29% stake in financial firms -- a portion that is "quite high," according to Todd Rosenbluth, director of ETF and mutual fund research at S&P Capital IQ.
The fund includes Greek institutions such as the National Bank of Greece NBG and the National Bank of Greece. It's other holdings include the Coca-Cola Hellenic Bottling Company, the beverage giant's European branch operation, and phone service provider Hellenic Telecom.
"With the Greek stock market closed we think there is no easy [way] for investors to fully understand the value of the stocks inside this ETF," Rosenbluth said in an emailed statement.
Euro investors: Exit from Eurozone likely, but effects on Europe will be limited

Just under half of Euro investors expect at least one country will leave the Eurozone in the next twelve months, a survey out Monday suggests.
The June figure for the Euro Break-up Index, tracked by Frankfurt-based research firm Sentix, shows 48.4% of investors in the currency predict at least one country leaving the common currency. That's up from 41.2% in May. The survey polled 985 individual and institutional investors between June 25 and June 27, according to Sentix.
At the same time, the survey showed that three-quarters of investors don't think a "Grexit" would have a large impact on Europe as a whole. If they're right, investments in other EU countries, such as government bonds, may not have much to lose if Greece leaves the Euro.
"This is good news for the spreads of government bonds of the so-called periphery," Sentix Senior Analyst Sebastian Wanke said in a statement on the survey.
TheStreet ratings team: Get out of the National Bank of Greece

Shares of the National Bank of Greece (NBG) fell 22.51% to 99 cents each Monday morning. TheStreet's ratings team recommends selling positions in the bank:
"We rate NATIONAL BANK OF GREECE (NBG) a SELL. This is driven by some concerns, which we believe should have a greater impact than any strengths, and could make it more difficult for investors to achieve positive results compared to most of the stocks we cover. The company's weaknesses can be seen in multiple areas, such as its feeble growth in its earnings per share, deteriorating net income, disappointing return on equity, poor profit margins and weak operating cash flow."
PNC Chief Investment Strategist E. William Stone: Don't give up on an agreement just yet

"PNC still expects an agreement to eventually be reached, but believes the Eurozone's economy and financial system are strong enough to withstand a Greek default or exit. TheEuropean Central Bank (ECB) said it would use "all the instruments available" to counteract any contagion from the Greek crisis. The Greek situation could conceivably continue for some time-though July 20, when 3.5 billion euros are due to the ECB, is likely the final deadline."
Credit Suisse analyst Carla Antunes-Silva: Look for impact in Europe beyond Greece.

-- We think Europe could survive Greek capital controls as this would put a pause button on the situation. 
-- Having said that, countries which could be more exposed to a spill-over effect would have to have a combination of political instability and macro overhang. Neither Ireland, nor Italy nor Portugal appear to fit into both these categories, so the country looking most vulnerable appears to be Spain. We think a bigger debate is whether, given the upcoming elections and the victory of Podemos in some of the local and important municipalities, this could open the Pandora's box of haircuts on local debt. 
-- We would look for weakness in share prices to reiterate our top picks in European banks:  Intesa, ING (ING) , Credit Agricole, Societe Generale, Sabadell, Erste and SEB (all rated outperform)."
TheStreet's Jim Cramer: For the first few days, steer clear of two groups (full article here).
"The first, the profiteering hedge funds, want to get a short off as low as down 1%, hoping that S&P will fall 2% minimum, so they can make a decent return.
"The second, those on the wrong side of Greece -- whatever that side turns out to be -- is trying to save its year or itself entirely and probably has more to unload than you think. These are so-called dangerous sellers, who will cause people in the media to evoke Lehman because that's what you do if you are in the media. You always try to use the worst benchmark.
"That's the pattern no matter what the calamity is and you MUST let it play out."
Guggenheim Partners Global Chief Investment Officer Scott Minerd: U.S. is a safe haven for European capital.
"Just as on the Monday after the Lehman failure, we should expect plenty of turmoil. At the time of writing, Sunday at 9:30 pm EDT, U.S. stocks are already down about 2 percent in the futures market and the yield on the 10-year Treasury note is about 17 basis points lower than Friday's close. I'd expect to see further declines in stocks and rates especially when European markets open in the morning.
"The knee-jerk response to the events of this weekend will be for capital to flee Europe and Asia into the United States. There is already evidence of this as the euro is under pressure, down almost 2 percent from the Friday close. Additionally, we should see a classic 'risk off' trade where credit spreads widen in the wake of a flight to quality trade."

Jefferies analyst Sean Darby: Freeze in Greek banking system was real shocker.
"It will be a nervous week for financial markets, not necessarily because of the contagion effects -- which are minimal, given that the bulk of Greece's debts are owned by other European Union governments as well as supranationals -- but because investors were not necessarily positioned for the deterioration in Greece's banking system. Up until last week, investors had stayed confident among Developed Europe equities and increased their inflows further to $3.9 billion. In contrast, after three consecutive weekly injections, investors took a breather among U.S. equities and withdrew$4.3 billion."
Citi analyst Willem Buiter: Watch bonds.
"Expect (German) Bunds and (U.S.) Treasuries to rally hard on this news. How hard? Bunds could rally 15-20 basis points in the near term, in our view."