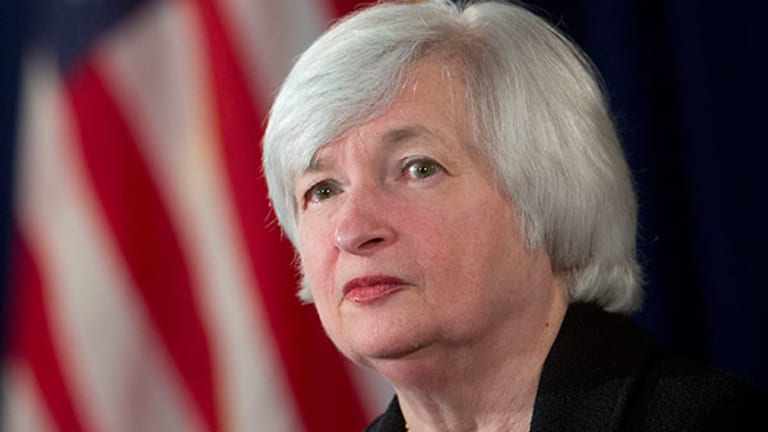 Interest Rate Hike Could Be Bad for Bitcoin
Bitcoin has existed in a zero-interest rate environment since its introduction, but that may be about to change. If and when it does, the digital currency will feel the impact.
NEW YORK (TheStreet) -- Bitcoin has existed in a zero-interest rate environment since its introduction, but that may be about to change. And if and when it does, the digital currency will feel the impact.
The Federal Open Market Committee (FOMC) will vote this week whether to raise the benchmark interest rate from the 0.25% it has been set at since December 2008. While most analysts believe this week's meeting won't bring a rate hike, they concur that it will likely happen by the end of the year.
The latest dot plot released in the FOMC's summary of economic projections in June indicates that every member expects the benchmark rate to increase to 0.50%-to-0.75% by year's end. And in 2016 and beyond, the expectation is for rates to ultimately settle between 3%-4.5%.
Shorter-term rates have already begun to tick up in anticipation of a 2015 rate hike. With a rate increase all but imminent, investors are bracing for change -- including those with a stake in Bitcoin. And the digital currency may take a hit.
If the Federal Reserve enacts higher interest rates, the price of Bitcoin could be negatively impacted. Two pieces of evidence point to this hypothesis.
Strength of the U.S. Dollar
The dollar should benefit from a rise in the federal funds rate, as it is indicative of a strengthening economy and often leads to increased investment inflows. While this will be helpful for U.S. stocks, it could negatively impact the price of Bitcoin, which has historically shown an inverse relationship with the dollar.
Decrease in Speculative Investment
Rising interest rates may reduce investments in the speculative assets into which investors poured cash in the zero-interest rate environment. A shift of higher-risk asset classes has already started and intensified as the likelihood of a rate hike increases. At this stage, Bitcoin remains a speculative asset. Mass outflows to more stable investments with lower risk profiles will negatively affect its price.
So should investors go running for the hills when it comes to Bitcoin? Not exactly.
While U.S. stability may hurt bitcoin price, what is going on across the rest of the world bodes well for the digital currency. Unrest in the global currency markets -- such as China's recent devaluation of the renminbi -- casts Bitcoin as a valuable alternative currency and investment option.
If more countries follow China's lead and enact competitive currency devaluations, Bitcoin should see increased demand. Citizens of these nations could use bitcoin as a store of value free from government manipulation and as means to transfer wealth out of the country into other asset classes.
This article is commentary by an independent contributor. At the time of publication, the author has long positions in bitcoin.
itBit is a financial services company offering a suite of products leveraging traditional capital markets infrastructure and blockchain technology. itBit's global bitcoin exchange offers institutional and retail investors a powerful platform to buy and sell bitcoin. As a trust, itBit is the first and only regulated bitcoin exchange able to accept customers across the United States. itBit's suite of products also includes a Global OTC Agency Trading Desk, digital asset trust and custody services and Bankchain, a revolutionary clearing and settlement network for financial institutions.