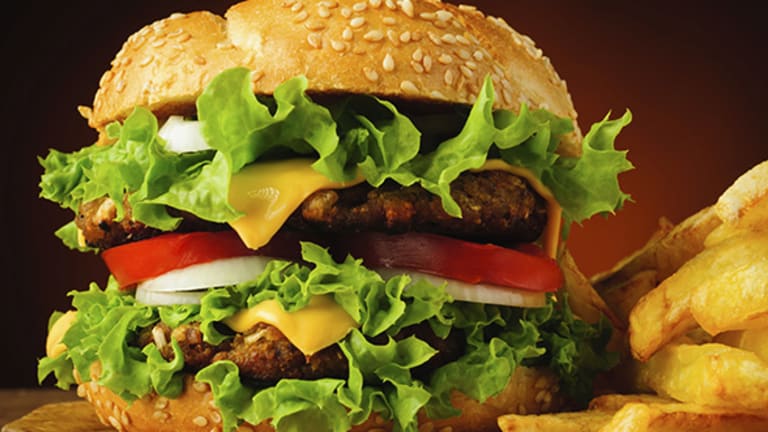 What Struggling McDonald's Could Learn from Shake Shack and Five Guys
McDonald's could learn a thing or two from the next generation of burger joints such as Shake Shack, Five Guys, and Smashburger.
NEW YORK ( TheStreet) -- Struggling McDonald's (MCD) - Get McDonald's Corporation Report could learn a thing or two from the next generation of burger joints such as  Shake Shack, Smashburger, Umami Burger and Five Guys.
Shake Shack, which has divulged its plans for an initial public offering this year, lights grills at 61 restaurants globally each day that have a feel of an upscale local bar. California-based Umami Burger slings out burgers priced between $11 and $15 as well as fancy appetizers that bring the check to over $20.
Five Guys' notoriously hearty burgers are made right in plain sight of customers, not on an assembly line in a back room as McDonald's does. Smashburger, rumored to be eyeing an IPO of its own this year, has creative, high-end combinations that set its menu apart.
TheStreet takes a look at what McDonald's new crop of competitors are doing differently from a company that put the burger on the map globally and the fast in fast food.
Shake Shack invests in its employees.
According to Shake Shack's prospectus, its front-line workers are seen as its most valuable asset, and an asset that the company invests in heavily as a means to financially prosper.
"We believe that the culture of our team is the single most important factor in our success," Shake Shack points out. The company invests in its employees through a leadership development program that gives them transferable skills in the hospitality field, pioneered from well-known restaurateur, author and Union Square Hospitality CEO Danny Meyer. Union Square Hospitality is the majority owner of Shake Shack. In most markets, Shake Shack offers above industry average compensation, including a monthly revenue-sharing program.
The teaching of actual skills that could be used elsewhere by people, and richer weekly compensation, are far cries from the battles over low pay and workplace practices that McDonald's has faced through the years. In fact, McDonald's has this to say under its employee section on its latest annual report, in stark contrast to the views of Shake Shack: "In the ordinary course of business, disputes arise regarding hiring, termination, promotion and pay practices, including wage and hour disputes, alleged discrimination and compliance with employment laws."
It probably also doesn't hurt that Shake Shack's more skilled and better compensated workers have a menu to sell that consists of dishes inspired from award-winning chefs and ingredients sourced from local farms. Shake Shack declined to comment for this article, citing quiet period restrictions related to its IPO.
Five Guys is all about bang for your buck.
Five Guys is the most established of the next generation of burger and fry slingers. Founded in 1986, Five Guys has over 1,000 locations in 47 states and six Canadian provinces, not to mention another 1,500 franchised units in development, according to its Web site. The distinctions against McDonald's are in how the food is cooked and the consumer's perception of value.

Five Guys produces made-to-order burgers and hot hogs on a flat top grill right behind the cashier and in front of the person ordering. By contrast, McDonald's championed the practice of estimating demand for its Big Macs and Quarter Pounders and, as a result, keeps product in warming bins beneath heat lamps. The food is prepared out of the sight of customers who increasingly want to know how their meals are being constructed and the origin of the ingredients.
Five Guys has become known for its giant, high caloric beef patties and free peanuts and extra toppings, all of which add up to a perception that it offers more value relative to McDonald's.
A Five Guys cheeseburger with everything on it costs $6.79 excluding tax, while a Big Mac with McDonald's hand-selected recipe goes for about $5 pre-tax.
Smashburger has a simple but funky menu. 
Rumored to be eyeing an IPO this year, Smashburger, which is named for how it takes a small ball of meat and then smashes it to be cooked on the grill, has 260 or so locations in the U.S. It also has bottles of condiments on its tables, not the plastic squeeze pouches pioneered by McDonald's. But what sets Smashburger apart from McDonald's is what's on the menu.

Smashburger's menu features such burgers as an avocado club and a spinach, cucumber and goat cheese offering. Sides include spicy buffalo fries, sweet potato fries, and fried pickles. That is a far cry from the run-of-the-mill Big Macs, Value Meals, and classic french fries that dominate the menu at McDonald's. Smashburger further has a create-your-own sandwich program for its burgers and chicken items. The company was unable to be reached for comment.
McDonald's, on the other hand, is in the process of shrinking its enormous 100-plus item menu to speed up lines inside its restaurants and at its drive-thrus. In early December, McDonald's announced it will cut eight items from its menu. For its Quarter Pounder burgers, current offerings will be reduced from four to one type while its premium chicken and snack wraps will both be sliced from three options to one and the number of Value Meals will go to 11 from 16.
To its credit, McDonald's has launched a build-your-own-burger program that offers customers 20 new mix-and-match toppings. The program, which started in a handful of locations in Southern California, is in the process of being expanded to 30 spots in Illinois, Wisconsin, Georgia, Missouri and Pennsylvania. This year, the option is expected to be in 2,000 U.S. locations.
Umami is the complete anti-McDonald's.
Umami is the Bentley of the next generation of burger joints, whereas McDonald's could be coined a beat-up 1980s Ford. At 24 locations mostly in California, Umami Burger sells gourmet burgers, salads and appetizers.
"Umami Burger isn't fast food, it is a full-service restaurant -- our whole front-of-house and back-of-house teams have constant culinary training to understand our different flavor profiles," wrote a spokeswoman in an email to TheStreet, adding that "we are chef-driven and create burgers built around certain savory flavor profiles."
The business, similar to Shake Shack, was founded by noted restaurateur Adam Fleischman in 2009. The restaurants have a fine dining feel, with the walls and seats drenched in rich brown colors and wood accents. While McDonald's has spent billions of dollars over the past few years to remodel its U.S. locations to give them a more upscale feel, many franchisees have balked at upgrading due to high costs. (It can cost up to $800,000 to remodel a McDonald's location with improved seating, wall colors and digital menu boards.)

This has left a good number of McDonald's continuing to resemble a page from its 1980s heydays, with goofy artwork on the walls of the Hamburglar and Grimace, and beat-up ball pens for children. Subsequently, it has left consumers with an unchanged view on McDonald's despite the addition of healthier foods like chicken wraps and salads, and fruit being served in Happy Meals.
This article is commentary by an independent contributor. At the time of publication, the author held no positions in the stocks mentioned.