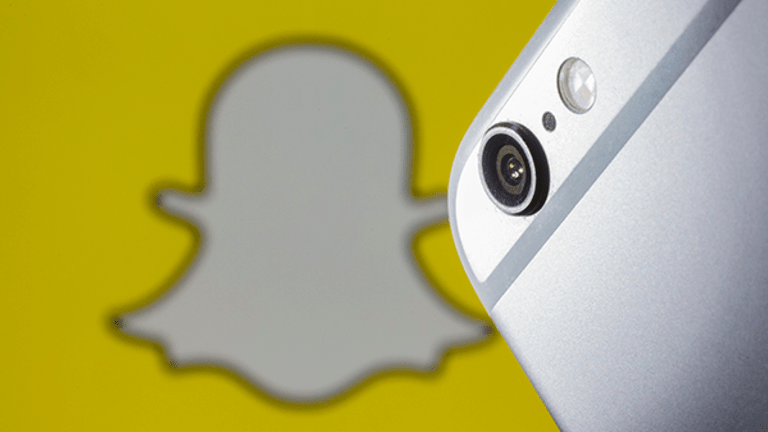 What Snap Is Doing Well and Why Its Shares Still Appear Overpriced
The company's core messaging services remain popular, and its professional video efforts have some momentum. But that's not enough to justify its steep multiples.
This column originally appeared on May 16 on Real Money, our premium site for active traders. Click here to get great columns like this.
Much of what I've written over the last five months about Snap (SNAP) has been far from charitable. This applies to what was said while making my 2017 tech predictions, as well as during the weeks leading up to Snap's IPO. Not to mention what was written about last week's disappointing Q1 report.
But for all the negativity, I do think Snap has a future, and that only some of Facebook's (FB) attempts to steal its lunch are proving successful. Moreover, Snap is executing much better than Twitter (TWTR) , a social media peer that Snap bears have frequently compared it to. Both certain earnings call disclosures and ad product announcements made in its aftermath drive this home.
The real question isn't whether Facebook will wipe out Snap (it probably won't), but whether it's going to limit Snap's addressable market to a point where it steep post-IPO valuation is unsustainable.
Facebook is a holding in Jim Cramer's Action Alerts PLUS Charitable Trust Portfolio. Want to be alerted before Cramer buys or sells FB? Learn more now.
Markets understandably reacted harshly to Snap's Q1 miss, especially since revenue soundly missed conservative analyst estimates and translated to a sequential sales decline for the seasonally weak quarter that was larger than the one seen for Facebook's ad sales against a revenue base about 50 times larger. But the company's user growth and engagement figures, also closely scrutinized thanks to Facebook's non-stop launching of services that imitate one Snapchat feature or another, weren't quite so bad.
At 166 million, Snap's Q1 daily active users (DAUs) fell short of a 168 million analyst consensus, but were still up by 8 million sequentially. That's better than the 5 million DAUs added in Q4 -- Snap partly chalks it up to addressing problems with its Android app -- and was driven by the addition of 3 million DAUs apiece in North America and Europe, the markets assured to produce the lion's share of Snap's ad revenue over the next few years.
In addition, Snap disclosed that its average DAU spent over 30 minutes per day on Snapchat, up from the 25-to-30 minutes disclosed in the IPO filing. This still trails the 50 minutes-plus of daily usage Facebook claims for its core app, Messenger and Instagram (never mind WhatsApp), but it's unrealistic to expect any mass-market social service to match Facebook here. The fact that Snapchat engagement, like its user base, is still growing in spite of Facebook's all-out assault does indicate that fears of Snapchat usage declining sharply thanks to the launch of Instagram Stories (has over 200 million DAUs) and other rival services aren't panning out for now.
A big reason for this: While Instagram Stories does appear to be pressuring Snapchat Stories usage, and with it the latter's lucrative video ad business, it doesn't look as if the same holds for the ephemeral photo/video-messaging services -- replete with playful lenses, filters and drawing/editing tools - that to many remain Snapchat's calling card. Facebook has been cloning these services as well, but these clones are arguably hamstrung by the fact that Facebook's messaging services still need to support more basic text, photo and video messaging, and are still primarily used for such no-frills content-sharing. To many of its core users, Snapchat still feels like the natural place for sharing more whimsical, irreverent, photos and videos -- the kind that, for example, might involve placing dog ears on a selfie-taker's head or a rainbow and a pot of gold in the background.
Moreover, Snapchat's app was built from the ground up to encourage constant photo/video-sharing, as evidenced by the fact that loading the app immediately takes a user to a front camera view, with just one tap needed for a "Snap" to be recorded. Facebook's apps can't replicate this focus, since (in addition to providing Snapchat service clones) they address a variety of other use cases.
And Snapchat is doing a pretty good job of monetizing its popular messaging services. Major brands have embraced the "sponsored" selfie lenses and location-specific filters (geofilters) that users can include in messages, seeing a novel way to reach younger consumers. Snap claims over 1 in 3 daily users include a lens (sponsored or otherwise) in their content, and that geofilters are viewed over a billion times a day.
The three ad products announced on Monday should also be well-received. Arguably the most important of them: Augmented reality-like "World Lenses" that allow brand-sponsored content to be included on parts of a photo/video besides a user's face, and thus open the door to lens ads on content recorded with a phone's rear camera. Snap also unveiled an option to buy lenses targeted at specific regions, and to include information related to a user's precise location (a stadium, a restaurant, an airport, etc) in a sponsored geofilter.
With regards to Snapchat Stories videos, though it's undeniable that Instagram Stories has been embraced by a large number of Snapchat Stories creators, the latter's efforts to become a hub for short-form professional video content, promoted through its Discover platform and a new feature called Shows, still seem to be going well. The company's original content partners include ESPN, Turner, NBCUniversal and A+E Networks, and it's reportedly in talks with CBS and Fox. During last week's earnings call, CEO Evan Spiegel claimed some Snapchat Shows are "drawing audiences of over 8 million."
The Shows that Snap is working on with media partners are meant to be 3-to-5 minutes long. That gives content providers more creative freedom than Instagram Stories, whose max video length is 60 seconds, while still fitting with Snapchat's content focus. As an aside, the same might not hold for a lot of the long-form original content that Twitter has inked deals for.
But even with its messaging and professional video success, justifying Snap's current $26 billion valuation is far from easy. The valuation is equal to 26 times a 2017 revenue consensus of $1 billion, the hitting of which is far from a given following a Q1 in which revenue only totaled $150 million.
Snap's valuation doesn't simply assume that the company can hold onto its core base, but that it can significantly expand it. And that means winning over a lot of older and non-Western consumers who have to date have found Snapchat strange and/or confusing, and many of whom could decide Facebook's services are good enough if they're in the mood to watch a disappearing "Story" or attach a face filter to a selfie.
And it's quite possible that 6-to-12 months from now, the competitive threat posed by Facebook to Snapchat's professional video offerings will be more intense. Instagram Stories could easily be modified to support and showcase 5-minute professional video. And though the Stories clone on Facebook's core app can't currently be used by business and celebrity accounts, many of which claim giant Facebook followings, that's bound to eventually change.
Facebook is also in the early stages of creating a platform for short and long-form original video that can be accessed through its Video tab. And across its various apps and services, the company can provide video advertisers a platform with far more reach and more advanced targeting abilities than what Snap can provide for Stories video advertisers.
Ultimately, Snap could be running a social platform with 200 million to 250 million daily users who are quite attached to its messaging services, but with only a subset also heavily consuming professional video content that faces stiff competition from alternatives for both traffic and ad dollars.
That's still a valuable business. But probably not one worth $26 billion.