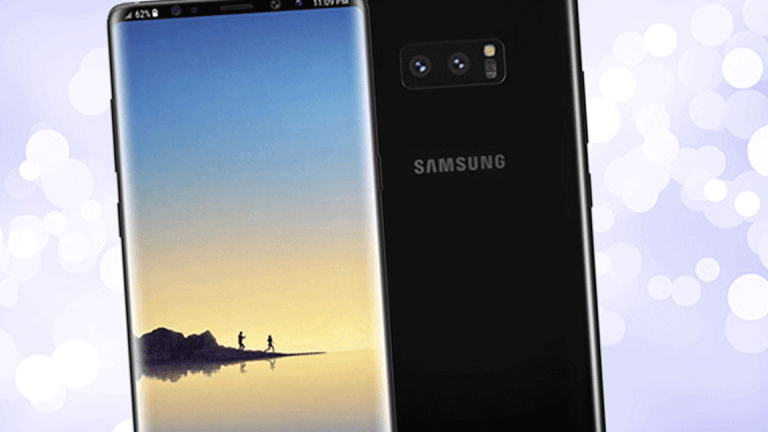 What Samsung's Earnings Suggest for Apple, Micron and Others
The South Korean tech giant appears to be losing smartphone share. However, conditions remain good for its DRAM business.
As usual, Samsung Electronics's earnings report and call features plenty of takeaways for fellow chip and consumer electronics firms, as well as for chip equipment makers.
On Monday evening, Samsung reported Q2 revenue of 58.48 trillion won (down 4% annually and equal to $52.6 billion) and net income of 11.04 trillion won (roughly flat and equal to $9.9 billion). The numbers mesh with the revenue and operating profit numbers Samsung pre-announced in early July.
Samsung's shares fell slightly overnight in Seoul post-earnings. Here are five key takeaways from Samsung's numbers and commentary.
1. Samsung Appears to Be Losing Smartphone Share
Samsung's mobile revenue fell 22% annually to 22.7 trillion won ($20.4 billion). The fact that the Galaxy S9 (unlike the Galaxy S8 in 2017) began shipping in March rather than April played some role here. But so did disappointing sales for Samsung's latest flagship.
Moreover, Samsung forecast that in the near-term, "new model launches and intense price competition" will lead conditions for its mobile business to remain challenging. The company plans to respond in part by launching the Galaxy Note 9 earlier than it launched the Note 8; Samsung's next-gen phablet will be unveiled at an August 9th New York event.
Samsung's remarks come just ahead of Apple's (AAPL) - Get Apple Inc. Report June quarter earnings report, and amid the expected September launch of three new iPhone models (5.8-inch and 6.5-inch iPhone X successors, and a 6.1-inch LCD iPhone). They also come amid third-party research reports that suggest both Apple and leading Chinese Android OEMs Huawei and Xiaomi have been gaining share.
TheStreet will be live-blogging Apple's report and call on Tuesday after the close. Please check our home page then for more details.
Chip suppliers Skyworks (SWKS) - Get Skyworks Solutions Inc. Report and Broadcom  (AVGO) - Get Broadcom Inc. Report had both signaled via earnings call remarks that near-term demand from Samsung is soft. Meanwhile, Taiwan Semiconductor (TSM) - Get Taiwan Semiconductor Manufacturing Company Ltd. Report , which has strong exposure to both Apple and Chinese phone OEMs, recently said it was now slightly more positive about second-half smartphone demand than it was in April.
Apple is a holding in Jim Cramer's Action Alerts PLUS member club. Want to be alerted before Jim Cramer buys or sells AAPL? Learn more now.
2. DRAM Conditions Still Look Good
Samsung's memory sales, which cover both DRAM and NAND flash memory, rose 33% to 18.5 trillion won ($16.6 billion). DRAM average selling prices (ASPs), which have soared since late 2016, rose by a low-single digit percentage sequentially, while bit shipments grew by a mid-single digit percentage with the help of strong server DRAM demand (fueled by cloud capital spending, an enterprise upgrade cycle and adoption of memory-intensive workloads in fields such as machine learning and analytics).
PC, graphics and consumer electronics DRAM demand is said to be solid; mobile DRAM sales, a large portion of which go to Samsung's phone unit, were the one soft spot. Samsung also said it's upbeat about second-half DRAM demand, thanks to seasonality, continued server strength and -- in what could partly be a reference to Apple, given reports about the DRAM content within this year's iPhones -- the launch of new flagship phones featuring more memory than their predecessors.
Importantly, just as Micron (MU) - Get Micron Technology Inc. Reportdid in June, Samsung maintained its outlook for DRAM industry bit shipments to rise about 20% this year, and for the supply-demand balance to remain favorable. The company also noted that challenges related to DRAM technology process upgrades are limiting supply growth, as is -- echoing remarks from various chip equipment makers -- the need for higher capital spending to drive a given amount of production growth (i.e., higher capital-intensity).
3. NAND Prices Are Coming Under Pressure
Less than a week after Western Digital (WDC) - Get Western Digital Corporation Report   indicated it's seeing NAND prices slump and expected declines to continue this year, Samsung declared it saw "a strong softening of prices for NAND flash" in Q2, as shipments of high-density 3D NAND chips continued to ramp. Its NAND ASP fell by a low-teens percentage sequentially.
The company also forecast NAND industry bit supply will rise by a low-40s percentage, which is up slightly from a prior outlook for roughly 40% growth.
Samsung, whose NAND bit shipments rose by a mid-teens percentage sequentially, does assert that lower NAND prices are boosting mobile flash and solid-state drive (SSD) demand. The company recently began mass-producing 90-plus layer 3D NAND chips that are said to be more than 30% more cost-efficient on a per-bit basis than the 64-layer chips that preceded them.
Nonetheless, Samsung and Western's comments are a reminder that business dynamics are very different for the NAND market, which is seeing strong supply growth and arguably features six notable players, than they are for the DRAM market, which is seeing restrained supply growth and has largely consolidated around three players. Micron, it should be pointed out, gets over three-quarters of its gross profit from DRAM.
4. OLED Trends Are a Mixed Bag
Due to lower demand for flexible OLED panels -- Samsung supplies them to both Apple and its own phone unit -- as well as a drop in LCD TV panel sales, Samsung's display segment saw revenue drop 27% to 5.67 trillion won ($5.1 billion). And while the company expects higher flexible OLED shipments during the back half of the year, it sees rigid OLED panels (more likely to be used in cheaper phones) to be pressured by tougher competition from LTPS LCD panels.
OLED materials and intellectual property supplier Universal Display  (OLED) - Get Universal Display Corporation Report is up slightly following Samsung's mixed OLED outlook. However, industrial laser supplier Coherent (COHR) - Get Coherent Inc. Report , which has seen very strong OLED-related orders in recent years, is down over 3%. The fact that Samsung spent a modest 1.1 trillion won on display capex in Q2 could be weighing on Coherent.
Long-term, OLEDs still look well-positioned to take additional mobile and TV share thanks to the advantages they have relative to LCDs in fields such as contrast, viewing angles, saturation and thinness. But the cost advantages retained by LCDs are yielding a longer-than-expected transition for some market segments.
5. Samsung's Chip Capex Is Slowing...But This Was Expected
Samsung spent 6.1 trillion won on semiconductor capex in Q2, which is down from 7.2 trillion won in Q1 and 7.5 trillion a year ago. However, the company had already forecast in April its total capex (display and chips combined) would drop in 2018. Last year, Samsung's capital spending totaled a whopping 43.4 trillion won ($39 billion), with 27.3 trillion directed towards chips.
The disclosure comes as chip equipment maker KLA-Tencor (KLAC) - Get KLA Corporation Report  surges after posting better-than-expected results and guidance, and gives a boost to many chip equipment peers along the way. The group got a lift last week after Lam Research's (LRCX) - Get Lam Research Corporation Report earnings report (though featuring light guidance) was deemed better than feared.
Both KLA and Lam have indicated that they expect broader chip equipment demand to bounce in calendar Q4 following a soft Q3, and see industry wafer fab equipment (WFE) spend rising by a single-digit percentage this year. Lam suggested "adjustments" in DRAM-related orders are among the factors weighing on near-term sales.