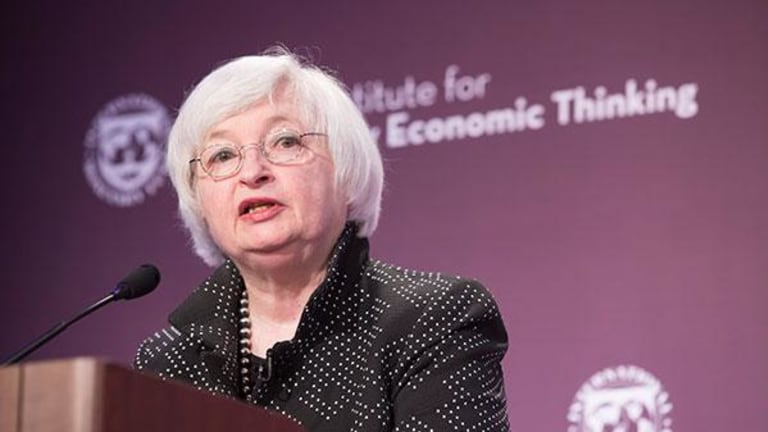 What's Really Causing Income Inequality: Federal Reserve Policies
Since the early 1960s, governmental policies aimed at creating inflation, whether in consumer goods or asset prices, have created incentives for sophisticated investors to take advantage and increase income inequality.
There is great concern in the United States and elsewhere that income or wealth inequality has increased since the beginning of the Great Recession -- and long before.
A recent editorial by Henny Sender in the Financial Timeson Saturday spoke to these concerns: "Fed is Losing Credibility as the 1% benefits most from its policies."
As Sender writes, "most Americans haven't been beneficiaries of the unconventional monetary policies the Fed has adopted since the great financial crisis of 2008 and 2009. They may even be its victims."
The basic idea Sender presents is that Fed policies have created a situation where people and businesses have had more incentive to invest in assets and not in the production of goods and services, especially in physical capital to grow companies.
I have written about this from at least early 2013 in a piece titled "Bernanke is Underwriting the Wealthy." One of the basic ideas here is that former Federal Reserve Chair Ben Bernanke was driving a monetary policy specifically aimed at raising stock prices.
Bernanke's academic research led him to believe that consumer spending was primarily driven by consumer wealth and a great part of consumer wealth came from the value of the stock market and the value of homes. Thus, monetary policy under his leadership aimed at pumping up stock prices and pumping up the prices of homes.
He was very successful in doing and consumer spending has been the major driving force behind the current economic recovery. However, this spending did not get translated into a more rapidly growing economy.
What did happen in that income inequality increased and wealth inequality increased as an unintended consequence of Bernanke's attempt to spur on the economy.
First, it has not been the middle classes or lower that have benefitted from the increases in the stock market. These people are not the primary owners of common stock.
Secondly, the environment created was one that financial engineering and financial innovation could thrive. As Sender writes, "current monetary policy has given companies far stronger incentives to invest in share buybacks and financial re-engineering than to invest in their own operations."
But, sophisticated investors have learned how to play the game that Bernanke and others have created in Washington. However, we can't just blame Bernanke and others that worked to end the Great Recession and create a more robust recovery with greater amounts of employment.
My argument goes back even further. It is my belief that sophisticated investors and others have learned a lot over the past fifty years or so and as long as the government continues to pursue "Keynesian-based" ideas, these individuals will continue to "game" the situation for all it is worth. And, this will only exacerbate the problem of income or wealth inequality.
In the early 1960s the real emphasis on deficit spending to spur on economic growth began. By the middle of this decade, the Phillips curve, an empirical economic tool, became imbedded in government policy-making, something that Federal Reserve Governor Lael Brainard recently confessed to in a speech.
The Phillips curve supposedly showed that there existed a tradeoff in the economy where a little more inflation could buy policy-makers a little less unemployment. And, this got built into Federal Reserve policy-making and even into Federal government policy-making, which produced an inflationary bias in all Washington economic decisions.
But, guess what? As the economist Milton Friedman predicted, continuous periods of higher inflation do not go unnoticed and investors and other began to take advantage of the prices increases. And the rest is history.
By the early 1970s, the sophisticated were moving into housing, gold and art, among other things. And the behavior spread. The concern over consumer price inflation transferred into a concern over asset price inflation, into asset bubbles.
And, the wealthy prospered. Furthermore, corporations moved increasingly into finance and financial engineering. In the 1990s, major industrial companies like General Electric (GE) - Get General Electric Company Report were earning more than 50 percent of their earnings from their financial subsidiaries.
General Electric is a holding in Jim Cramer's Action Alerts PLUS Charitable Trust Portfolio. Want to be alerted before Cramer buys or sells GE? Learn more now.
Financial innovation prospered as more creative activity went in devising new instruments. Economic growth slowed, the growth of labor productivity waned, and increases in business investment died away.
Even the upward movement in wage income has been a croc. As Sender writes, the pay increases have been due mostly to "more states adopting a higher minimum wage. So pay increases have occurred most frequently in the lowest-paying jobs...."
Policy-makers did not imagine that sophisticated investors would take advantage of their efforts to create inflation in order to reduce the unemployment rate. Their purpose was well and good-to put workers back to work in the jobs they had lost to a recession or to slow economic growth.
Oh, by the way, putting workers back to work in the jobs they had lost is not such a good idea in a world that is changing because of technological changes and an evolving information technology. The jobs weren't always there.
This article is commentary by an independent contributor. At the time of publication, the author held TK positions in the stocks mentioned.