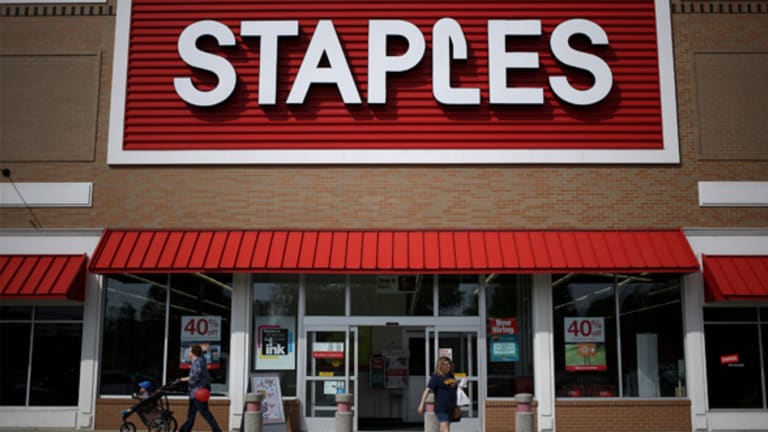 What's Next for Staples? Put Office Depot Out of Business
Blocked by a federal court from buying smaller rival Office Depot, Staples plans to go on the attack.
Updated to correct international segment profit.
Staples (SPLS) is pretty angry the federal government blocked its deal to buy smaller rival Office Depot (ODP) - Get ODP Corporation Report  and will now take several actions to try and put its competitor in the dirt. 
U.S. District Court Judge Emmet Sullivan blocked the merger between the two companies Tuesday evening, saying the combination would create anti-competitive forces. The decision effectively ends the second attempt by the two office supplies companies to merge in an attempt to thwart off competitors including Amazon (AMZN) - Get Amazon.com, Inc. Report .
"The Federal Trade Commission (FTC) met its burden of showing that there is a reasonable probability that the proposed merger will substantially impair competition in the sale and distribution of consumable office supplies to large business to business customers," Sullivan wrote in a three-page order.
Obviously, execs at Office Depot and Staples saw it otherwise.
"While we are respectful of the court's decision to grant the FTC's request for a preliminary injunction to prevent our merger with Staples, we are disappointed by this outcome and strongly believe that a merger would have benefited all of our customers in the long term," said Office Depot CEO Roland Smith in a statement, adding, "We do not intend to appeal the Court's decision and the two companies plan to terminate the merger agreement effective May 16, 2016."
Smith said the company will hold a conference call with investors on May 16 to discuss its future as a stand-alone company. 
"We are extremely disappointed that the FTC's request for preliminary injunction was granted despite the fact that it failed to define the relevant market correctly, and fell woefully short of proving its case," said Staples Chairman and CEO Ron Sargent in a statement. Staples said it will pay Office Depot a $250 million breakup fee.
But Staples wasted no time outlining strategies that may help jump-start weak sales and profit in the wake of the merger saga ending, while at the same time stealing share from Office Depot. TheStreet takes a brief look at three things.
1. Here comes lower prices for some office supplies.
Staples said it will pursue market share gains in core categories such as office supplies, ink, toner and paper. To support this effort, the company will invest in lower prices and work to make its supply chain quicker.  
2. Staples looking to divest European operations.
Staples plans to explore strategic alternatives for its struggling European operations, which is the main component of the company's international operations. The company operates about 278 retail stores in Europe, with the largest concentration being in the United Kingdom, Germany, the Netherlands and Portugal.
Staples also operates internet and direct mail catalog businesses in Europe, with a significant concentration of sales residing in France, Italy and the United Kingdom.
The international segment has been a laggard for Staples for years, and saw sales plunge 16.3% last year to $3.2 billion. The business racked up a $41 million loss last year following a $21 million loss in 2014.
By exiting Europe, Staples will likely be able to reinvest the savings in lower prices and new services for consumers in its home market in North America. 
3. Staples goes on the prowl for acquisitions.
Staples, armed with savings from its cost-cutting efforts and badly in need of growth, said it intends to look for acquisitions of business-to-business service providers and companies specializing in categories beyond office supplies. Acquisitions should help Staples differentiate itself from Office Depot, and ultimately gain market share over time.