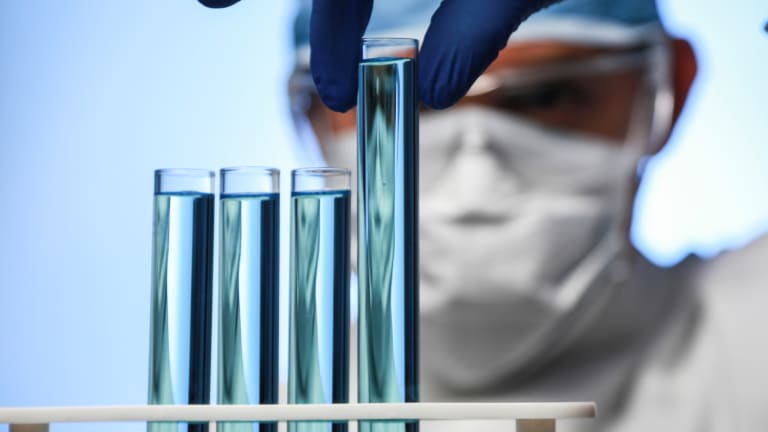 What's Next for Novan After Its IPO?
The pharma company is only getting started, says CEO Nate Stasko.
Novan's (NOVN) - Get Novan, Inc. Report stock is trading at nearly double last month's $11 initial public offering price. With a pair of Phase III trials coming up for its dermatological drug, CEO Nate Stasko says the company is just getting started.
"The IPO has given Novan and our nitric oxide platform access to a larger number of financing options and a broader pool of investors," said Stasko. "We are in a unique position to deliver innovation to a dermatology market where growth has been fueled for many years via combinations or reformulations of older, existing molecules."
Stasko estimated between 40 and 50 million Americans suffer from acne vulgaris and can be helped by his nitric oxide-based treatment. Nitric oxide is made in the skin by almost every cell type. It has a natural role in barrier repair, wound healing, host defense against invading microbes, and as a modulator of inflammatory processes.
But in many chronic inflammatory skin diseases and in skin infections, the body's systems fail and require a boost of nitric oxide to "reprogram" the system or kill bacteria, viruses, or fungi.
"Our platform technology aims to provide such a solution via delivery in the form of topical gels, creams, and ointments," said Stasko.
Novan's two, identically designed Phase 3 pivotal clinical trials will evaluate the efficacy and safety of topical nitric oxide-releasing product candidate SB204 Gel in the treatment of acne vulgaris. These two trials aim to demonstrate the safety and efficacy of SB204 in over 2600 patients with acne vulgaris.
"In the first quarter of 2017 we will know the safety, magnitude of drug effect, significance of the response, time to onset, and repeatability across two, well controlled studies," said Stasko.
Pharmaceutical stocks have been held in check this year, partly due to worries about pricing scrutiny from a Hillary Clinton administration. Stasko believes the enhanced price scrutiny is warranted, but the isolated attacks on individual manufacturers or branded products that aren't being actively promoted is unjustified.
"No one is talking about the price increases of generics which are prescribed 10 times, 100 times, or 1000 times more frequently in some cases compared to branded alternatives," said Stasko. "We should really be assessing the total impact on the system and resolving those challenges."