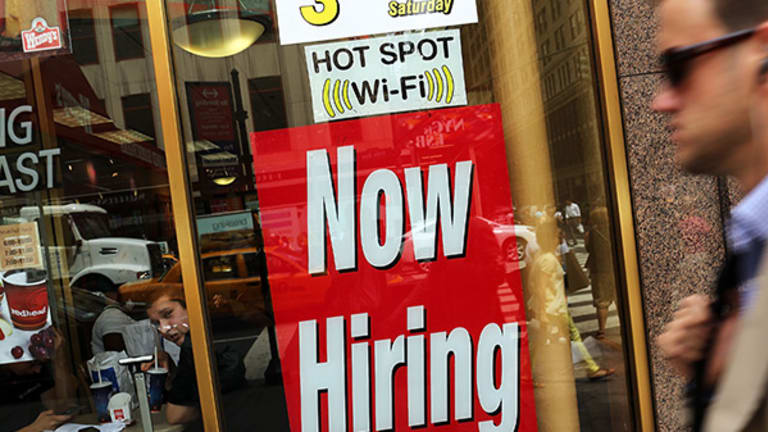 What Surprisingly Weak April Hiring Means for the U.S. Economy
The April jobs report from ADP showed private businesses hiring 20% fewer workers than economists had predicted. Large companies lagged more than others.
ADP's report on April hiring by private business is in -- and it's pretty bad..
U.S. companies added 156,000 workers last month, the payroll processing company reported Wednesday morning. That's well short of the consensus forecast of 193,000 compiled by Econoday. Hiring was especially weak among large companies, which added only 24,000 jobs. Medium-sized companies added 39,000 and small companies hired 93,000 workers. The weakness pervaded goods-producing industries, as manufacturers, whose short-term prospects are among the market's top worries, cut 13,000 people.
The report had been expected to show employers continuing to hire strongly, even while the overall economy is barely growing, according to government statistics. Many economists think the statistics underestimate growth early in the year, partly because bad weather has changed people's behavior and partly because of problems with statistical adjustments.
They have pointed to the relatively strong hiring as evidence that growth will bounce back in the middle six months of 2016, as it has rebounded from weak first-quarter growth in both 2014 and 2015. The ADP report raises some doubts about that case.
"The report reflects a dropoff in consumer confidence lately, and manufacturing that is hanging by a thread," said Dan North, chief economist at trade credit insurer Euler Hermes. "Consumers aren't spending as much as you would think."
The question is how much any one report from ADP means -- especially since the Labor Department puts out its official estimate of April hiring on Friday. The government's report has always been regarded as more important than the ADP survey.
"Job numbers always bounce up and down and we haven't had a really soft one for a while," said Joel Naroff, president of Naroff Economic Advisors in Holland, Pa. "I was surprised at the manufacturing number. Look for that to be less of a drag on Friday."
Today's ADP report does little to interrupt the months-long arc of relatively good news from the labor market that should result in full employment by this summer, said Moody's Analytics chief economist Mark Zandi. Moody's compiles the data the ADP report is based upon.
"The economy only needs to create at most 100,000 new jobs, closer to 80,000 or 90,000, each month to absorb the people looking for work and keep unemployment falling," Zandi said. "The data was soft, but not soft enough to change the progression toward full employment."
Traditionally, economists considered unemployment rates near the current 5% to be full employment, but the reliance on part-time work in this recovery has changed the calculus. The goal is to push the sum of the unemployment rate, the number of people working part time when they want to work full time, and other people who are "marginally attached" to the work force to 9% of total workers, from 9.8% in March.
Accelerating wage growth is another sign of the improvement in the economy and the labor market, Zandi said. A separate ADP survey released last week said workers who have been at their jobs for at least a year had gotten an average 4.8% raise in the year ending in March, up from 3.8% for the 12 months before that, he added.
"A year from now, our biggest problem is going to be a lack of qualified workers,'' Zandi said. "That augurs well for wage growth."
As wages grow, big beneficiaries have been consumer-facing companies that sell services rather than goods. The trend has been especially strong for hotel chains like Marriott International (MAR) - Get Marriott International, Inc. Class A Reportand airlines like Delta Airlines (DAL) - Get Delta Air Lines, Inc. Report , though airline shares have also been pressed by the strong dollar and labor costs. The Global Jets Airline ETF, which owns shares of 34 airline-related stocks, has lost 5% of its value so far this year.
This article is commentary by an independent contributor. At the time of publication, the author held no positions in the stocks mentioned.