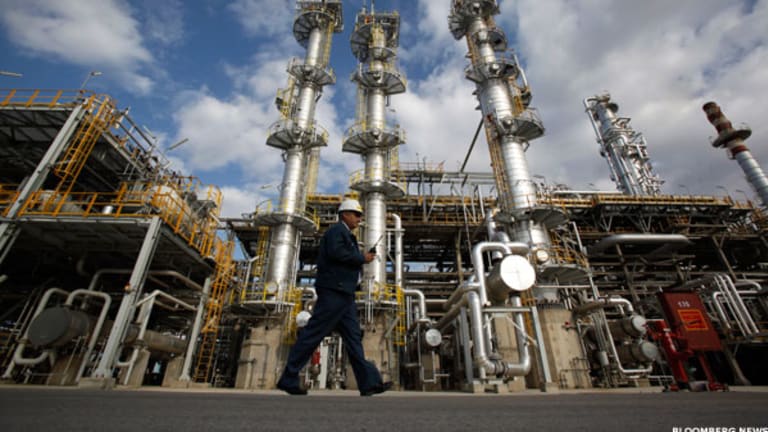 What Really Caused Oil Prices to Plunge So Far -- So Quickly
The slide in oil prices is primarily investor-related, not based on fundamentals. For that reason, oil prices could rebound just as quickly and violently as they fell.
NEW YORK (TheStreet) -- The 35% drop in oil prices this fall has been breathtaking. No one -- not even energy experts -- expected prices to fall this far, this quickly. And the slide doesn't seem to be over.
What happened? True, the U.S. has nearly doubled its oil production over the past five years, while OPEC and other suppliers have been unwilling to cut back on production. Demand has also been softening. But that still doesn't explain why prices suddenly fell off a cliff.
The answer seems to have less to do with supply and demand and more to do with how oil is traded. In short, the slide in oil prices appears to be mainly investor-related, not based on fundamentals. For that reason, oil prices could rebound just as quickly and violently as they fell. 
Here's what may have happened. As oil prices began falling this summer, an increased number of traders and other big investors appears to have bet that prices would bottom, especially in October as evidenced by record energy options contracts traded on the CME, the large options and futures exchange. When that didn't happen -- in part because of the strengthening dollar -- these investors found themselves on the wrong side of a very dangerous trade.
Exposed to even bigger losses, they had to get out quickly. It's what is known in investing as trying to catch a falling knife. This rush to the exits only exaggerated the selloff in oil prices, which quickly spread to energy stocks such as ConocoPhillips (COP) - Get ConocoPhillips Report and BP (BP) - Get BP Plc Report and other related investments. We are still feeling the fallout.
When will the carnage end? No one knows. But there are plenty of reasons why fundamentals may return soon and oil could start climbing again.
For starters, 70% of all crude oil is used for transportation. Despite the viability of Tesla (TSLA) - Get Tesla Inc Report and the electric car, that industry is not yet challenging combustion engine vehicles as many had hoped. So Americans are likely to keep driving gas-guzzling cars, which will help oil prices find support.
Another reason is that the U.S. still gets more than 7 million barrels from overseas. There is still no clear substitute for crude oil despite efforts to begin tapping natural gas to power vehicles. Although natural gas is still a good idea, like electric vehicles, it still largely lacks the widespread infrastructure needed to really challenge domestic oil consumption.
Then there's OPEC. The Saudis are no doubt indirectly trying to influence long-term U.S. demand for its oil. With that said, clearly they are risking short-term price weakness for long-term gain. That suggests the downside in crude oil is a buying opportunity for patient investors. Additionally, as mentioned here last week, Iraq, Iran, Angola and Venezuela all wanted a cut at the last OPEC meeting. Therefore, compliance with production quotas should already be a concern for those looking to short oil.
At the end of the day, the U.S. will still be using fossil fuels for the next 20 years. Sure, demand will likely weaken thanks to an increased appetite for alternative energy. But fossil fuels will continue to play a critical role in meeting our energy needs. So the recent collapse of oil prices is not likely to last long.
At the time of publication, the author had no positions in stocks mentioned.
Follow @bluephoenixinc
This article is commentary by an independent contributor, separate from TheStreet's regular news coverage.