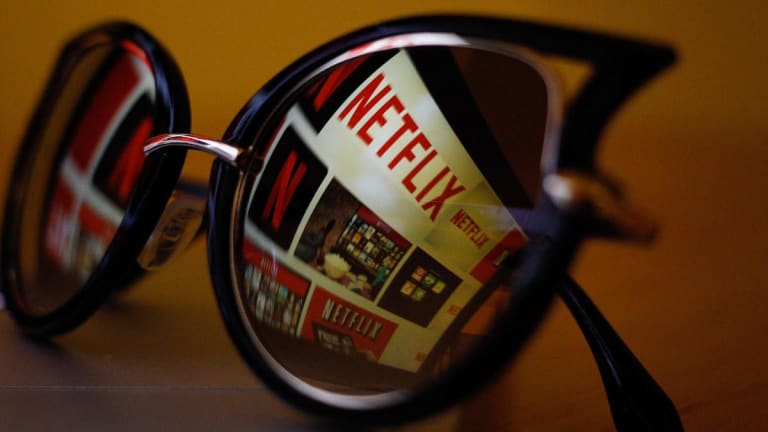 4 Potential Reasons Why Netflix Missed Its Subscription Guidance
While growth is still healthy in the grand scheme of things, high penetration rates, foreign competition and other factors could be weighing a little.
Though hardly disastrous, Netflix's (NFLX) - Get Netflix, Inc. Report latest earnings report does raise questions about what might be leading subscriber growth to fall short of expectations.
To recap: Netflix reported on Monday that it added 5.15 million streaming subscribers in Q2, below guidance of 6.2 million. U.S. net adds of 670,000 fell short of guidance of 1.2 million; international net adds of 4.47 million were below guidance of 5 million.
Netflix also forecast that it will see 635,000 U.S. and 4.35 million international net adds in Q3. Those figures are below pre-earnings consensus estimates of 953,000 and 5.1 million, respectively.
As of the time of this article, Netflix shares are down 5.2% to $379.34. They opened down over 13%, but have gradually recovered a large chunk of their losses. For the whole of 2018, Netflix is still up 99%.
It helps to maintain a sense of perspective about Netflix's subscriber miss. Five million or so quarterly net adds for a subscription video service is still nothing to scoff at -- all the moreso when it's accompanied by continued double-digit increases in average selling price (ASP). In addition, the growth is roughly on par with what analysts expected Netflix to add in Q2 and Q3 going into 2018.
Moreover, thanks to both seasonality and a stronger slate of original content releases, Netflix's subscriber growth is expected to pick up in Q4. The Q4 consensus for streaming net adds remains above eight million. Needless to say, Netflix's unmatched scale, content budget and user data all remain significant competitive strengths, as do its R&D investments and the quality of its management.
Nonetheless, as Netflix itself admits (at least for Q2), its subscriber numbers were a little disappointing. Here are a few possible reasons for this:
1. High Penetration Rates in the U.S. and Some Other Western Markets
There are an estimated 126 million U.S. households, of which (per Leichtman Research Group) 82% are estimated to get broadband services at home. With Netflix having 57.4 million U.S. streaming subs at the end of Q2, it has penetrated over half its core addressable market in the U.S..
Admittedly, Netflix could have some success getting consumers who only have mobile data subscriptions. But on the other hand, the sharing of login credentials by consumers with plans that support two or four simultaneous streams (a recent price test could be a sign that Netflix is looking to curtail the practice) means that Netflix's effective U.S. penetration rate is higher than it even looks at first glance.
Netflix now also has fairly high penetration rates in some Western European markets. A recent RBC survey found 37% and 35% of French and German respondents, respectively, saying they use Netflix to watch movies and TV shows.
2. Competition from Amazon and Other Rivals
Both directly (via Amazon Prime memberships) and indirectly (via standalone Prime Video subscriptions that cost less than $7 per month in many foreign locales), Amazon.com  (AMZN) - Get Amazon.com, Inc. Report has long been undercutting Netflix's pricing. And with Amazon's annual content spend having reportedly reached $5 billion, Prime Video now delivers a lot of bang for the buck, even if its library of originals can't measure up to Netflix's. Prime Video seems to doing quite well in Japan and India, among other places.
Amazon.com is a holding in Jim Cramer's Action Alerts PLUS member club. Want to be alerted before Jim Cramer buys or sells AMZN? Learn more now.
Of course, Netflix also faces a slew of other rivals, such as HBO, Hulu, foreign streaming services such as India's Hotstar and various streaming services bundled with pay-TV subscriptions. While this isn't a zero-sum game, it's not far-fetched to imagine popular rival services slowing down Netflix's growth a little bit.
3. Greater Cost-Sensitivity in Foreign Markets
Netflix now has considerable exposure to emerging markets where a video service costing $10 per month or so is seen as a more substantial expense for the average consumer than it is in, say, the U.S. or Western Europe. Convincing a large number of consumers in those markets to embrace Netflix could take more time and effort.
In addition, whereas Netflix can't help but feel like a tremendous bargain to U.S. consumers accustomed to paying over $60 per month for pay-TV services, the cost difference between Netflix and pay-TV isn't quite as large in many foreign markets, where TV services often cost less than $40 per month. That isn't necessarily a deal-breaker, but it could impact how some foreign consumers look at Netflix -- particularly if they're also able to get streaming content from Amazon and/or their pay-TV provider.
4. Needing More Time to "Crack the Code" in Certain Regions
Netflix's management has readily admitted that it's still figuring out what works best in some of the large foreign markets that it's targeting. This holds not only for its content and marketing investments, but also things such as easing the sign-up process, adding more payment options, teaming with local carriers and pay-TV providers and optimizing its mobile and TV apps. The company also continues to ramp its investments in foreign originals, and (relative to TV shows) remains in the early stages of building out its original movie library.
As Netflix gets the finer details right of winning over consumers in foreign markets where its penetration rates remain low, that could provide a fresh boost to international growth.