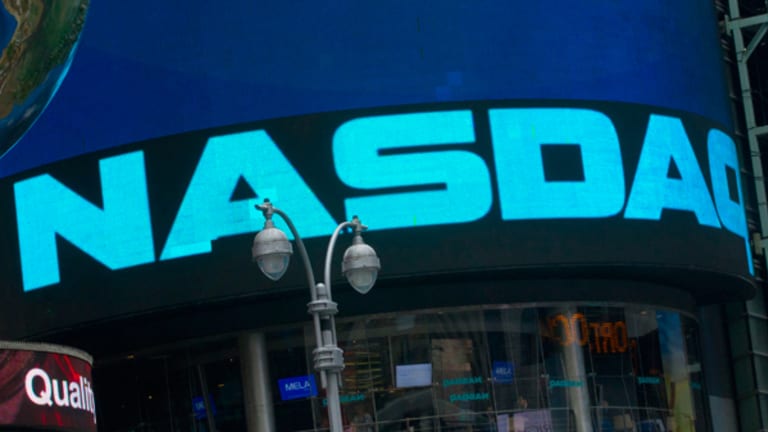 What Is Market Capitalization?
Here's a very clear picture of market capitalization and the Nasdaq composite index.
Here's a very clear picture of market capitalization and the Nasdaq composite index.
NEW YORK (TheStreet) -- Some words and concepts in finance are simple and easy enough to guess their meanings: diversification, mutual fund, risk management, price/earnings ratio.
Other financial terms always seem to throw me for a loop. Even though I understand them, I find myself secretly looking up these terms over and over again just to smash the concept into my head.
Thanks @Investopedia, @Nasdaq and @Stox for always being there for my financial definitional needs.
One of those evasive concepts is "market capitalization." I hear the term all the time and I look up a company's market capitalization for every stock I trade, so you know I know what it is. I use the computation and the concept of what market cap means in my stock selection and analysis, but when I try to define it I feel compelled to look it up again.
What is Market Capitalization?
Market Capitalization is the current market value of all of the shares of stock that are outstanding for a publicly traded company.
Not long ago, people spoke of large-cap, mid-cap, and small-cap stocks. I blinked and somewhere along the way we went from these three categories to the six  -- mega, large, mid, small, micro, and nano -- shown below.
These capitalization designations come from www.nasdaq.com.

I was recently studying the Nasdaq composite to understand what stocks make up that index and found the breakdown, according to nasdaq.com, of the capitalization of all the companies that are traded on the Nasdaq exchange.
It's interesting that the 2,700 or so stocks that are traded on the Nasdaq exchange break down this way as far as their market capitalization. For some reason, I thought that the stocks traded on the Nasdaq exchange would mostly be larger-cap -- like large, mid, and small cap --- definitely not so many micro or nano cap companies.
The Nasdaq stock exchange as of March 15, 2014, contains 2,760 stocks:
How do I use market capitalization in stock trading?  
When I am deciding whether to buy or sell short, I look at a stock's market cap to gauge its size and to get a feel for potential risk. Stating the obvious ... small-, micro- and nano-cap are riskier, whereas mega-, large- and mid-cap are supposed to be less risky.
What is market capitalization? Use market cap information to help you select the stocks you want to trade or invest based on your risk tolerance and your preferred company size. Whatever stocks you choose to trade, I wish you
Many Happy Returns,
Rachel
This article represents the opinion of a contributor and not necessarily that of TheStreet or its editorial staff.
To read more from Rachel Fox, visit